Water is one of the primary elements responsible for life on earth. We drink it, cook with it, and use it to keep ourselves clean. Most of us turn on the tap without giving it a second thought, but ensuring that everyone has reliable access to a safe and clean water source is vital.

This is where Dalhousie's Graham Gagnon, a professor in the Faculty of Engineering, focuses his research. As the NSERC/Halifax Water Industrial Research Chair in Water Quality and Treatment, he addresses the protection of public health, while ensuring that the sustainability of drinking water infrastructure is achieved.

"Working directly with the water industry, our students receive feedback on their research from a broad range of experts, which ensures that our projects can have impact for both the utility and the customers they serve," says Dr. Gagnon.
Moving towards a lead-free water system in Halifax

As highlighted by the lead-tainted water crisis in Flint, Michigan, a major concern for many cities is the potential for lead exposure from the drinking water. There are a wide range of adverse health issues associated with exposure to lead, including links to delayed mental and physical development as well as behavioral problems in children.

"Mitigating exposure to lead in drinking water is an important public health concern for the drinking water industry that was sadly highlighted during the Flint water crisis," says Dr. Gagnon.

Although the drinking water is essentially lead-free in Halifax Water's distribution system, this changes when the water makes contact with existing lead service pipes. Currently, peninsular Halifax and downtown Dartmouth are estimated to have 10,000-12,000 homes with lead service pipes running under private property, which includes 2,000-2,500 pipes that have shared ownership between Halifax Water and the property owner.

Halifax Water is taking the steps to not just minimize, but eliminate lead in the city's drinking water. The utility has been conducting "full lead service replacements," which includes replacing the public portion of lead service lines with a copper version during street reconstruction and at the same time as planned water main renewals. Homeowners can opt to also replace the service lines on their properties, but this is done at their own cost, which is roughly $5000. In turn, when homeowners inform Halifax Water that they have decided to replace the private portion of a service line, the public portion is also replaced.

In order to determine the effectiveness of replacing existing service lines, Dr. Gagnon and his team began looking at lead levels in the drinking water in 2010, where partial and full replacements had occurred. Their research, which has been published in Environmental Science & Technology, included the analysis of water samples that were taken at 72 hours and at one, three, and six months after replacements had occurred.

They discovered that partial replacements do not fix the problem, and could potentially make it worse. With only one the portions replaced, water will still travel through a lead pipe before coming out of the tap. This means that the lead levels are not only not being reduced, but may even temporarily spike due to a chemical reaction caused by the lead and copper lines being joined together.

In contrast, when the full service line was replaced, lead levels were reduced within three days, and continued to drop over the time they were measured.

"Our work demonstrated the key benefits of full lead service line replacements, a practice which has been adopted by Halifax Water and is now recommended as a best practice by the American Water Works Association," says Dr. Gagnon.

Based on Dr. Gagnon's findings, Halifax Water decided that it was essential to conduct full replacements of service lines. On August 22, they announced a new subsidy that would be available to homeowners, which would help with the cost of replacing the private portion of the service line. The utility will offer up to 25% of the replacement cost, up to a maximum of $2,500. The water commission is one of four in North America, including one other in Canada, who are providing some form of financial assistance to homeowners for the replacement of lead service lines.

The goal is to have the system in Halifax lead-free by 2050. This would involve conducting 300 replacements a year to meet that target.
Building a First Nations water strategy

Since 2009, Dr. Gagnon has also been working with the Atlantic Policy Congress of First Nations Chiefs (APC) to develop a comprehensive water strategy for the Atlantic region.

Water and wastewater facilities in First Nations communities across Canada tend to be small and remote systems.. As with other small and remote communities within Canada, there are major issues with both human resource and financial capacity. But unlike other Canadian small and remote systems, the provinces do not regulate First Nations facilities, and so the standards for compliance can vary widely.  

A key piece of Dr. Gagnon's work here has been the establishment of the First Nations Clean Water Initiative – Atlantic Region (FNCWI-AR). The FNCWI-AR aims to ensure safe drinking water for First Nations communities not only now, but into the future. In order to accomplish this, he has engaged the executive team from Halifax Water and Mayor Mike Savage to work and exchange ideas with Chiefs and First Nation Water operators.

"First Nation Chiefs and water operators have embrace the opportunity to develop a leading First Nation Water Authority and have looked to Mayor Savage and Halifax Water leadership as examples in water stewardship," says Dr. Gagnon.

In early July, the APC held a meeting at Dalhousie with government officials to discuss the benefits of the First Nations Clean Water Initiative, and the development of an Atlantic First Nations Water Authority (AFNWA). Owned, constructed and operated entirely by First Nations communities, the AFNWA will transform water and wastewater service delivery for First Nation communities in Atlantic Canada.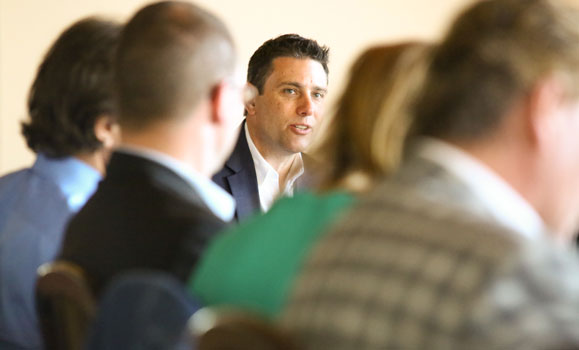 Dr. Gagnon speaks at the APC meeting this summer. (Bruce Bottomley photo)

 "The AFNWA represents not only the possible path to have clean water in First Nation communities but also an opportunity for First Nation communities to develop STEM-based training goals that will see First Nation engineers, scientists, operators, electricians and other trained individuals solving water challenges for their community," says Dr. Gagnon. "There are significant challenges - but these challenges can only be addressed through long-term planning with appropriate milestones that STEM-trainees understand."

Chief Candice Paul, Co-Chair of the Atlantic Policy Congress, echoed Dr. Gagnon's sentiments when speaking at the meeting in July.

"The most apparent benefit to Atlantic First Nations with the establishment of a pan-Atlantic Water Authority is increased public health and safety with the improvement in quality of drinking water and wastewater," he said at the time. "If we work in partnership with a true nation-to-nation approach, we can achieve our goals."

According to Dr. Gagnon, once the Atlantic First Nations Water Authority is established, it will become the sixth or seventh largest utility in Atlantic Canada.

More information about Dr. Gagnon's research can be found on the Centre for Water Resource Studies website. The Centre uses an applied teaching method and regularly engages with industry. In addition to the collaborations noted above, CWRS also works in partnership to conduct R&D projects and develop new technologies for the water sector.

To learn more about how to work with Dalhousie University on collaborative projects contact Industry Liaison & Innovation.