From a new 450-seat auditorium to engineering scholarships, Irving Oil's new gift to Dalhousie University is an investment in young people and the growth of Atlantic Canada.

At a luncheon yesterday at the Halifax Central Library, the company announced a generous $2.2-million gift to the university's IDEA Project (Innovation and Design in Engineering and Architecture), a $64-million investment into Dalhousie's downtown Sexton campus.

"As an Atlantic Canadian company, committed to our communities, we know that our young talent and future leaders want to stay here — provided the opportunities exist," said Mark Sherman, vice-president and chief operating officer, a graduate of Dal's Engineering program himself (when it was the Technical University of Nova Scotia).
"Building that dynamic, innovative regional economy starts here at home, by investing in our higher education."


The gift from Irving Oil is designed to enhance the entire student experience, from the first day on campus through to graduation and beyond. It supports new infrastructure and financial awards while cultivating a culture of safety among engineering students.

At Monday's luncheon Dalhousie University President Richard Florizone welcomed Sherman along with Arthur Irving, chairman of Irving Oil; Ian Whitcomb, president; Sarah Irving, executive vice-president and chief brand officer; along with other members of the Irving Oil team, many of whom are Dalhousie alumni.

"We're proud to partner with Dalhousie on this project and excited about what it means to many engineering students and future leaders here in Atlantic Canada," said Sarah Irving, executive vice-president and chief brand officer. 

New auditorium, scholarships, co-op


At the heart of Irving's investment is the new $1.5 million, 450-seat Irving Oil Auditorium. A state-of-the-art learning space, designed to meet the needs of engineering students, it will also double as a community resource for a revitalized downtown Halifax, available to the public for presentations, performances and lectures.  

Additionally, more than $700,000 will support high-performing engineering students who've completed their second year of studies. Besides providing 10 scholarships of $7,500 annually, the 10-year commitment includes a co-op placement with Irving Oil for each recipient.

"This gives some of the top students a chance to learn more about the oil industry and our company, while letting us see them in action," added Sherman.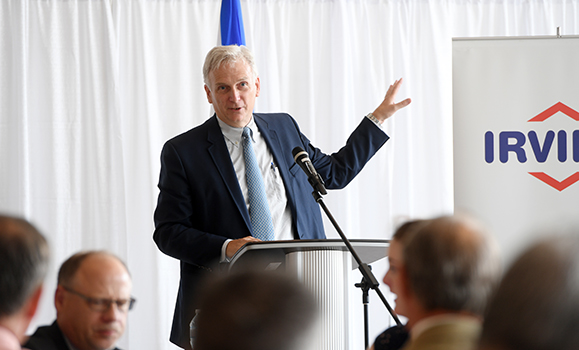 Irving Oil President Ian Whitcomb.

"The Dalhousie Faculty of Engineering is an important source of young graduates for our company –— their success helps ensure our success," said Irving President Ian Whitcomb. "We're delighted to be supporting the creation of this centre of excellence in our region."

Irving Oil also supported the Engineering orientation program in 2016, helping to foster a culture of safety from the moment the students step on campus, and is looking forward to taking part again this year.

"We're a 'safety-first' industry and it's critical to reinforce this message, which is a core value in our company," said Whitcomb.
Support for higher education

At the luncheon, Dr. Florizone said Irving Oil is known for its commitment to strengthening Atlantic Canada by investing in people, building special communities where they operate and by supporting higher education.

"Today, we're celebrating Irving Oil as a dedicated partner, generously providing opportunities for our Dalhousie engineering students," he said.

"With this gift, we are happy to support the Faculty of Engineering at Dalhousie University, knowing we look to Dalhousie and other Atlantic Canadian universities for our best employees at Irving Oil," said Arthur Irving, chairman of Irving Oil. "Atlantic Canada's success depends on the quality and skill of our youth — and we know Dalhousie is up to the challenge."
Irving Oil and Dalhousie have something in common.

"We're both proud Atlantic Canadian entities, always growing and moving forward," explained Mark Sherman. "That's what makes the IDEA Campaign a perfect fit for us."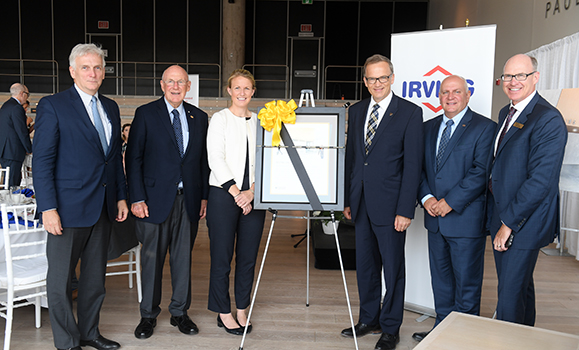 Left-to-right: Ian Whitcomb (Irving Oil president); Arthur Irving (chairman, Irving Oil), Sarah Irving (Irving Oil executive vice-president and chief brand officer); Richard Florizone (Dal president), Mark Sherman (Irving Oil vice-president and chief operating officer), Stephen Harding (Dal assistant vice-president, development).