After he graduates, Jordan Zarvie plans to become a social worker. While he completes his degree in that field, however, he's happy to get any kind of work experience he can.

Jordan, who came to Dalhousie from Calgary, Alberta and is heading into the fourth year of his undergraduate degree – and the second and final year of his Bachelor of Social Work – envisions a challenging career helping clients in acute mental health settings. His academic experience, which began with two years of study in English and Philosophy, is preparing him to realize his dream.

"My first couple of years of study opened up some of the things I bring into the program now," Jordan says. "Classes that I took, from bioethics and applied ethics, to English and sociology, all have an application in social work."

In his fourth year, Jordan will have the chance to test his social-work knowledge in the field during his 700-hour placement that begins in September. And Jordan will be ready for the challenge.

Taking advantage of opportunities

In the meantime, he's excited to continue getting a variety of professional experience. During the academic year, he works as a photographer for the university's Student Affairs departments. For the last two summers, he has also been a part of the Marketing and Communications team for Ancillary Services, the business unit that oversees functions such as residence, DalCard, and the Bookstore."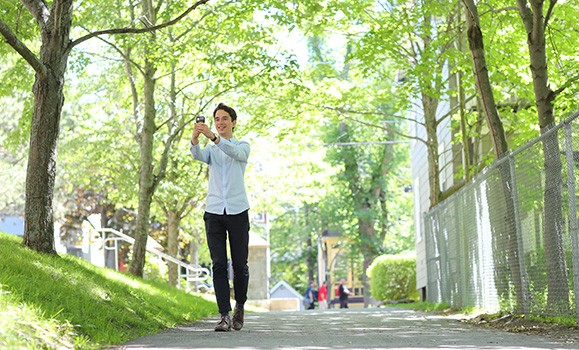 Though it doesn't directly relate to his social work ambitions, Jordan enjoys the particular challenges of his role with Ancillary Services.

"I like that it's really mixed and diverse," he says of his responsibilities. "Some days I'm taking photos, some days I'm making videos, other times I'm concentrating on social media or doing web updates. One day is completely different from the next."

And, in much the same way that his arts and social sciences education has informed his approach to social work, Jordan believes many of the skills he's picking up in his paid positions at Dal will be assets in his future career.

"I'm hoping that by building these skills over the summer, I might be able to apply them in certain social work settings in the future. Down the line, marketing and communications skills will be great to have.

"What the summer position has also provided me is a sense of what a full-time job really looks like, what the responsibilities are and what it's like to wake up every morning and go to work. A lot of students don't necessarily get a taste of that routine until they actually enter the job market, so I'm excited to be getting all of this experience."