It's been called an "unprecedented mortality event." Over the course of a couple of months, nearly a dozen North Atlantic Right Whales have been found floating in Canadian waters. With only a little over 500 currently in existence, that's almost 2 per cent of the population. (To put that in perspective, if the same percentage of the human population was lost, that'd be roughly 150 million people.)
So, what caused the death of these whales in such a short period of time? No one knows the answer, yet. But a huge team, including the Marine Animal Response Society, Fisheries and Oceans Canada in the Maritimes and Quebec, veterinary schools, the Canadian Wildlife Health Cooperative and three world renowned marine pathology experts, is working hard to find answers.
A truly massive undertaking

The average North Atlantic Right whale is roughly 50 feet long, and weighs approximately 70 tonnes. Because they have so much tissue, it is incredibly difficult to determine what, if any, physical damage might have occurred just looking at them outwardly.
That's why post mortem examinations (also known as necropsies) are so important. By peeling back layers of tissue (which involves heavy machinery, and a lot of hard work), researchers are able to get a closer look at the inside of the whale and determine if there are any large, noticeable changes.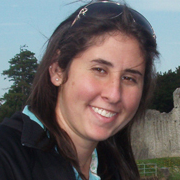 "Depending on what the cause is, you'll see different signals," says Dara Orbach (left), a postdoctoral fellow in Dal's Department of Biology.
This could include bone damage, signs of viruse or evidence of high levels of environmental contaminants.
The team of experts, which included volunteers from Dalhousie, were able to perform necropsies on six of the whales.
"In three instances, the preliminary findings indicate blunt trauma (which could be indicative of vessel collisions) and one had a chronic entanglement," says Tonya Wimmer, director of the Marine Animal Response Society. "One animal was too far gone for a determination to be made and we are still waiting for the preliminary findings of the last animal necropsied."
Read also: A race against time – saving the North Atlantic right whale

Although the loss of the whales is incredibly tragic, it provided an opportunity for Dr. Orbach to gather much needed data for her research.
A piece of a larger marine mammal puzzle

Three of the necropsies took place in western Prince Edward Island, and since Dr. Orbach was fortunate to be in close enough proximity, she was able to go and collect samples in order to study the functional morphology of Right Whale genitalia.
"This was a really exciting and rare opportunity, and I happened to be in the right basic vicinity," says Dr. Orbach. "We're talking about a critically endangered species — only about 500 individuals are left on the planet, so this was a very special opportunity to go there and collect measurements from three animals. I was able to learn a lot from all the different experts there."
This will be the first time that the genitalia of Right Whales have been quantified at a gross morphological level. Fortunately, the whales were still fresh enough for Dr. Orbach to collect some tissue samples that will help her understand what's going on in the microstructure.
Dr. Orbach is no stranger to seeing these massive creatures up close, but was surprized by the sheer size of the whale reproductive tracts.
"For a point of scale, I laid down beside the reproductive tracts and they were longer than I was!" says Dr. Orbach. "We used a drone to to take photographs, because usually I take bird's-eye-view photographs, looking down at the specimens with measuring tape to show scale. These reproductive tracts were so long that we used the drone to capture the variation in size."
Her work with the Right Whales will be part of a bigger picture — one that quantifies the genital morphology of marine mammals.
"I'm looking at both penis and vaginal morphology at a broad comparative level to understand how one marine mammal species differs from another, and whether that's because of their shared evolutionary history, the result of adaptations to living in the water, or something with their sociobiology," says Dr. Orbach. "I've been fortunate to have been able to collect genitalia from some smaller species — about 40-50 of the approximately 90 species of whales, dolphins, and porpoises that exist — so that's pretty incredible."
Next steps

In order to help prevent any further deaths of these whales, the Government of Canada announced a temporary mandatory slowdown for vessels that are 20 meters or more in the western part of the Gulf of Saint Lawrence, effective immediately. This area includes the Quebec north shore to just north of Prince Edward Island.
The vessels would be required to reduce their speed to 10 knots from the current average of 15 knots. This will hopefully give the whales a better chance at surviving an impact should they be hit. Ships under 20 meters have been asked to voluntary slow down.
This reduced speed limits for ships and vessels will be in place as long as needed, and the situation will be monitored on a regular basis.
Additionally, the snow crab fishery was closed down in this area slightly earlier than normal, which will reduce the amount of fishing gear in the water.
Going forward, Dalhousie researchers and other scientists will continue their important work in order to understand the science behind what caused the deaths this summer as well as what the live whales are doing, or will be predicted to do in the future.
Read also: A race against time – saving the North Atlantic right whale