As Dalhousie's Industry Chair in Wild Blueberry Physiology, David Percival had just one challenge: to put more berries in the box.
That was 20 years ago. Today, wild blueberry production in Nova Scotia has quadrupled to over 400 million pounds annually. And it's a story that begins with Mr. Blueberry himself, John Bragg.
Bragg, from Springhill, N.S., is the chairman, president and co-chief executive officer of Oxford Frozen Foods Limited and president of Bragg Lumber Company. Bragg is easily recognized as one of the many faces of the blueberry industry in Nova Scotia and is a huge advocate of research at Dalhousie's Faculty of Agriculture.
"The AC was a natural fit," says Bragg of choosing to invest in the Agricultural Campus 30 years ago. "Wild blueberries are a crop so suited to this region. But it's an industry that competes with other yields around the world. We have to be efficient."
Since 1976, Bragg has been investing millions of dollars into wild blueberry research at Dal AC. Along with generous funding, he has provided the clarity and vision needed for a research program for the wild blueberry industry.
Despite the high-level duties and busy schedule that come with leading his operations, Bragg still takes time to regularly drive through his blueberry fields. Referring to one particular piece of property, known as Pidgeon Hill, Bragg says says, "I consider it therapy, driving up this road. I've been travelling this road since I was 15 and can count every tree."
This particular piece of land is where it all began for Bragg.
"My father used to buy old farm land for his lumber business. He bought this property and someone approached him, wanting to lease the land for blueberry production," says Bragg. He was only 15 at the time, but the younger Bragg made his own proposition to his father, asking if he could harvest the land. "I hired four friends that first summer. By the time I finished high school, I had earned enough to get to university. By the time I finished university, I had earned enough to start my business."
An evolving industry

The wild blueberry industry continues to evolve in large part due to Bragg's entrepreneurial spirit and his foresight that research was the way forward. 
"During my first month of work in 1996, I was not sure what the Wild Blueberry Producers Association and the Bragg Group wanted me to focus on, despite having a list of research priorities," says Dr. Percival. "However, in my first meeting with John, he managed to provide that much-needed clarity with the statement, 'Your job is to find the technologies that will put more berries in the box.' It served as an excellent foundation that I've been able to build on."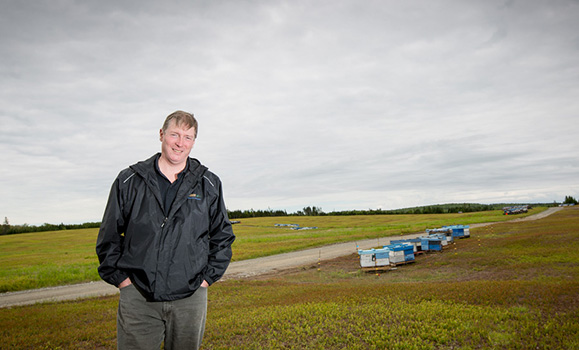 Dr. David Percival.

Over the years, Dr. Percival and his research team have predominantly focused on trying to improve fundamental knowledge of the basic biology of the wild blueberry plant and developing technology based products, processes and services that will increase the yield potential and harvestable berry yield. His efforts have resulted in many different research activities including soil fertility, plant nutrition, disease management, organic production, bioactives and bioproduct development, vegetation management, double cropping, floral induction and initiation and use of plant growth regulators.
"David has brought a lot of focus to wild blueberry research," says Bragg. "He's an innovator and a tremendous researcher. David listens to the farm community and is very responsive to the needs of the industry."
Presently, under the continued support of the Bragg Group, Dr. Percival is focusing on two research projects: successive double cropping, which goes from a two-year to three-year production cycl;e and the use of unmanned aerial vehicles (UAV) and associated sensor technologies in the disease management of wild blueberries. As research continues, the overarching goals for wild blueberry research are to improve knowledge of the fundamental biology of the wild blueberry plant, increase the yield potential and lower the cost of production and improve berry quality and production system sustainability with emphasis on reducing agrochemical usage.
Industry leadership

While Dr. Percival's research has evolved with the ever-changing industry, it wouldn't have been possible without Bragg's commitment and dedication.
With various Bragg Group businesses in operation, Oxford Frozen Foods Ltd. is an industry leader in wild blueberry production and has contributed greatly to wild blueberry research. Founded in 1968 by Bragg, the goal was to make wild blueberries the natural choice for consumers around the world.
The production facility began as a small family-run business that specialized in wild blueberry production and processing. Today, the company consists of eight processing facilities in Nova Scotia, New Brunswick and Maine which process over three million pounds of wild blueberries a day during harvest season. They are also the largest vertically integrated fruit farm in the world and own, farm and process over 24,000 acres of wild blueberry land.
In addition to the farm land and processing capabilities, Oxford Frozen Foods Ltd. has over 150 million pounds of frozen storage capacity. Not only are they the largest processor of wild blueberries, the plant is one of North America's largest producers of premium frozen carrots and one of Canada's premier manufacturers of onion rings and battered appetizers.
Located in the small town of Oxford, Nova Scotia, the plant employs many local residents, contributing to the local economy. In addition, Oxford Frozen Foods Ltd. is home to an in-house micro lab and employs microbiologists to ensure all products are of the highest quality.
Extensive research

With a long list of entrepreneurial and business accomplishments, Bragg has a special place in his heart for Dal's Faculty of Agriculture and the wild blueberry industry in Nova Scotia. Through Bragg Lumber Company and Oxford Frozen Foods Ltd., Bragg has provided industry cash and in-kind contributions to wild blueberry research at Dal AC that has leveraged in excess of $20 million in public sector research funding including provincial departments of agriculture, Agriculture and Agri-Food Canada, Atlantic Canada Opportunities Agency, the Natural Sciences and Engineering Research Council of Canada and the National Research Council of Canada.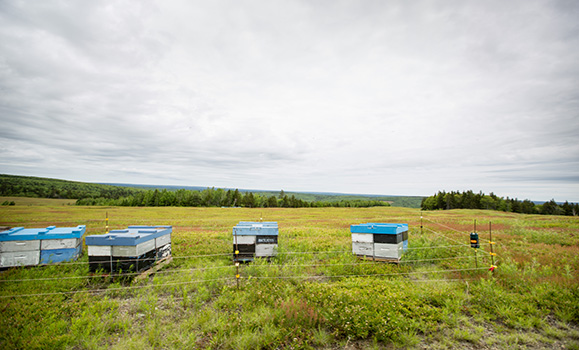 "The extensive research into wild blueberries would not have been possible without the support provided by the Bragg Group and the Wild Blueberry Producers Association of Nova Scotia, both in the form of cash contributions and in-kind, including providing commercial fields for research trials, management services on the trial sites and also providing their thoughts on results from various field trials," says Dr. Percival.
While Bragg has contributed directly to wild blueberry research on campus, he also supports other initiatives at Dal AC. He is currently the honorary chair of the Campaign Cabinet for the Campaign for Agriculture. The Campaign for Agriculture focuses on enriching the student experience and enhancing research initiatives. The campaign will provide greater student support, increased hands-on and experiential learning and new common, teaching and research spaces with advanced technology. Key priorities of the Campaign for Agriculture include a much needed student centre, renewal of the farm, graduate scholarships and new key industry research chairs.
"I am proud to be honorary chair of this campaign," Bragg says. "This campus and its leaders have brought great value to the agricultural community throughout Atlantic Canada."
Confronting the storm

Research has been the way forward for the wild blueberry industry. In 2016, over 400 million pounds of wild blueberries were produced.
"To put it in perspective, when I started at the AC in 1996, the industry produced approximately 124 million pounds of wild blueberries and an average crop was between 1,500 and 2,000 pounds per acre," says Dr. Percival. "Through more careful management of the fields and reducing pest pressures, production in the same field today should yield over 3,000 pounds per acre and we've had some fields in excess of 12,000 pounds per acre."
While these statistics are outstanding, Dr. Percival explains the industry is currently facing "the perfect storm."
With record wild blueberry crops four years in a row, the excess berry yields have caused price deflation, resulting in a lower return for producers per pound for their blueberries. Although some wild blueberry producers are uneasy, Dr. Percival says the industry is broadening their global markets to export to other countries. The industry is also exporting new products that can be developed and exported globally. Dr. Percival is confident this will allow the industry to thrive and balance the supply and demand for wild blueberries in Nova Scotia.
"Global blueberry production has been increasing at an exponential rate over the past ten years, with production expected to double in the next seven-to-ten years," he says. "And although the wild blueberry industry is presently facing a 'perfect storm' for the upcoming year, I do think we have provided and will continue to provide technologies that will allow the industry to remain vibrant and at the forefront globally."
While Bragg's original goal was to "put more berries in the box," it seems there is now a need for a much bigger box.