Sometimes science is not dissimilar to detective work: using research tools to gather evidence, find facts and piece together complex information.

Often, scientists use sophisticated technology to assist with their investigations. For example, to determine migration, feeding or mating patterns, scientists use electronic tags, acoustic and satellite systems to track ocean fish and mammals.  

But for microbiologists, the best way to deduce what's happening in the ocean is to apply a forensic-style approach.

By gathering microscopic cells on a filter that retains nearly all particles found in the ocean, researchers apply the same technique as land-based detectives: gathering — and studying — DNA. But instead of solving crimes, they use the ocean's DNA to assess ecosystem health. And by expanding environmental DNA sampling to collect skin cells and scales shed from larger sea creatures, scientists draw information on the movements and whereabouts of larger fish and whales, without having to see them.


"The ocean has a big impact on our atmosphere," says Julie LaRoche, a researcher with the Ocean Frontier Institute and Dalhousie biology professor. "Marine phytoplankton generates oxygen and absorbs carbon dioxide. And the balance of our climate … of our atmosphere … is controlled by microbes in the ocean. It's a key indicator of productivity, including fish productivity."

Dr. LaRoche is currently collaborating on a microbial DNA study through the Canada C3, a 150-day expedition along the Atlantic, Arctic and Pacific coasts. The scientific team includes microbiologists from the Department of Fisheries and Oceans, the University of British Columbia and Laval. 

When the expedition is complete, Dr. LaRoche and her colleagues will share the data broadly. As a community, they are planning to host a conference at Dalhousie to analyze the implications and potential applications.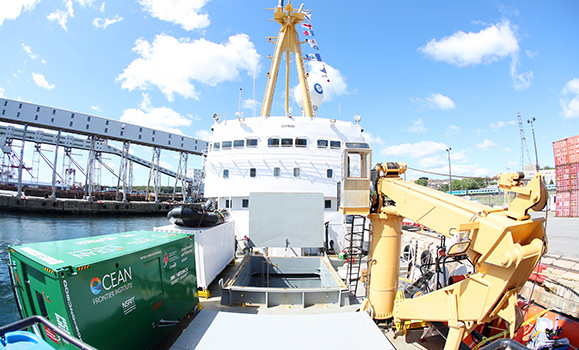 One potential benefit of the study is to assist scientists in determining how microbes can help remove pollutants from the environment, breaking down toxic substances like oil, sewage and plastic, converting it into benign by-products. The information gathered could also be used to advance studies on how microbes could be used to generate a renewable energy source, converting microbial fuel cells into electricity.   

"Microbes are small but they have an enormous positive impact on our environment," says Dr. LaRoche.