Thanks to researchers at Dalhousie University, a Nova Scotia company is poised to launch an eel-farming industry with potential to generate $250 million in annual sales for the regional economy.

NovaEel Inc. is targeting the insatiable Japanese market for eel, or unagi, which has relied heavily on China and Europe since overfishing its own stocks of immature eels ("glass eels") some 50 years ago. Those producers, too, have since overfished their wild baby eels. This makes an opening for Nova Scotia, where the glass eel fishery is sustainable and well-regulated. With the rapid growth in Japanese cuisine and sushi worldwide, there is large demand for eels.

"To produce eels for market, it's necessary to harvest baby eels in the wild and grow them up in tanks, because no one has ever succeeded in breeding eels in captivity," explains Paul Smith, CEO of NovaEel, a collective of licensed eel fishers and companies from Nova Scotia and Maine.

"The challenge is, eels are ambisex. This means they develop into male or female, depending on population density and food supply. But males only grow to about 150 grams, while females can reach several kilograms. Most eels in captivity will be male, which does not yield enough product to be worthwhile. We needed a way to ensure our glass eels would become female, so they would reach a marketable size, while remaining safe for human consumption."

A safe feminization process for glass eels

Working together, NovaEel and scientists at Dalhousie Medical School have perfected a method of turning glass eels into females, and have them stay female in crowded conditions, without risk to human health.

"We've validated a method of feminizing the eels using a form of estrogen known as estradiol, and can confirm this feminization even before the eels develop any visible sexual characteristics," says Dr. James Fawcett, a professor in the departments of Pharmacology and Surgery. "Most importantly for human health, we've found that the eels' estradiol levels return to normal in a matter of days, leaving no residue behind in the tissue."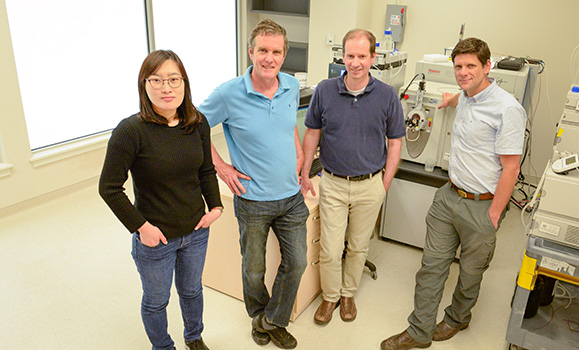 Eel-farming collaborators: Dr. Yu Ri Park, postdoc in the Centre for Water Resources Studies, Faculty of Engineering; Dr. Neil Ross, research director for NovaEel; Dr. James Fawcett, professor in Pharmacology and Surgery; Dr. Alejandro Cohen, scientific director, Proteomics & Mass Spectrometry Core Facility, Dalhousie Medical School.
The researchers developed new sample preparation procedures and analytical methods specifically for this project. By combining three different techniques—chromatography, ion mobility and mass spectrometry—they were able to establish precise and sensitive measurements of female hormones in the eel tissues. Their methods and results were published in the peer-reviewed journal, Rapid Communications in Mass Spectrometry, and highlighted in other scientific publications.

"The specificity and sensitivity of our methods allows us to monitor hormone levels at a wide range of concentrations, including the trace amounts found in male specimens," notes Dr. Alejandro Cohen, who played a lead role in developing and conducting the studies as scientific director of the Proteomics & Mass Spectrometry Core Facility at Dalhousie Medical School. "Now that we have these tests, we can make them available to other industries as well."

Dr. Fawcett obtained a $25,000 Engage Grant from NSERC and $5,000 from the National Research Council's Industrial Research Assistance Program, which allowed the Dalhousie researchers to work with NovaEel to develop the methods for safely and reliably feminizing its glass eel supply. Dalhousie's Industry Liaison & Innovation office played a key role in facilitating this funding and continues to be involved in various aspects of the project.

"We'd be nowhere on this project without Dalhousie," says Dr. Neil Ross, NovaEel's research director, adding that staff members at the university's Aquatron are also key players in the company's research and development efforts. "There's no way we could purchase the sophisticated facilities or develop and conduct that kind of testing on our own—we need our academic partners."

Safeguarding the environment

Now that the feminization process is established and proven safe, the next step for NovaEel is to seek FDA and Health Canada approval for the process and the medication, and then move on to practical matters of raising the female eels. Part of this involves ensuring the environmentally responsible disposal of wastewater at its aquaculture facilities. This is where members of Dalhousie's engineering faculty come in.

"We're collaborating with Dr. Adam Donaldson and Dr. Graham Gagnon in the Faculty of Engineering to refine our aquaculture processes," Paul Smith explains. "We're planning low-impact, land-based production facilities — not sea pens — but there are a lot of details to work out to ensure our operations are as clean, efficient and sustainable as possible."

Assuming all goes well with the regulatory approvals, NovaEels could be set to begin raising eels in tanks on Maritime soil as soon as 2020.

"Why continue to literally ship our industry's growth potential to China?" asks Smith, explaining that the eel fishers who formed the company have all been selling glass eels to China for years. "But why sell for $1 this year what we could sell for $10 next year? We want to capture the potential value of this industry for the Maritime economy by raising the eels for market here. Thanks to our partners at Dalhousie, we expect to be able to do that."

A training ground for scientists and engineers

The NovaEel partnership with academia has so far involved more than 20 trainees. These include undergraduate students, graduate students, postdocs and recent grads in science and engineering programs at Dalhousie University, as well as a student from the University of New Brunswick.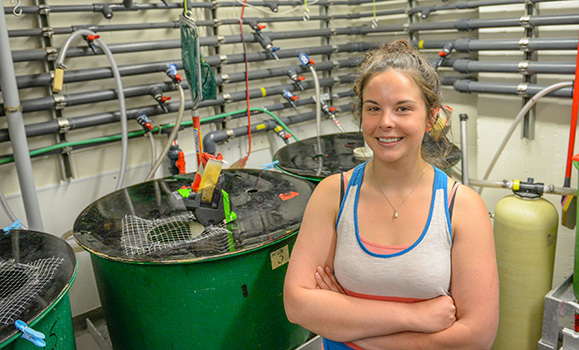 Dalhousie Masters of Engineering student Jessica Bennett is working on a N.S. Department of Fisheries & Aquaculture-funded study for NovaEel; she first began working with the company as a technician following her BSc.
"A number of students have conducted research projects on scientific and technical issues, such as eel genomics, eel nutrition, the eel gut microbiome, and removal of medications from the water supply in recirculating aquaculture systems," notes Smith, who holds a Master of Science in biology himself. "Others have worked with us as technicians, co-op students and volunteers. They bring so much energy and insight, it's tremendous to have them involved."

As Jim Fawcett notes, the trainees are gaining important new skills and learning how research can be applied to solve practical problems.

"Partnerships like the one with NovaEel open doors to new sources of funding that provide both research and job opportunities for students," Dr. Fawcett says. "It also increases our region's pool of people with specialized skills, such as the ability to use the sophisticated instruments in the Proteomics Core Facility. This, and the recent addition of new equipment, increases this facility's capacity to provide analytical services to other researchers and to industry as well."