"It takes a village to raise a project."

Corey Filiaggi is describing the busy and collegial environment at the Berman Zebrafish Laboratory, where she's spent the past three years working towards a master's degree in Pathology. And it's true that, only hours after a midnight return from the North Atlantic Zebrafish Research Symposium in Maine, the motley mix of undergraduate and graduate students and lab technicians milling about give off the vibe of a very science-focused village.

As Corey explains, just about every member of the laboratory is working on his or her own project. Corey herself is exploring the genetics of cancer, specifically childhood leukemia, by inserting human genes into zebrafish embryos.

"My master's project is that I made a transgenic fish – which means I put a human gene into the fish," says Corey. "The gene that we chose is a cancer gene that's known to cause high-risk childhood leukemia."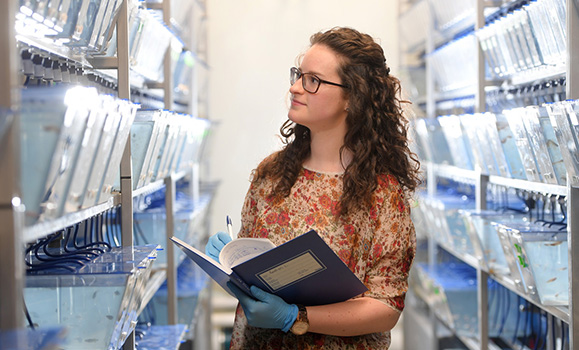 "Because leukemia is a blood cancer, we wanted to put this gene into the fish to see how it affects blood development in the fish. The zebrafish is no different than a human in how their blood development is regulated and we can tag the human cancer gene with a fluorescent protein, so I can look at the fish and see that wherever it has green fluorescence, that's where the cancer gene is being expressed. That allows us to do a lot of analysis on what happens to cells expressing the cancer gene and why."

Corey's project represents the early stages of research that she hopes will lead to improved treatments for young people with leukemia.

"Down the line, we want to use transgenic zebrafish for drug discovery, because unfortunately patients with this gene don't respond well to chemotherapy and have a very low survival rate. If we can figure out how this gene causes leukemia in these patients, that helps us figure out what drugs we can use.

"That's the dream."

Collaborating at all levels

The collaborative village at the Berman lab, which is located at the Life Sciences Research Institute and headed by Dalhousie professor and pediatric oncologist Jason Berman, helps to support Corey's project. And Corey supports the work of others in turn.

Indeed, one of the defining traits of the laboratory is that it brings together students and faculty at all levels to learn and teach each other.

"Our lab is successful because it's collaborative and it's a teaching lab," Corey says. "I will teach undergraduate students about my research and help them with theirs, and I'm helped out by PhD students and post-doctoral fellows who have more expertise.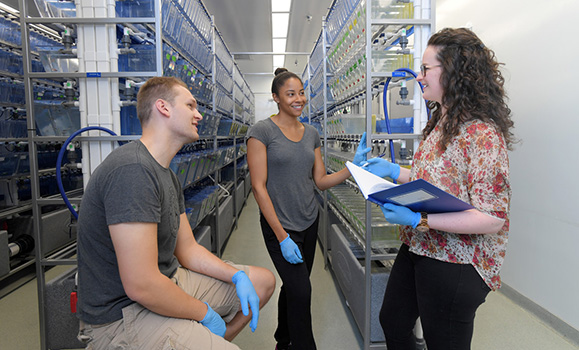 Left-to-right: Students Ben King, Karolyn Long and Corey Filiaggi.
"Through that pipeline, it makes research more fun and more rich."
Karolyn Long, a third-year Marine Biology student doing a summer co-op placement in the lab, agrees. Acting as a technician and breeding zebrafish embryos, among other tasks, has given Karolyn a window into the real world of research.
"At all levels, people are willing to help and teach you and explain things," says Karolyn. "It's nice to learn from other undergrads and people who graduated more recently, because you kind of have an understanding of each other's level of knowledge."
The Berman lab is the third co-op placement Karolyn has done as part of her undergraduate degree. She says the hands-on work reinforces what she learns in the classroom and the academic lab setting.
"The lab components at Dal are very hands-on and intensive, but I find in co-op you can actually see where it would apply in the real world. I don't fully learn something until I see it first-hand and I'm actually doing it and understanding why I'm doing it.

Connections across colleagues

Karolyn adds that she's picked up important "soft skills" required for career success, simply by "being in the work environment and socializing with coworkers, getting along with different people and learning in a different way."

Heading into her fourth year, Karolyn is on a similar path as Ben King, who graduated with a bachelor's degree in Marine Biology, with first class honours, in June. Ben is continuing on at the lab through July, conducting experiments that expand on his honours thesis.

Ben's research experience at the Berman lab also began with a four-month co-op placement. He echoes Karolyn's perspective about the value of real-world work experience.

"Learning theory in class is great, and you do have a lab component in those classes to practice those skills, but you're not really working for an employer, so there's not any real pressure to perform," Ben says.

Working in the Berman lab has given Ben a chance to be professional and accountable, while getting support from a wide range of students, faculty and research colleagues.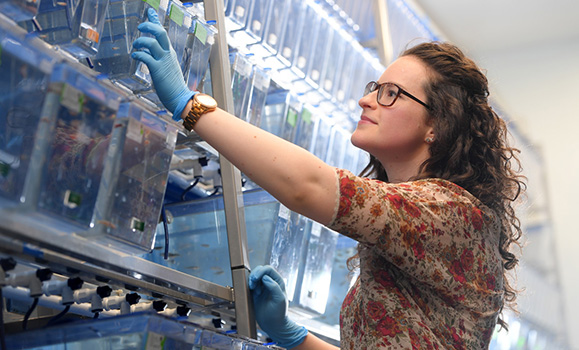 For Corey, the culture of friendship and support that permeates the Berman lab is at least partly inspired by the fact that everyone here is pulling towards similar goals. All of the varied projects on the go are in some way related to helping children with cancer and other rare genetic disorders.

"Being a clinician scientist, Dr. Berman has really helped to make the connection between my work and patients living with these diagnoses."