Researchers in Dalhousie's Department of Family Medicine are co-leading a Nova Scotia network that's mobilizing health-care professionals, managers, policy makers, learners and citizens across the province to get involved in practical research that will re-shape the delivery of care.

The network is called BRIC NS — Building Research for Integrated Primary Health Care, Nova Scotia — and it's part of a Canada-wide network of networks that's linking researchers from coast-to-coast in an effort to solve some of the country's most pressing health care challenges. All are part of the Canadian Institutes of Health Research-funded Strategy for Patient-Oriented Research Network in Primary and Integrated Health Care Innovations (CIHR SPOR PIHCI).

"Our main goal is to improve health status and quality of life for people with complex health conditions requiring a lot of care — such as people who are dealing with chronic diseases or increasing frailty, or who are nearing the end of their life," says BRIC NS Network Director Beverley Lawson, a senior research associate in the Department of Family Medicine. "At the same time, we're looking upstream, to prevent complex problems in people at risk."

As Lawson explains, new research shows that the top five per cent of health system users in Nova Scotia are using 65 per cent of the hospital and physician resources.

"Targeting research to improve accessibility and integration of services for this relatively small number of patients offers a real opportunity to make a significant difference to the health care system and to people's lives," Lawson says. "For example, if we can improve service delivery to prevent complications and keep symptoms under better control, we can reduce the need for hospitalizations, invasive procedures and drugs that can be costly for the system and both costly and risky for patients and families."

Early successes in palliative care

Two research projects launched through BRIC NS received funding in CIHR's most recent SPOR PIHCI competition. Both aim to improve palliative and end-of-life care by providing more care and support to patients and families in their homes and communities — rather than in hospitals and emergency rooms.

"We're investigating how community-based palliative care can be improved through a case-management approach," says Dr. Grace Warner, an associate professor in the Faculty of Health Professions who's heading one of the projects. "This educates patients and families about the complexities they're facing and connects them to supports in the community, while providing a means of sharing information among family caregivers, community-based service providers and primary care providers.

"Ultimately, we want to help people avoid trips to the hospital and die with dignity at home."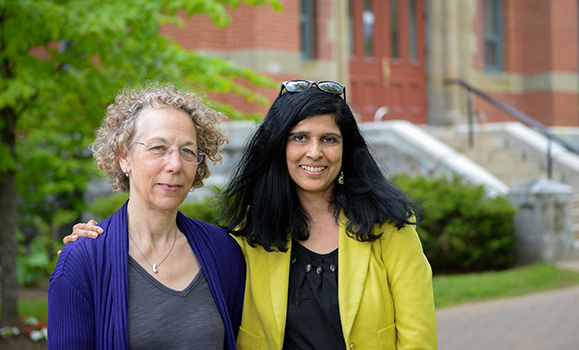 Dalhousie researcher Dr. Grace Warner (left) and NSHA researcher Dr. Tara Sampalli are collaborating to improve community-based palliative care.
The Nova Scotia Health Authority (NSHA) will use the findings to improve delivery and integration of palliative care service, while collaborators in Prince Edward Island will incorporate the study's findings into Health PEI's Integrated Palliative Care Program.

The other project is evaluating Nova Scotia's leading-edge strategy of helping patients avoid stressful trips to the emergency room by employing paramedics to provide palliative symptom-relief care in the home.

"We realized that paramedics were being called upon to assist in symptom crises, such as breathlessness, agitation or pain, but didn't have the training, protocols or tools to help patients in the home," says project lead Dr. Alix Carter, an assistant professor in the Department of Emergency Medicine and director of research at EHS Nova Scotia. "So we launched a program in 2015 to train paramedics to provide palliative and end-of-life care in the field."

The CIHR funding through BRIC NS is allowing Dr. Carter and her team to evaluate the impact of the paramedics' expanded role. "The paramedics and families we've surveyed have been very positive about the program," she says, "but we also need the health system data to show how many trips to emergency were avoided and how many more people were assisted to stay, and die, in their homes."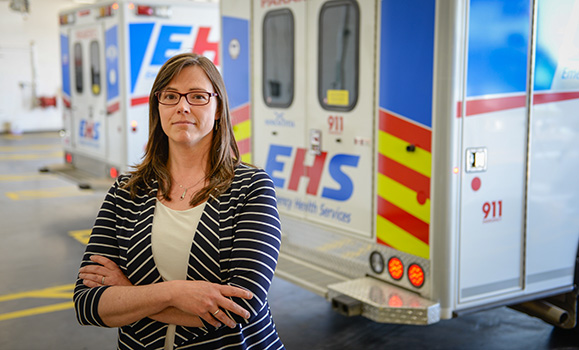 Dr. Alix Carter is leading a BRIC NS project evaluating paramedics' role in providing palliative care in the home.
As with all projects through BRIC NS, Dr. Carter and her team are collaborating with another province. "We're working with British Columbia, to see how our approach can be adapted to address similar challenges they're facing," she says, adding that she also presented her team's findings to health care CEOs at the National Health Care Leadership Conference in Vancouver earlier this month.

Mobilizing around collective priorities

Launched in October 2015, BRIC NS is the result of successful applications to CIHR SPOR PIHCI and the Nova Scotia Health Research Foundation. This work to establish a Nova Scotia network was driven by Collaborative Research in Primary Healthcare (CoR-PHC), an interdisciplinary, interfaculty research team at Dalhousie (https://www.dal.ca/sites/cor-phc/home.html) led by Dr. Fred Burge, Faculty of Medicine, and Dr. Ruth Martin-Misener, Faculty of Health Professions. Dal's vice-president research funded CoR PHC as a "Strategic Research Initiative" in 2013.

"That initial funding from Dalhousie was the spark that has enabled us to create a research network that now spans the province and involves more than 120 members in setting priorities, framing research questions, forming teams and securing funds," Beverley Lawson says. "People who've never been involved in research before are stepping up to play a part in BRIC initiatives."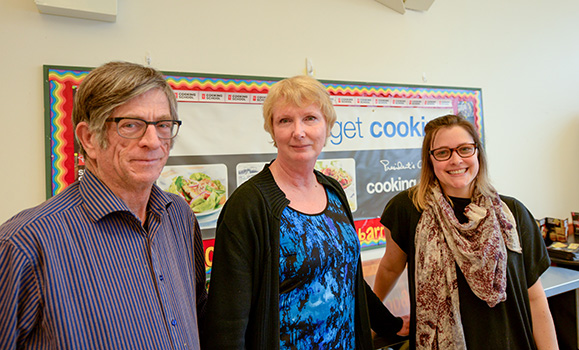 BRIC NS network director Bev Lawson (centre) at a BRIC NS-hosted citizen-engagement session.
In addition to providing a forum for setting priorities, forming teams, sharing educational opportunities and connecting with collaborators in other provinces, BRIC NS provides mentoring, consultation and other assistance to help research teams plan and conduct their research, involve patients and families in the research in meaningful ways, and share their results with the people who can put the findings into action.

"Everything we do through BRIC NS is oriented toward devising and evaluating practical strategies for improving health care services to the people who need them most," Lawson says. "That's why we emphasize citizen engagement and have a scientific, clinical and policy lead. Our research must not only be scientifically sound, but relevant to patients and feasible to apply."

Dr. Burge, professor in the departments of Family Medicine and Community Health & Epidemiology, is BRIC's scientific lead, while the clinical lead is Dr. Rick Gibson, chief of the Department of Family Practice in NSHA's Central Zone. Lynn Edwards, senior director of Primary Health Care & Chronic Disease for NSHA, and Charmaine McPherson, executive director, Risk Mitigation Primary & Acute Care Branch, Nova Scotia Department of Health and Wellness, are the policy co-leads.