This article is part of a series on graduates of Spring Convocation 2017. Read more grad profiles or, to learn more about the ceremonies, visit the Convocation website.
"I'll have more than five years of meaningful experience when I graduate. I'm starting off in a good spot."

So says Mary-Margaret Bennett, a Faculty of Management graduate whose experiential learning and work opportunities have been the highlight of her academic career — and, she believes, a springboard to future success.

A native of Halifax, Mary-Margaret began her university studies in Dalhousie's Theatre program, but switched to Business Management (with a major in Entrepreneurship and Innovation) after a first-year Economics class opened her mind to other outlets for her creativity.

"(The class) introduced me to the world of business and entrepreneurship and inspired me to be creative in a new way," she says.

She especially enjoys applying her creativity to social enterprise entrepreneurship. To that end, she spent two years with the Dalhousie chapter of Enactus, a global organization that brings students together to create and implement charitable projects. The classes also provided plenty of opportunities for Mary-Margaret to learn through experience.
Learning by doing

"We got to reach out to small businesses and help them with projects. For project management, which was one of my fourth-year classes, we reached out to a non-profit and took over an IT project for them. We were actually assisting them with redesigning their website and their social media platforms.

"It's a very interactive program."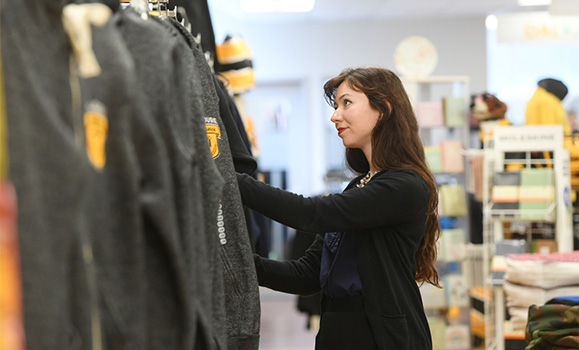 As an employee of the Dalhousie Bookstore since 2014, Mary-Margaret has also obtained paid work experience. Most recently working as a data maintenance assistant, she previously served as a purchaser of stationery and general merchandise.

She says her time at the Bookstore has given her yet another valuable perspective she can bring to her future career.

"When you're a Management student, the number one thing is to network and interact with as many people as possible, to increase your confidence and your ability to communicate with others," she explains. "Working at the bookstore has enabled me to be a better communicator and engage more with my customers."
Preparing for her future


Mary-Margaret says her wide range of work experiences, along with the fact that she assumed the financial responsibility for her education, has made her more resourceful and entrepreneurial in her mindset.

Although she is wistful about the end of her time at Dalhousie, she's greatly looking forward to crossing the Convocation stage.

"It's something I've been thinking about for a while. The community of Dalhousie has been so supportive and I have wonderful memories of being here.

"I feel prepared, as well as excited, to graduate."