Campus came alive with entrepreneurial spirit last Saturday as Canada's Governor General and the head of the country's top research body dropped by to discuss their new book on ingenuity in Canada.

His Excellency the Right Honourable David Johnston and Tom Jenkins, Chair of the National Research Council of Canada, joined Dal President Richard Florizone for a public fireside chat centred around the book, Ingenious: How Canadian Innovators Made the World Smarter, Smaller, Kinder, Safer, Healthier, Wealthier, and Happier.


Written to celebrate Canada's 150th anniversary, the book explores more than 100 Canadian innovations, including light bulbs, liquid helium, peanut butter and the BlackBerry.

"We took on this project because we are passionate about innovation, about doing things better," said His Excellency to the attendees gathered in the Rowe School of Business for the event, which included a question-and-answer period and a book signing.

When the pair started out on the project, they said they expected to write about 50 innovations or so, but didn't know where to start. They discovered that no one had been keeping track of Canadian innovations in such a fashion, so they decided they'd have to create a list themselves.

 "We soon found that there are significantly more Canadian creations than can fit in just one book," said the Governor General.

Innovation as improvement

To decide what made the cut, the pair began to explore the concept of innovation itself. Jenkins said "how-tos" and "checklists" peppered throughout the book help give readers a better sense for what qualifies as innovation.
As His Excellency explained, a lot of it came down to defining what innovation is not. "Innovation is distinct from invention and discovery," he said. "Innovation is the step-by-step process of improving something."

One example highlighted at the event was canola oil. Canola oil as we know it today emerged from research done in Manitoba in the early 1970s. Through some creative problem solving, the researchers managed to create a version of canola that is disease- and drought-resistant.

"It's now regarded as the best cooking oil on the market, all thanks to a group of Canadians," said His Excellency.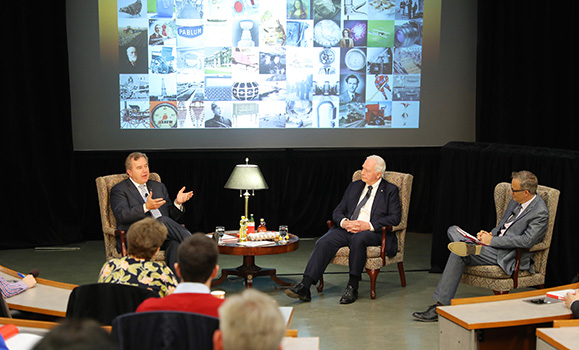 Left-to-right: Tom Jenkins, The Right Honourable David Johnson and Richard Florizone.

The Governor General and Jenkins were natural partners on the book project. The former served as president of the University of Waterloo for 11 years prior to becoming Governor General, overseeing the institution's steady growth into a national post-secondary leader in startup creation and spinout companies. The latter is currently chairman of OpenText, Canada's largest software company, and in 2011 chaired a panel reviewing federal investments in research and development.

Educating for ingenuity

His Excellency and Jenkins spoke about Canada's need to improve innovation education among youth. They are currently working with teachers across the country to develop innovation-focused curriculum for all grades, and Ingenious is currently being rewritten as a children's book.

Dr. Florizone also stressed the importance of innovation in education at the event.

"It's wonderful to have this event on campus because innovation is at the core of what we do," he said.

Jenkins agreed, saying "so many of our innovation stories have come from the Atlantic Region."

The group referenced Jeff Dahn, world-renowned Dal researcher and recent Herzberg Gold Medal winner, recognized last year with one of the inaugural Governor General's Innovation Awards for his cutting-edge research on lithium-ion batteries. He's one of three Dal researchers in the last for years to receive NSERC's Herzberg Medal, one of the pinnacle research prizes in the country.

While it is easy to equate innovation with advancements in technology, Jenkins spoke on the necessity of an artistic mindset and the importance of developing soft skills at a young age.

"Our creativity is our bastion," he said. "As innovators, we always have to think one step further. Creativity isn't something that can be replicated."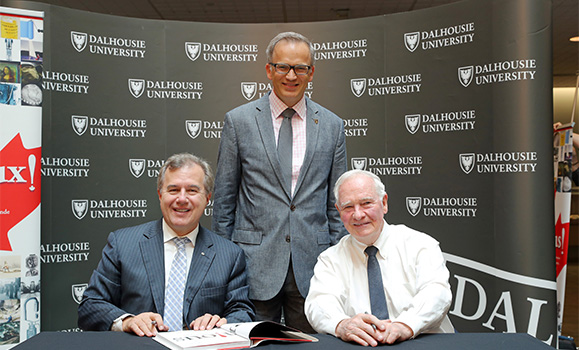 Dal President Richard Florizone (centre) with Tom Jenkins (left) and the Right Honourable David Johnston (right).