Though it's Dal's newest faculty, the Faculty of Agriculture has a long history — more than 100 years of world-class education and research that's intertwined not just with Dalhousie University, but Nova Scotia and the entire Atlantic region.

It's a legacy that will be front and centre during Dal's 200th anniversary year.
"Our celebrations throughout 2018 will focus on making a connection to agriculture, to wellness and to the food we eat," says David Gray, Dean of the Faculty of Agriculture and Principal of the Dalhousie Agricultural Campus. 
"Agriculture is a community — a community of people passionate about putting food on our tables, protecting our environment and cultivating our land.  It is our future and we want to elevate our understanding of the breadth and depth of agriculture within our community."
Building a sustainable future

In 2018, the Faculty of Agriculture will highlight its contributions to teaching and research with the launch of a $25-million biomass energy plant and steam distribution system. This biomass co-generation project will replace the campus's aging steam lines with hot water lines, replace the wood boiler, add appropriate and required air quality controls and add a turbine to create electricity.
"It's exciting that as a Faculty of Agriculture we are setting an example of best practices and embracing a sustainable source of energy as we continue to move toward carbon neutrality," said Dean Gray, speaking to Dal News about the project in April 2016. "This new facility aligns well with a number of our research areas in renewable energy and will provide opportunities for us to put research into practice."
In September 2018, renowned animal scientist, autism advocate and Dal honorary degree recipient (2015) Temple Grandin will return to campus. Dr. Grandin, both the world's most famous animal scientist and the world's most recognized person with autism, will be hosted by the Department of Extended Learning and speak to students and the broader community on issues of animal welfare and behaviour.
The Agricultural Campus will also officially name its Botanical Garden in 2018. An essential part of the Faculty's teaching and learning and boasting more than 26 acres, the garden was the recent recipient of a 'Canada 150 Garden Experience' designation.
A wide variety of activities


Other Dal 200 activities in the Faculty of Agriculture include:
Students will incorporate the Dal 200 logo into the carpet bed along Pictou Road as well as at the entrance to the Alumni Gardens.
Dal will host a New Year's Day Community Skate at Truro Civic Square
The Faculty of Agriculture will host the 4-H National Science Fair in March 2018 with expected attendance of close to 100 people from across Canada.
200th anniversary spirit will be front-and-centre at annual events like College Royal (the campus's livestock demonstration event) and Community Day (which brings more than 1,000 to campus to explore the campus through fun and lively activities).
An Alumni Harvest dinner will feature alumni products for sale in support of a food-based charity.
A two-day International seminar on sustainable smart agriculture technologies also known as Precision Agriculture will help farmers make production systems more efficient.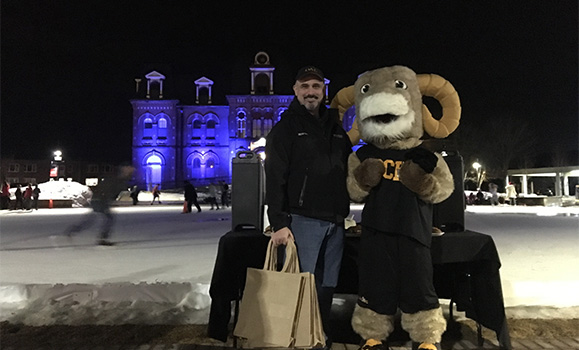 Dean Gray and the Dalhousie Ram at the Truro Civic Square.

Look for more details on these and other activities from the Faculty of Agriculture as Dal's 200th approaches.