Student leaders from the Dentistry and Dental Hygiene programs hosted students, faculty, and staff from the Dal community at an open house earlier this month to launch the Dentistry Building's renovated student lounge — a space that both welcomes and invites a diverse range of students.    
 
"What started as a difficult and upsetting experience has become a very exciting time for us," said Abby Barton (Class of 2017), as she and other student leaders revealed the freshly renovated student lounge and a new wall mural on May 8, discussing the goals and rationale behind the changes.

"We are so proud of what our students have accomplished," said Dr. Tom Boran, dean of the Faculty of Dentistry. "They have thought deeply about what it means to be inclusive, they have collaborated with each other, consulted widely, and they have made thoughtful and meaningful changes. This student lounge and this new mural are proof positive of that."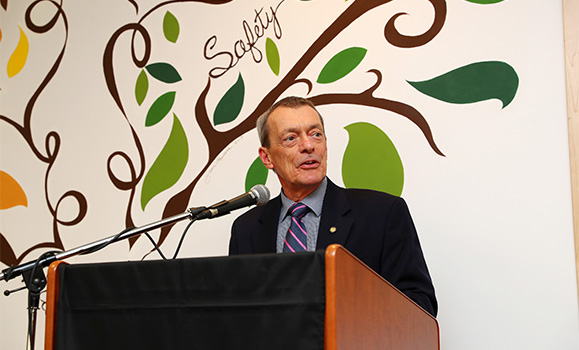 Emphasizing inclusion

Two years ago the student lounge was talked about as part of the Facebook episode that rocked the Faculty of Dentistry and the university. As part of the ongoing work to address culture and climate within the Faculty of Dentistry, the students decided that they would "try to build an inclusive and healthy community within our Faculty and to reflect and increase the diversity of the students involved in our society and events".

Wanting to draw a line under the past and take the Dalhousie Dentistry Students' Society (DDSS) forward in a new way, Abby and her fellow DDSS student leaders set out their values as a student society — inclusivity, responsibility and accountability, safety, and transparency — and then worked to create a space and a sustainable framework by which those values would flourish.

The students consulted widely and worked in collaboration with groups and colleagues on and off campus. They also held their first annual Leadership Summit in October 2016, which was aimed at training and preparing student leaders for the conflicts and difficult conversations that often accompany positions of leadership.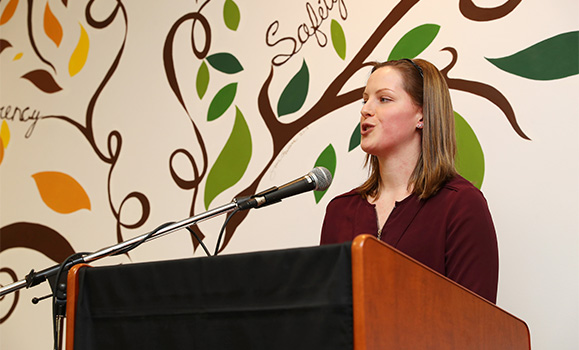 "There are many issues facing students, ranging from mental heath to sexualized violence," said Abby, "and student leaders need the knowledge, skills, and resources to talk about these issues constructively and direct students to sources of further support."
Read: Abby Barton's speech from the lounge opening [PDF]

Open and accessible to all

The result is an open and accessible office with a large window onto the lounge, in which trained student leaders will host office hours and deal with student concerns. The lounge itself has also been designed to be a welcoming space in which the DDSS can "host events that are welcoming and inviting to our student community as a whole," said Abby.

Far more than simply a physical space, the renovated student lounge and office are symbolic of a strengthened focus on reflecting and increasing the diversity of the students involved in the Dalhousie Dentistry Students' Society.


The final element in the students' project is a mural, created by the community artist Tonya Paris and based on community consultations at the Faculty's outreach clinics at the North End Community Health Centre, the North Preston Dental Clinic, Harbour View Elementary School, and the ISANS Immigrant and Refugee Clinic.

Changing the writing on the walls

"We thought a lot about what was reflected on the walls of Facebook and our student bar room in 2015 and about how it came to be written," said Abby. "Changing the writing on the walls was a way of reflecting our commitments as a community. It also acknowledges our continued journey and ongoing learning, because we know that this work will never be done."

Dalhousie President Richard Florizone attended the opening, and commended Abby and her fellow student leaders for taking on this project. "What you have learned and accomplished is a foundation and a springboard to make us all better," he said. "You make Dal stronger and I am proud to be your president."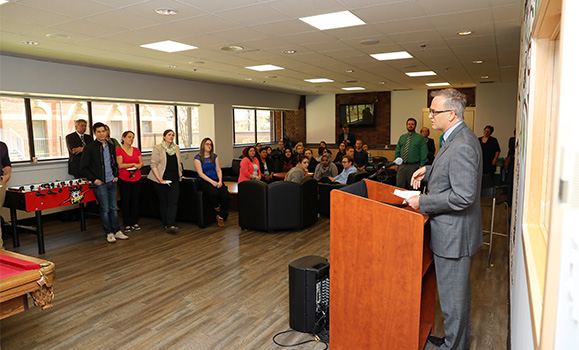 Dr. Boran added his praise for the work of the students. "You have worked hard, you have been inspired, and you have been brave. You have made a lasting difference, not only to this Faculty, but to the university. That is your legacy, and you can be proud of it."