Last week, Dalhousie partnered with the Nova Scotia Health Authority, Halifax Regional School Board, Healing our Nations, and the Native Council of Nova Scotia to host Indigenous high-school students from across Halifax and beyond to explore what their futures might hold.

The university was the site for the Indigenous Health Career Fair on Tuesday, May 2. It was an opportunity for students to learn and explore a possible career in the health professions — what's involved, the highlights and the challenges.

The event opened with a prayer by Dalhousie Elder Geri Musqua-LeBlanc and welcoming remarks from Dal President Richard Florizone.

"We know a great university is strengthened by its diversity," said Dr. Florizone. "Dalhousie University is your university."

Some of the booths displayed various post-secondary options available to students, including programs in Dal's Faculties of Health Professions, Dentistry and Medicine, as well as health programs at NSCC and the University of New Brunswick.

Other community organizations and partners who contributed to the event included: the IWK Health Centre, the Nova Scotia Health Authority, the Native Council of Nova Scotia, the Mi'kmaw Legal Support Network, Healing our Nations and the Atlantic Policy Congress.

Inspirational speeches

One of the day's keynote speakers was Savvy Simon, a youth leader who was recognized by Canadian Living as one of the magazine's Top 40 female change-makers. Savvy is from the Mi`kmaq tribe of Elsipogtog First Nation in New Brunswick. Her positive approach to life and culture has generated a significant following.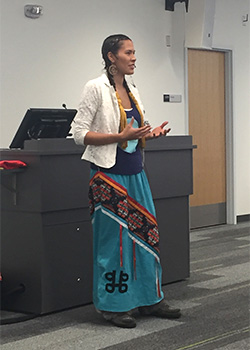 "Positive self-talk has made a huge impact on my success and my daily life," said Savvy (left), who has participated in We Day Halifax, worked with Dolly Parton and Buffy Sainte-Marie and even danced at the Vancouver 2010 Olympics.

She shared advice to motivate students, remind them that if they want to pursue something, to stick with it because they can achieve their dreams.

"When you decide to face your fears, and do the things you love you're going to have crazy opportunities come to you," said Savvy. "Be a leader not a follower."

Following Savvy's speech, speakers from the schools of Social Work and Nursing and the Faculty of Medicine spoke to their experiences in pursuing careers in the health professions.

Brent Young, a second-year Medicine student at Dal, shared his experience of getting into medical school, and the importance of volunteering and developing a resume.

"It's not a sprint to get into the program you're interested in," says Young. "It's a marathon. Do the hard work and put in the hours. This will make you successful as an individual."