A commemorative Vimy Ridge Oak is being planted in the Alumni Gardens as part of Convocation celebrations this week on the Dalhousie Agricultural Campus.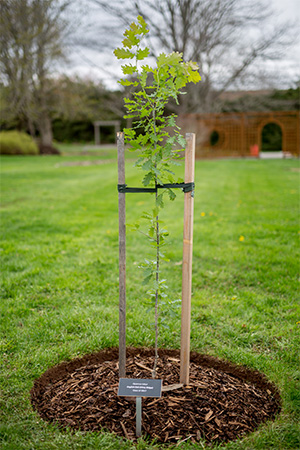 The five-foot English Oak, one of only 40 in Atlantic Canada, is a gift from the Class of 2017 to the Faculty of Agriculture. The Vimy Ridge English Oak commemorates the 100th anniversary of the Battle of Vimy Ridge — the First World War battle that is considered a defining moment in Canada's history.
Learn more: The Vimy Foundation

"The Class of 2017 is extremely proud to be able to present one of the Vimy Ridge Oaks as our gift," says Class President Ellen Sharp. 
"Trees have been given as grad gifts in the past and are often used to describe a student's journey through their years at the AC. Beginning as seedlings, spreading roots and being enriched by the resources that we are surrounded by," she adds.
"This tree, however, has a legacy much deeper than many previous gifted trees. This tree is a genetic descendant from one of the acorns recovered after the battle of Vimy Ridge and will be a reminder of the strength and determination of those who gave their lives one hundred years ago."

The origin of the Vimy Ridge Oaks dates back to the battle's aftermath in April 1917. Lieutenant Leslie Miller of Scarborough, Ont. gathered a handful of acorns from a partially buried English Oak on the Ridge as a souvenir of the battle. He later planted those acorns on farmland back in Scarborough that he he called "Vimy Oaks Farm."

Today, several of the original oaks survive — but none remain on Vimy Ridge itself. Two years ago a team of professional arborists, working with the Vimy Foundation, began to graft cuttings from the original oaks in an effort to return Vimy Oaks back to France in honour of the centennial anniversary of the battle. A decision was also made to propagate additional oaks from the originals in Ontario for distribution across Canada.
Sharing Vimy's legacy

Jim Landry, executive director of Landscape New Brunswick, obtained the trees from the Vimy Oaks Legacy Foundation for the Maritime Region, and made one available to the Faculty of Agriculture at the request of Assistant Professor Tracey MacKenzie.

"I'm happy to be able to connect the graduating students with this opportunity to donate a living legacy that goes beyond simply recognizing their time on campus," said Prof. MacKenzie. "But also pays tribute to the sacrifice of our veterans that ensured their freedom to pursue an education."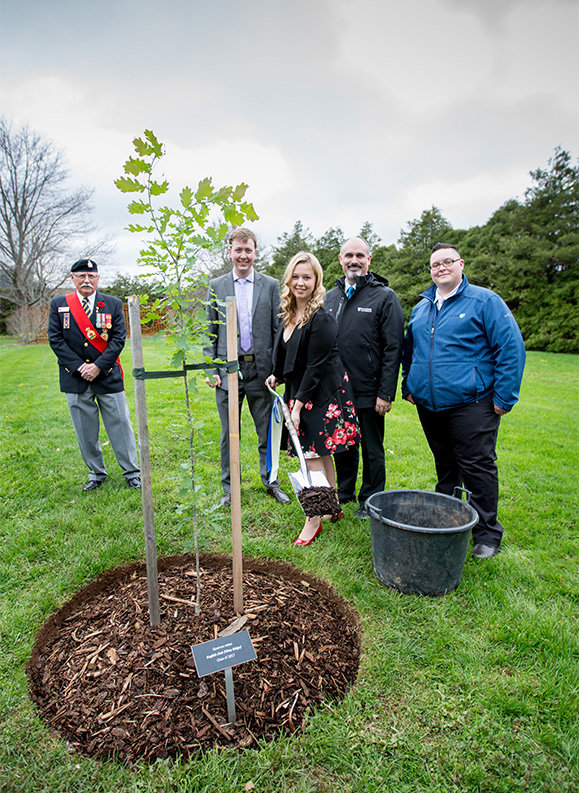 Celebrating the new Vimy Ridge Oak.

"This is such a special honour for our Faculty, our campus and our university," said David Gray, dean of the Faculty of Agriculture and principal of the Dalhousie Agricultural Campus. "Our grounds are a source of learning, pleasure and pride for the university and broader community and I cannot think of a more fitting location to honour our alumni veterans and the veterans of our community than in our Alumni Gardens."

Landry has a personal connection to the Vimy Ridge Oaks project: his great uncle John Ashe died in the war and was buried in northern France. He recently had the opportunity and privilege to be the first in his family to visit Ashe's and in November handed John's wooden grave marker over to Canada's Chief of Defense Staff and, ultimately, the Canadian War Museum in Ottawa.  

"I regret I cannot be in Truro to watch this tree being dedicated to the memory of those who fought in the Great War," said Landry. "I will visit it often and I will reflect and I remind you that the species of this oak is 'robur' which in translation means 'strength.'"