As physicians across Canada familiarize themselves with new national guidelines for prescribing opioids — released this week — Dalhousie Medical School is preparing to launch a comprehensive new opioid-prescribing education protocol for residents in all 55 of its postgraduate medical education programs.

"We're getting ready to go live with our online modules for all residents in early July," says Dr. Geoff Williams, assistant dean of postgraduate medical education and chair of a task force struck last year to examine the scope and content of opioid-prescribing education for residents at the medical school. "This is the first stage of a three-tier program we've developed to ensure our residents have a firm foundation in the principles and practices of safely prescribing opioid medications."

As Dr. Williams explains, some fields require more education in opioid prescribing than others.
"As the largest provider group, family physicians prescribe 90 per cent of the opioids in Nova Scotia, followed by surgeons, emergency physicians, and pain and palliative care specialists," he notes. "Our new program will first provide a baseline for all residents early in their residencies, followed by more intensive education on opioid prescribing for acute pain, and a third level of in-depth training for those whose practice will involve treating chronic pain."

Addressing an epidemic


The new training program for residents is part of a larger effort underway to ensure that all doctors — in training and in practice — in the Maritimes have the knowledge and tools they need to prescribe opioid medications in a safe and effective way that meets patients' needs for relief while minimizing their risk of addiction.

Last year, Dean of Medicine Dr. David Anderson tasked senior administrators at all levels of medical education — from the MD and residency programs through to continuing professional development — with evaluating the current programming and identifying strategies for strengthening it.

"We've seen steep increases in opioid prescriptions and opioid-related deaths in the past decade in North America, and Dalhousie Medical School is determined to play a lead role in reversing this trend," says Dr. Anderson. "Our goal is to ensure that all physicians understand the complexities of safe prescribing and vigilant monitoring of opioids, in order to provide compassionate care that safeguards the wellbeing of every patient."

According to the new opioid-prescribing guidelines published in the Canadian Medical Association Journal this week, Canadians are the second-highest per capita users of opioids in the world — and the highest when measured on the basis of morphine equivalents (800 morphine equivalents per capita in 2011).

In Ontario, admissions to publicly funded treatment programs for opioid-related problems doubled from 2004 to 2013, from 8,799 to 18,232. The numbers are much lower in the Maritimes, due to a smaller population, but overuse and potential abuse of opioids is still a major concern.

A prescription for change

The majority of opioid-related deaths in recent years have been caused by overdoses of the synthetic opioid, fentanyl, which is manufactured illegally and sold onto the streets nationwide.

"There is not much we can do, as physicians, to prevent the flow of illegal fentanyl onto the streets, but we can help prevent the diversion of prescription opioids to non-medical uses," notes Dr. John Fraser, a Halifax-based pain and addictions specialist with more than 30 years' experience. "We do know that, as the number of prescriptions for opioids rises, so do the markers of diversion — such as emergency room visits and overdoses in treatment centres."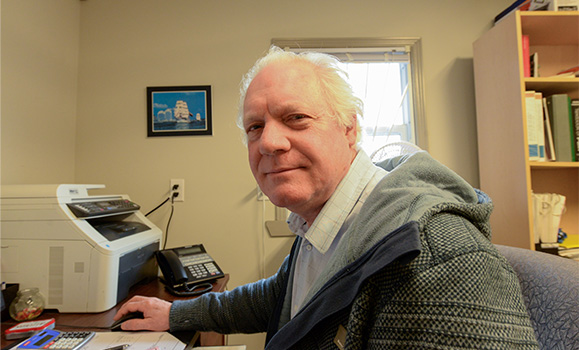 Dr. John Fraser in his office at Direction 180, a methadone clinic in Halifax.
Dr. Fraser, an assistant professor in Dalhousie Medical School's departments of Family Medicine, Psychiatry, and Anesthesia, Pain Management & Perioperative Medicine, has been teaching the fundamentals and finer points of pain management and addiction to residents for more than two decades.

Three years ago, Dr. Fraser and then-Dalhousie faculty member/QEII pain specialist Dr. Peter MacDougall,developed "The Prescribing Course: Safe Opioid Prescribing for Chronic Non-Cancer Pain," and began teaching it through the Atlantic Mentorship Network: Pain and Addiction. They've since taught the full-day course more than 20 times across all four Atlantic provinces, in partnership with Dalhousie's Department of Family Medicine and health authorities and workers' compensation boards in the region.

"They learn from each other," says Dr. MacDougall of the interprofessional nature of the course, which is provided to mixed groups of residents, physicians, nurses, nurse practitioners, pharmacists, dentists and paramedics. "The perspectives and knowledge base of each profession is different, so together they gain a broader understanding of the problems and solutions."

Now a member of faculty at the University of Ottawa, Dr. MacDougall is gearing up to introduce the safe opioid prescribing course in the Ottawa area.
"We've had the course handbook translated into French, and will run it this weekend for the first time in Moncton with simultaneous translation, so now we can expand into bilingual and French-speaking areas," he says, adding that he and Dr. Fraser are training other faculty members to teach the course, to make it more widely and frequently available.  

Assessing the tendency to dependency

In making the decision to prescribe an opioid or not, physicians must follow the same principles and process as they do for all prescriptions.

"Before writing any prescription, a physician must take a detailed history, perform a physical exam, establish a differential diagnosis and prescribe an appropriate treatment plan," says Dr. Connie LeBlanc, associate dean of Continuing Professional Development at Dalhousie Medical School and an emergency physician at the QEII Health Science Centre. "And then they need to monitor and reassess the patient and make any necessary changes. These steps must be followed rigorously."

Dr. LeBlanc says the pendulum has swung back. "In the 1990s, the attitude was very much that pain had to be tightly controlled, it was imperative to keep the patient free from any pain… but there were risks to that. Now the approach is much more judicious, measured… we don't want people to suffer but we don't want to do them any lasting harm, either."

One of the keys is to assess the patient's risk of developing an addiction.

"If a patient has a personal or family history of addiction, an active mental illness, or has experienced childhood trauma, they are five to six times more likely to develop an addiction to a prescribed opioid than someone who lacks these risk factors," Dr. Fraser notes. "Doctors need to define the degree of risk and tailor a treatment plan based on that risk. That could involve tighter boundaries on the dosing and duration of the prescription and more intense monitoring… or not prescribing opioids at all."

Opioids are the third-line treatment for chronic pain and should not be offered unless first- and second-line treatments have failed. "The first line is non-pharmacological… ice, heat, physiotherapy, chiropractic, acupuncture, exercise, massage… there are many avenues to explore," Dr. Fraser says. "If the patient is still in pain, we offer non-opioid analgesic, antidepressant, or anti-inflammatory drugs… only if these too fail should we consider opioids."

As he notes, overdose is the most dramatic, but it is far from the only issue when it comes to opioid use. People on the medications may also experience cognitive problems, disrupted sleep, constipation and a heightened risk of accidents and falls.

New e-learning tools expand the programming's reach

In addition to "The Prescribing Course: Safe Opioid Prescribing for Chronic Non-Cancer Pain," practising physicians in Atlantic Canada — and beyond — will soon have access to a comprehensive online course in the works through Dalhousie Medical School's continuing professional development (CPD) programming.

"Our plan is to make the course available to physicians in their homes or places of work," says Dr. LeBlanc. "It will reflect the new Canadian guidelines and be delivered over a period of months through a series of webinars and online modules, supported by videos and chat rooms.
"In keeping with the principles of adult learning, our course will allow participants time to take in the new material, reflect on and assess their practice and make adjustments, then come back to the training to consolidate and expand on their learning to date."

As chair of the Association of Faculties of Medicine of Canada's committee of associate deans of continuing professional development, Dr. LeBlanc is well versed in what's happening nationally in CPD regarding the appropriate prescribing of opioids.

"I'm putting the finishing touches on a report outlining all of the CPD programming, nationwide," she says. "There are lots of programs in development, with a shift from including this topic in broader refresher courses, to dedicated programming. Based on what I'm seeing, I can honestly say that our program at Dalhousie is unique."

From the ground up

The foundations for proper prescribing of opioids are laid in the first two years of medical school, through Dalhousie's renewed undergraduate curriculum.

"It starts in first year with the pharmacology and biochemistry of opioids, and continues through a spiral curriculum that adds new layers of learning as students progress in their training," says Dr. Evelyn Sutton, associate dean of Undergraduate Medical Education. "In the professional competencies units in first and second year, students delve more deeply into the social and psychological aspects of addiction risk. By fourth year, they're learning the specifics of prescribing in their clinical rotations."

As Dr. Anderson notes, it's imperative that physicians and learners at all levels have a solid grounding in the safe and appropriate prescribing of opioids — and Dalhousie Medical School is ensuring this happens.