The excitement in the room was palpable as Dr. Thomas Boran, dean of Dalhousie's Faculty of Dentistry, and two second-year Dentistry students, Lexi McLean and Emily Bishop, spoke about the ongoing clinic renewal project and what it means for student learning and patient care. Work has been taking place "behind the wall" for several months and everyone was eager to see the results.

The first half of the renovated dental clinic was unveiled to a group of donors and members of the Dalhousie community at a preview event on April 27. Students and faculty began working in the new space on May 1 and the grand reopening of the fully completed clinic will take place during Homecoming 2018.

"These clinic renovations are so much more than bricks and mortar and so much more than individual cubicles. They are the future of dentistry," said Dr. Boran, prior to leading the group on a tour of the new clinic.

"This renewal project means that we can teach in new ways, our students can learn the latest techniques with the latest equipment, our patients can receive enhanced care, and we can serve more patients, including those who have limited or no access to oral health care. It truly is transformational."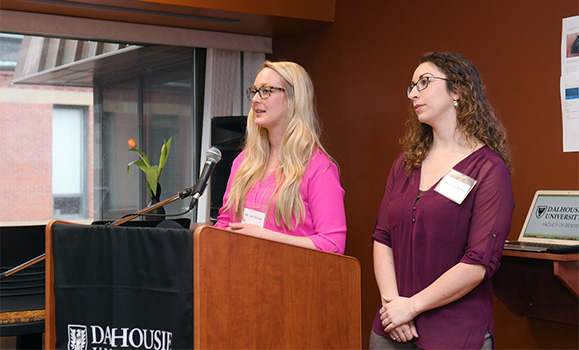 Second-year DDS students Lexi McLean (left) and Emily Bishop talk about what the new clinic means to them.
Lexi and Emily, who will benefit from the new clinic for two years before they graduate, spoke highly of the up-to-date technologies and equipment, air quality, accessibility for physically challenged and wheelchair-bound patients, and the new group practice model, which will help to "simulate what we will be facing in the real world after graduation," as Emily described.

Supporting improved care

Drs. Jeff Williams and Judy Flecknell, both Dentistry graduates from 1986, were impressed by how "new and shiny" the new clinic is.

"The group practice model will lend itself to simulating real life dental practice," said Dr. Williams. "That alone is probably the most significant change and benefit to dentistry and dental hygiene students."

"The fresh air, excellent lighting, restful colours, increased accessibility, and lack of clutter will all be conducive to learning in a comfortable manner," added Dr. Flecknell.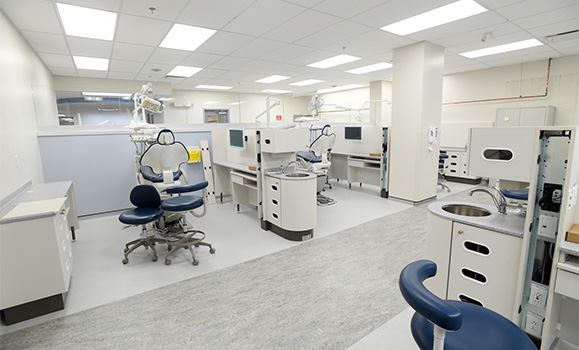 Cubicles in the newly opened first half of the clinic renewal project
Dr. Boran commended the generosity of the late Dr. Bill Murphy (DDS'56) for his lead gift, which has helped to spur the Faculty toward its fundraising goal.

"I am delighted to tell you that we have raised more than half of our $6 million target," said Dr. Boran.  "Thanks to a significant number of pledges, we hope to bring the campaign home next year. That being said, there is more to do and our feet are still firmly on the pedal. If we can surpass our goal, that means more equipment, more support, and better facilities for both our students and our patients."

Expanding community impact

Dr. Boran also thanked Susan Keating-Bekkers (DDH'91), a long-term supporter and volunteer in the Faculty, for helping to create a new video about the Faculty's extensive outreach work, which the renovated clinic will help to enrich and extend.


"We are so grateful to all of you for your loyalty to this school, our profession, and for giving us the opportunity to learn in a transformed environment," said Lexi. "It will assist the many generations of dental students to come. Thank you for making this possible. We can hardly wait to get started!"