It's one thing to read about life in Canada's North. It's another to experience it first-hand.

"We get so much coverage about the North and the issues the North is facing, but all the coverage is negative," says Mariam Ragab, a Haligonian who despite being only 16 years old just completed her first year of Computer Science studies at Dal. "I thought it would be really interesting to go up there and actually meet youth and see what they really like about being there and what they don't like."

Mariam and fellow Dal student Madison Campbell spent time in Iqaluit, Nunavut last month as part of Global Vision's Arctic Youth Ambassador Caucus, a gathering that brings together dozens of youth from across Canada (North and South) to share ideas on how to approach some of the challenges facing Northern communities.

Like Mariam, Madison was there to get a glimpse of life behind the typical narratives that so often seem to shape southern Canadians' views of the North.

"You don't hear about all the young leaders up there who are trying to make a difference in their community," says the second-year Kinesiology student from Cole Harbour.

Of body and mind

Madison and Mariam brought their own unique perspective to the four-day event, which included history lessons from community Elders, traditional cultural activities, and roundtables with local leaders and government officials on issues such as food security, health care, the environment and education.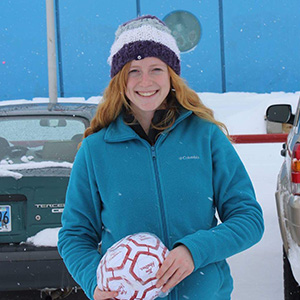 Madison (left), a varsity soccer player, saw a connection between her studies in Kinesiology and the challenge of physical inactivity among children in some northern communities. So before she left for Iqaluit, she reached out to middle school and high school soccer teams in the community to organize some practices. She also booked meetings with coaches and the children so that she could learn more about why more kids aren't signing up for sports.

"I talked to the kids playing soccer and asked them, 'Why aren't your friends playing soccer?' They said they don't have a field to play on, that they play on a parking lot made of dirt, rocks and roots." These insights helped illuminate for Madison some of the challenges these communities face in engaging in physical activity.

Madison came prepared to offer those kids some extra support: while raising money to attend the caucus earlier in the year, she collected extra contributions to put toward soccer gear. She ended up being able to bring along two soccer nets, more than 100 jerseys and 50 soccer balls to leave behind in Iqaluit, thanks in part to funding from Cole Harbour Soccer as well as the Career and Leadership Development Centre and the President's Office.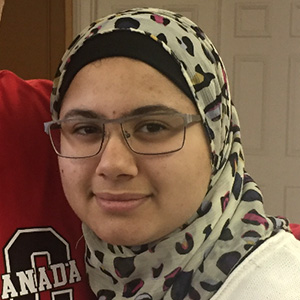 Mariam (right) went seeking insights into how mental illness impacts people in the North, given that she is developing her own charity focused how technology can help end stigmas around mental health.

"Some of the best ways we can help the North or get the North to help itself is through computer programming literacy," she says. "There are currently some programs being established by volunteers and by Indigenous communities to do that.

"I think technology plays a huge role in the way we move forward with things, and I think that goes back to all aspects of life including mental health and education," she says.

Building new perspectives

Mariam and Madison say they heard a lot about the educational limitations, including one girl who said she wasn't able to take Grade 12 math because there is no teacher at her school to teach it and because the Internet is too slow to do it through a distance course.

 "It's those little things that we don't think about," says Mariam. "Well, yeah, people are dropping out of high school, but what are the reasons they are dropping out?"

It was exactly the kind of personal insight they went to Iqaluit seeking — and one of many they'll share with peers and others back at home in Halifax and in the future when talking about Canada's North.