As the representative for Indigenous students on the Dalhousie Student Union council, Aaron Prosper goes above and beyond to ensure the Indigenous student community has a voice on campus.

"In my community, you are taught that you are Mi'kmaq first," says Aaron, a member of the Eskasoni First Nation and a third-year Medical Sciences student. "When you leave the community, you have a responsibility to your people to ensure that they are represented and have a voice."

At this year's Student IMPACT Awards, Aaron was recognized as Dalhousie's Student Councillor of the Year. The award celebrates a student who has demonstrated a commitment to collaborative problem solving, active representation of their constituency and initiative in the pursuit of innovation.
Awareness and education


Aaron, who is also co-president of the Dalhousie Indigenous Student Collective, dedicates much of his time to providing cultural and educational workshops to members of the Dalhousie and greater community. He was recently selected as the top presenter at the 2017 Dal Lead Conference (for the second year in a row), where he spoke about Truth and Reconciliation.

"It is important to have open dialogue about the calls to action that came out of the Truth and Reconciliation commission," says Aaron. "If they are not addressed properly, the Indigenous community could experience more hurt and trauma. It is important to provide proper education so that the 96 calls to action do not simply become a box to be checked by institutions."

Aaron says that the Truth and Reconciliation process has brought to light the trauma the residential schooling system caused Indigenous people. "People are listening so it's important that the whole story about the system is told, the time to be vocal is now."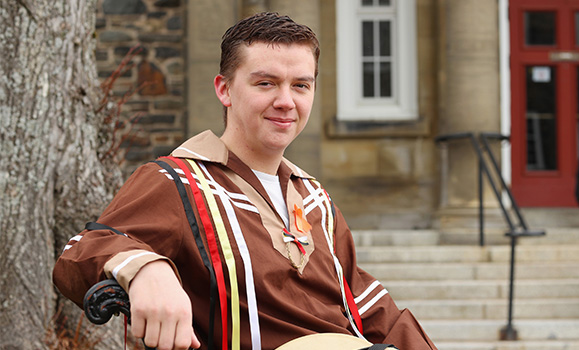 Prior to coming to Dalhousie, Aaron performed many ceremonial duties in his community, including traditional Mi'kmaq blessings and ceremonies. At Dalhousie, he has been part of the committees responsible for the permanent installation of the Mi'kmaq Grand Council flag on campus and the establishment of a dedicated space in the university's Indigenous Student Centre at which Mi'kmaq students can smudge at any point throughout the day.

He has also played a prominent role in the university's most recent Induction ceremonies, which welcome new students to Dalhousie. Aaron led the procession of students into the ceremonies and performed the Mi'kmaq Treaty Song as acknowledgement of the events being held on traditional Mi'kmaq territory. He also performed at the Dalhousie IMPACT Awards in Halifax.
Finding the beat

A member of the Eastern Eagle Drumming group, Aaron says the drum plays an important role in his life and in his teachings as it instills a sense of hope for him and his people that others are listening.

"Drumming brings me a sense of peace as it represents the heartbeat of my nation," says Aaron, who just returned from a Children's Pow Wow in Quebec where he performed with his group.
 
Aaron has two years of his undergraduate degree to complete before he graduates. Following graduation, he plans to pursue a medical degree, working to ensure that Indigenous peoples are better represented within the Canadian health-care system.