With a few collective tugs on a pulley-chain Thursday morning, Dalhousie's Studley Campus changed forever.

It was not the first time the Mi'kmaq Grand Council Flag had been raised on the campus' quad. But this moment marked an even more significant milestone: the flag's permanent installation there.

Mi'kmaq Grand Keptin Antle (Andrew) Denny and Dal Science student Melanie Hardie joined Dal President Richard Florizone in raising the flag hand over hand at a morning ceremony.

Dr. Florizone, who presided over the event, said the installation of the flag serves as an acknowledgement that the land upon which the university sits is traditional Mi'kmaq territory.

"This flag honours the history and the future of this land and all of us," he said at the ceremony. "My hope is that its prominent placement reinforces the message that Dalhousie is a community that welcomes and honours our Mi'kmaq colleagues, students, community members, elders, leaders, friends and children."
More than 200 people gathered on the lower portion of the Studley quad for the hour-long ceremony, which also included other speakers from the university and the broader Mi'kmaq and Indigenous community, as well as performances by the Eastern Eagle Drumming Group, Stoney Bear Singers and Lucio Family Dancers.

Denny (pictured below), who was present to represent the Mi'kmaq Grand Council, expressed pride in the university for its decision to install the flag.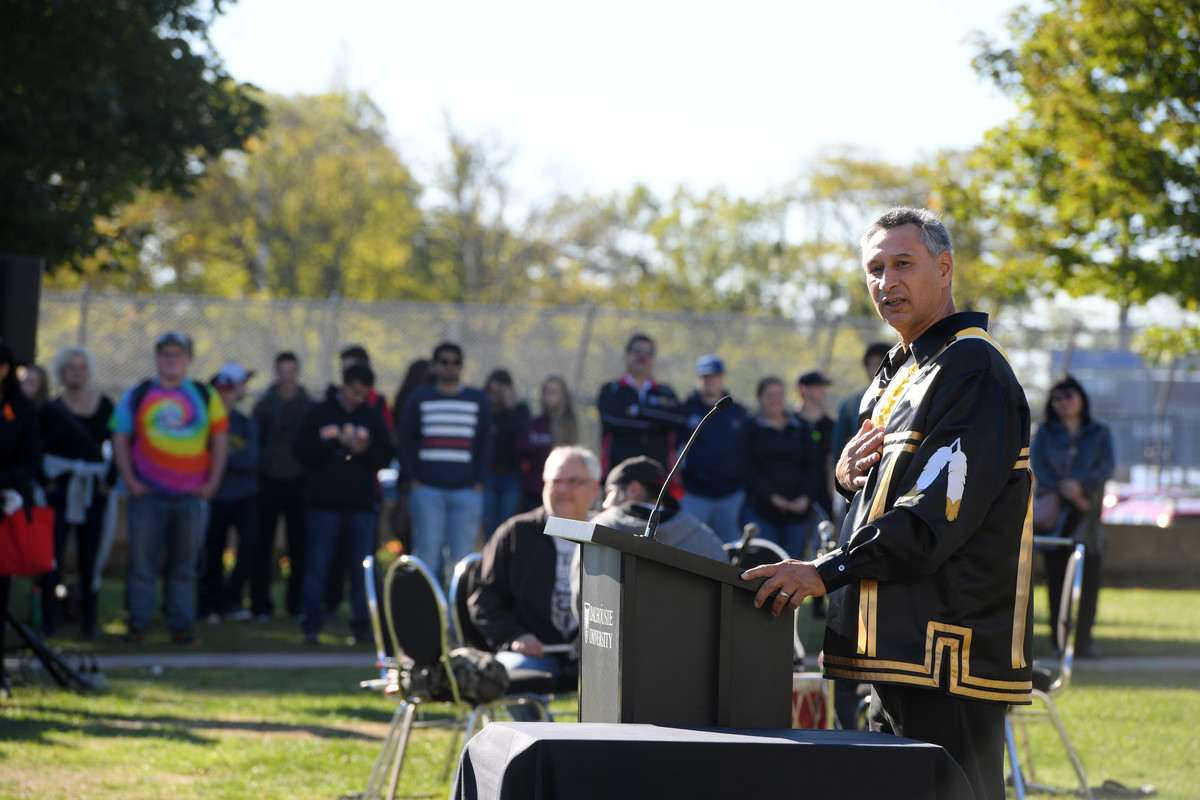 "This is a very special month," he said, also noting the signing of a memorandum of understanding between the Mi'kmaq chiefs and the Province of Nova Scotia at a Mi'kmaq History Month launch last Saturday that will help ensure the Mi'kmaq treaty history is taught at every school in the province.

"It is important as we move forward through our shared history that we are able to look at each other, talk to each other, laugh with each other," he said.

Thursday's ceremony kicked off with an opening prayer from Elder Douglas Knockwood of Sipekne'katik First Nation in Nova Scotia, one of five elders in Dal's Elders-in-Residence program.

Other speakers included Donald M. Julien, executive director of the Confederacy of Mainland Mi'kmaq, Christine Macy, the dean of Architecture and Planning at Dal, and Bill Horne, the Nova Scotia Member of the Legislative Assembly for Waverly-Fall River-Beaverbank.

Dr. Julien said it was great to see the university finally raise the Mi'kmaq flag.

"It's been a long time coming," he said. "It's beautiful, it's really great to see that."

Both Horne and Macy spoke of the importance of flying the Mi'kmaq flag in such a place of prominence on campus.

"Everyday, thousands of people walk through this area. Many are on their way to class," said Horne. "I hope that many of them will take a moment and look up at this flag and consider what it means and represents. It's a representation of the central role the Mi'kmaq have played in the province's history. It is also a symbol of respect and admiration that our province has for traditional Mi'kmaq territory."

Photo Essay: A celebration of culture at Dal's seventh‑annual Mawio'mi

Macy said locating the flag in Dalhousie's "symbolic centre" illustrates just how much the university values and honours the traditions and knowledge of the Mi'kmaq and Canada's First Nations.

"The university community has a lot to learn from Canada's Indigenous communities. It has a lot to learn about governance, about stewardship of land and resources, about spirituality and about reconciliation," she said.

Macy also emphasized Dal's commitment to increasing the accessibility of a university education to First Nations youth, scholars, and others, and to providing the supports needed for their success.

Last year, Dal introduced an Indigenous Studies minor to the curriculum and launched its Elders in Residence program, and earlier this year hired its first-ever Aboriginal Student Advisor and opened a new Aboriginal Student Centre.

Thursday's ceremony followed Dal's installation of the Mi'kmaq flag on its Agricultural Campus in Bible Hill, Nova Scotia this past June — the first time a university in the province had done so. And on Friday, the flag will be raised on Dal's downtown Sexton Campus as well.

Dr. Florizone echoed Macy's comments on the university's commitment to building more supports for Indigenous students and faculty, but also took time to relish the moment and talk about the symbolic importance of having the flag on Dal's campuses.

"Symbols matter, too," he said, pointing out his delight in seeing some young children in the front row at the ceremony. He said his hope is the flag will help create a welcoming environment for all Mi'kmaq and Indigenous people in the future. "The dream is that when they see that flag, they say 'This is my campus. This is my university.' That's what we want those future generations to see as well."