Break out the green streamers! (Just make sure they can be recycled once you're done.)


For the second year,  Dalhousie has been named one of Canada's Greenest Employers. The recognition is part of Canada's Top 100 Employer project, and acknowledges employers who are leading the country in terms of creating a culture of environmental awareness in their organizations, while also developing "exceptional earth-friendly initiatives."

Dalhousie is one of only 70 employers across Canada to be awarded the accolade this year, and one of only eight universities.
See Dalhousie's profile: Canada's Greenest Employers website

"We are honoured to be recognized as one of Canada's Greenest Employers again this year," says Ian Nason, vice-president, finance & administration. "This award is a celebration of the many green initiatives we have introduced on campus and demonstrates that we are achieving the goals set out in our sustainability plan."
Commitment to sustainability

Winning employers were evaluated on unique environmental initiatives/programs, reducing their environmental footprint, employees' involvement and whether environmental initiatives have become a part of the employer's public identity and have helped attract people to their organization.

Since 2009, Dalhousie and its partners have invested (or are in the process of investing) over $85 million in sustainability projects. The university received a gold rating in its most recent evaluation under STARS, the sustainability assessment and rating system for universities, organized by the Association for the Advancement of Sustainability in Higher Education (AASHE)
"It is important for universities go beyond the status quo to innovate in the classroom, labs and as an employer," says Rochelle Owen, executive director of Dalhousie's Office of Sustainability. "We are implementing various types of operational initiatives and monitoring impacts to modify for continuous improvement. This holds true for sustainable transportation initiatives, to natural Stormwater management techniques, to energy efficiency and renewable energy projects."
This past year, Dalhousie had a number of green initiatives that were put into action around the campuses, with one of the most notable changes being the "Big Switch" waste management process. This large project involved many moving parts. Single use garbage bins were removed from all offices and were replaced with transfer bins. Campuses were encouraged to collect their daily recyclables in a blue bin and waste in a small side saddle. Waste would then be taken to, and sorted by employees, in four-bin systems in hallways and common areas.

There are also many exciting sustainability initaitives linked in with the IDEA project underway on Sexton Campus. These include the first geothermal system on campus to the first solar pv system and battery combination to be used together for research and operations.
Look for more coverage on Dal's ongoing sustainability initiatives next week on Dal News.

Earth Day celebrations
 
In recognition of Earth Day, the Office of Sustainability will host its Annual Office of Sustainability Celebration on Friday, April 21, 12-1 pm., Room 1020, Kenneth Rowe Building. It is an opportunity to showcase achievements made throughout the year by the Office and its partners across all campuses.The event not only provides a chance to inform the community about current and completed sustainable efforts happening across campus, but opens the floor to questions and suggestions.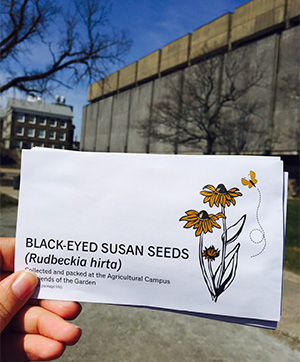 The Office of Sustainability will also be gifting packets of Black-eyed Susan seeds to the Dalhousie community. The seeds are collected and packed at the Agricultural Campus by Friends of the Garden. Packets are available at all Dalhousie Libraries locations.

And don't miss the annual Halifax Dump and Run, the city's largest community garage sale, on Sunday, April 30, 9 a.m. – 5 p.m., in the Studley Gym. Items from Dalhousie and SMU residences and the community are put on sale for charity, with the goal of diverting waste from local landfills.