More than 50 students from across Nova Scotia traded backpacks and books for hard hats, safety glasses and steel-toed boots over March Break 2017.

They donned the safety gear to get a first-hand look at how buildings are being put together for the IDEA Project: a transformational $64-million investment in Dalhousie's Engineering and Architecture campus.

The project includes two new buildings and the revitalization of 5 others that will add advanced technology and design labs; state-of-the-art engineering facilities; modern teaching and learning spaces; technology diversity programs; and incubation space linking students and faculty to industry and entrepreneurs. The project is on a tight timeline with all construction expected to be substantially complete by spring 2018.
 
"This is a very interesting challenge given the number, spread and complexities of the projects within an operational campus," says Peter Coutts, Dal's assistant vice president of capital construction who is overseeing the ambitious project. "It's a unique chance for the students to witness some of the educational and career opportunities that exist within the Architectural, Engineering and Construction disciplines. We hope we have inspired them to chase their dreams and aspirations."
Tour the result of a chance encounter

The renewal of Sexton Campus is underway thanks to the generous support of industry, private donors, the students of Dalhousie and the Government of Canada. Construction kicked off last September at a public event.
   
Coutts had a chance encounter at that event with some students and Sidney Idemudia, the executive director of Imhotep's Legacy Academy (ILA).

ILA is an innovative university-community partnership that uniquely mobilizes university/college students, faculty and community leaders to help improve student success and bridge the achievement gap for Grades 7-12 students of African heritage in Nova Scotia. ILA provides its participants with an enriching blend of real-world learning projects, skill-building and leadership development activities as well as tutoring support.

Coutts and Idemudia put their heads together and decided that introducing students to the project and then bringing them back several times through construction was another way to help engage them in considering a Science, Technology, Engineering and Math (STEM) studies at Dalhousie for their future.

"This immediately appealed to me as a great idea and a way to connect students with the transformation happening on campus," says Idemudia. "We do a lot of work to engage African Nova Scotian learners at their schools through our After School Program and Virtual School Tutoring Program, and I thought taking them out of their classrooms and getting their hands dirty would be a great touch to a wonderful STEM experience."

The March Break tours took place over two days. On Thursday March 16, 18 students and their mentors from Halifax came for the morning tour session. They were all from the Black Business Initiative's Business is Jammin' camp.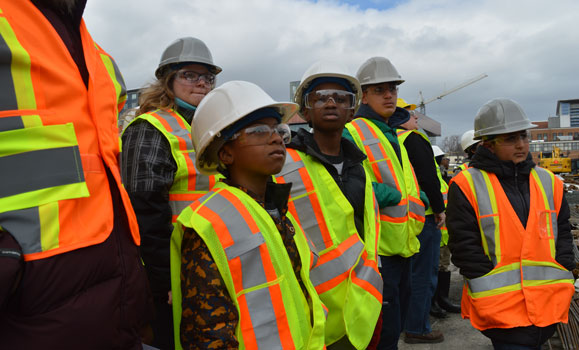 On Friday, March 17, 39 students from Halifax, Truro and Annapolis Valley came to Sexton. They were all from ILA's After School Programs that build self-confidence, self-discipline and the mastery of concepts related to STEM fields. The programs operate within several regional school boards across Nova Scotia.
A team effort

Senior administrators from the Faculty of Engineering were quick to jump in to help when they realized the possibilities.

Ensuring the tour was a worthwhile experience was key, so Engineering dean, Josh Leon, got together with several others in the Faculty to work on the initiative, including Mike Pegg, assistant dean of facilities and resource planning; Pemberton Cyrus, associate dean of undergraduate studies and ILA president; Craig Arthur, faculty engineer and environmental health and safety coordinator; and Karyn Hemsworth, student engagement coordinator.

"Anytime we can expose students to what we do here, and how exciting this transformation will be is wonderful" says Dr. Leon. "These bright students are our future. The more they can get a sense of the exciting things we do, the better."

Along with a tour of the active construction zones, the students visited some of Engineering's specialized construction-related research labs. There, students learned about studying fire progression through buildings in the Process Engineering Department's Fire and Explosion Research Lab. 
They then capped things off by visiting the Civil Engineering Department's Heavy Structures Lab, where they learned about, and witnessed, the destructive testing of building materials and rock samples.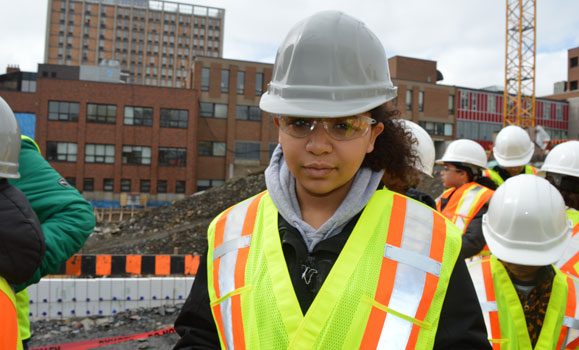 Safety, of course, had to be a major consideration when touring anyone through active construction sites and contractors Pomerleau and JW Lindsay worked quickly to supply safety equipment needed for students whose shoe sizes started at size one.

"Everyone pulled together and the students had a great time. They were full of questions, and you could feel their excitement," said Coutts. "The impact we make on students at this age are critical to help them understand that the possibilities for them are endless, so long as they work hard and keep trying."

"This tour was a great success because we got to show our students what a real live experience of an engineer would look like in a high paced environment with heavy machinery. After hearing back from the students, one of them said that he really enjoyed the tour, can't wait to see the IDEA building completed and is very interested in an engineering career," says Idemudia, who added that the students were extremely excited about the tour and enjoyed launching the rockets that they built prior to that day.

Planning is now underway for the next student visit, sometime in the summer when construction is further along.