A  new means of advancing research and development in Atlantic Canada made its debut at Dalhousie's Life Sciences Research Institute earlier this month.

Known as AFRED (Atlantic Facilities and Research Equipment Database), this open-access database connects researchers in the region to the equipment and facilities they need to answer their foremost questions — whether they're trying to understand the brain, build a silent windmill or craft the perfect cupcake.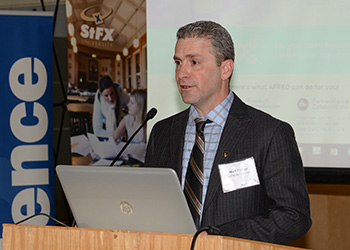 Science Atlantic, a non-profit association of 16 post-secondary and research institutes in Atlantic Canada, launched AFRED at an event hosted by Dr. Mark Filiaggi, Dal's associate vice-president of research. (Left)

"What Science Atlantic has done is truly special in that they've created a means of gathering the research infrastructure of all the region's universities, and more and more of its government labs and private research facilities, together under one virtual roof," said Dr. Filiaggi in his opening remarks.
"This opens the doors to countless new opportunities, as researchers and entrepreneurs in the region can now see and access a wealth of equipment they wouldn't have known even existed without AFRED. And, through AFRED, they can connect to likeminded individuals and form new partnerships in pursuit of common interests."
Connecting 18 institutions across Atlantic Canada

AFRED's growing database encompasses more than 400 pieces of specialized research equipment, in 80 facilities at 18 institutions across the four Atlantic Provinces. Dalhousie has listed more than 70 pieces of equipment on AFRED so far, including those in all of the medical school's core research facilities, the Aquatron Laboratory, Minerals Engineering Centre, Institute for Research in Materials and the Scientific Imaging Suite.

"AFRED is available to anyone to access for free, whether they're conducting their research in a university, community college, government agency, hospital, non-profit, or private enterprise," says David McCorquodale, Science Atlantic's chair and dean of science & technology at Cape Breton University. "We see AFRED as a powerful tool for building cross-sector partnerships and opening the door to new possibilities for innovation, business development and wealth creation in the region."
Access to equipment and expertise


Rapid access to equipment and technical expertise through AFRED saves researchers enormous amounts of time trying to locate relevant facilities and allows them to conduct studies they could not undertake without either acquiring the equipment themselves or accessing it outside the region. At the same time, it ensures that expensive research assets do not sit idle and are utilized to their full capacity instead.

"AFRED will help optimize the use of research equipment available at regional institutions, leading to new research collaborations among and between regional institutions and industry," said Gordon Deveau, director of NSERC Atlantic, at the launch. "AFRED will also create a greater awareness and understanding of the role universities and colleges are currently playing in the regional economy, as well as their potential to further enhance community economic development and success rates in the region."

The Government of Canada provided a non-repayable contribution of $181,897 to the project through the ACOA's Business Development Program, while NSERC (Natural Sciences and Engineering Research Council of Canada) provided $16,850.

"Our government is committed to supporting scientists whose discoveries provide us with the evidence we need to build a strong economy, a sustainable environment and a vibrant middle class," says the Honourable Kirsty Duncan, Canada's Minister of Science. "By strengthening the opportunities for collaboration between scientists and entrepreneurs, we are ensuring future generations will benefit from the incredible research being conducted in labs throughout the Atlantic region."
Expanding access

Science Atlantic is continuing to receive requests to be listed from potential new facilities and aims to expand the database until all eligible facilities in the region are listed. AFRED will optimize the use of resources and build R&D capacity in Atlantic Canada in sectors ranging from health care and biotech to fishing and forestry, foods and nutraceuticals, IT and aerospace, and biofuels and renewable energy technologies.

AFRED is also supported by Springboard Atlantic, BioNB, the region's universities, several community colleges, and other partners who are coming on board as AFRED evolves.