"A leader is someone who inspires greatness, someone who makes the people around them even greater than what they already are . . . the only way that we can be true leaders is through each other."

That's what Halifax city councillor Lindell Smith told past, current and prospective Dal students during his opening remarks at the Dal Lead! conference last Saturday.

Hundreds of young people gathered in the McInnes Room in the Student Union Building for the daylong event to hear Smith and others present their diverse perspectives on leadership — and to challenge their own in the process.

With 'Making Your Mark' the theme of this year's conference, speakers focused on embracing diversity, stepping out of comfort zones and overcoming negativity in leadership roles. Concurrent sessions, keynote presentations and reflective 'think tank' discussions were led by a remarkable lineup of student presenters, Dal alumni and community partners, all of whom had powerful words to share.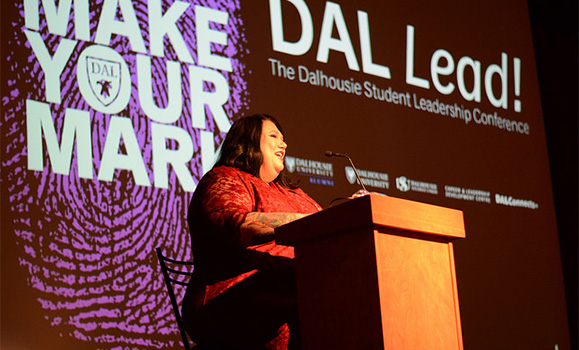 Candy Palmater, a Mi'kmaq feminist, lawyer and comedian, travelled from Ontario to give an empowering and witty morning keynote speech that presented a refreshing and unapologetic take on life.

As Palmater spoke of her own journey through life and leadership, she reflected upon mishaps and experiences of discrimination she has been confronted with along the way.

"Do not accept other people's definitions and assumptions of who and what you are going to be," she said. "No matter what your platform is, figure out how you can make change using your strengths and do not let the world convince you that leadership is not for you."

Palmater also encouraged the crowd to embrace failure instead of fearing it.

"[Sometimes] you will fail and that is okay," she said. "You cannot lead your own life if you are living in fear of failure and, ultimately, failure is when you learn to rise up."

Obstacles and injustices get in the way and may cause us to stumble, but one of the key takeaway messages Palmater and others shared throughout the day is that leadership is a test of endurance.
Attendees also heard from Rebecca Thomas, a Mi'kmaq woman and Dal grad who is Halifax's current Poet Laureate. Thomas performed two of her poems during the mid-day portion of the event, one of which touched on the National Inquiry into Missing and Murdered Indigenous Women and Girls and the need to hold on to uniqueness amidst traditional gender norms and discrimination. In the other, Thomas reflected on what she did and didn't learn about making change in university.
Students also took part in a number of skills workshops throughout the day.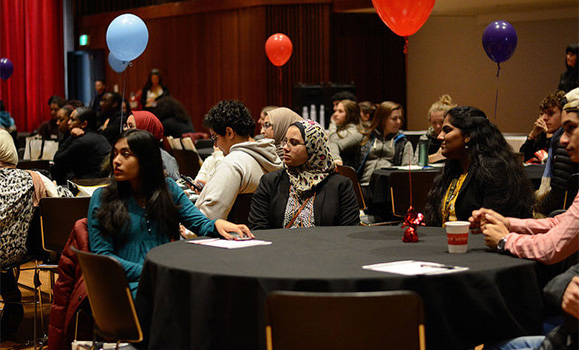 In her evening keynote, humanitarian Samantha Nutt recalled the relentless discouragement and harsh rejections she faced when starting and building up War Child Canada — a non-profit that helps children in war-affected communities reclaim their childhood through access to education, opportunity and justice.

"Sometimes, the leadership trajectory that you are on can prove to be exhausting," said Nutt, who is the organization's executive director, a medical doctor and a best-selling author. "When you are facing all these 'Nos,' how do you push through the negativity and cynicism?"

Nutt says she learned from her own setbacks that if no one is listening, don't shout: change the message or the approach you take to best reach and influence your audience. And if the wrong types of people — 'blowhards' as she called them — try to dominate the space you are in, ignore them.

Nutt also encouraged attendees to write their 'why,' which she described as a way to figure out what drives you, what you stand for and how it relates to your role as a leader. The last life lesson she shared was that rather than giving to charity, people should give to change and to opportunities that enable continued growth.

"The state of the world right now is pretty grim. If we are ever to emerge from this, then it's going to require some very persistent and determined leadership from all of us who are committed to tolerance, reason, diplomacy, compassion, and evidence-based decision making," she said. "With the right amount of leadership and initiative, we can overcome apathy and we can give peace the advantage."