The Fountain School of Performing Arts is delighted to showcase a creative and quirky reimagining of Mozart's enduringly popular The Magic Flute.

 A work in the form of singspiel, a traditional operatic form that includes both singing and spoken dialogue, The Magic Flute is a romp through a magical land between the moon and the sun that has all the elements of a fairy tale adventure. Two lovers embark on a journey to find one another, but doing so leads them each on a path of self-discovery and danger.
Accompanied by a bird catcher — who may or may not be a bird himself — they encounter a great serpent, a dragon, and the enigmatic Queen of the Night. They must also face moral dilemmas and accomplish feats of bravery to prove their love of one another.

In this streamlined, English language adaptation, guest director Brent Krysa constructs an enchanted world in which anything is possible, and nothing is as it seems.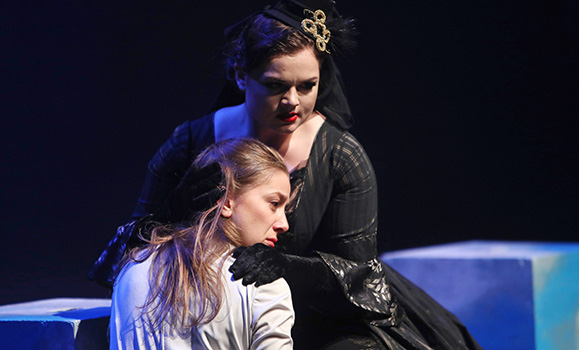 Rebecca McCauley (left) and Julia MacVicar.
An innovative approach

This 90-minute adaptation features a new English libretto by Brent Krysa, with additional lyrics and musical editing by Peter Tiefenbach. Krysa's production concept, based on the surrealist paintings of Belgian artist René Magritte, is realized by the Fountain School's Costume Studies and Technical Theatre programs under the experienced supervision of designer John Pennoyer.

Krysa explains that the surrealist world of Magritte's paintings lends itself beautifully to The Magic Flute as both are magical, fantastical, absurd worlds. "If you're familiar with Magritte's work, you're going to see a lot of direct references."

Dal Opera is thrilled to have Krysa return for his fourth production with the Fountain School. (Audiences may remember his popular 2012 production of Stephen Sondheim's Sweeney Todd.)

"I have to say, one of the many reasons we brought him back is that Brent has an amazing ability to work with students and to say the right thing to spark their creative brains," says Marcia Swanston, musical and opera ensemble director.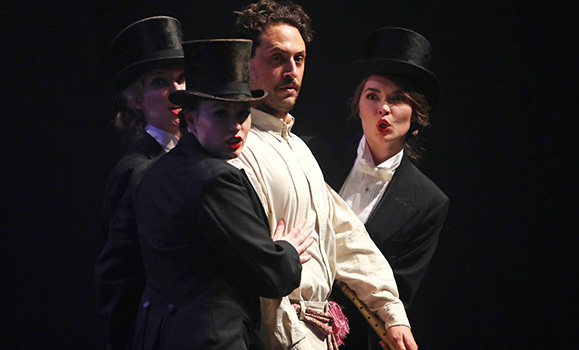 From left: Ruusu-Maaria Brousseau, Rianna Robinson, Lucas Hernandes Nascimento and Maggie Andersen

In addition to his work with Dalhousie University students, Krysa has worked with voice students at McGill University, Wilfred Laurier University and the University of Western Ontario, among others. He is known in the operatic world for his innovative adaptations of beloved works such as Le Nozze di Figaro and The Barber of Seville for the Canadian Opera Company, Hamilton Opera and others.

Exciting challenges for student performers

Krysa's philosophy for working with students focuses on finding common ground between them and himself.

"I think it's important to try to speak their language and discover a language that they speak," Krysa explains. "I never think that I should just tell them where to go and what to do. It sticks much better and it's much more profound for them if they can discover it on their own and they can create a character on their own, and for that to happen they have to have to the option to and the freedom to just make mistakes."

Rebecca McCauley is a combined honors student in voice performance and theatre, and plays Pamina, the piece's ingénue. She says Krysa has motivated her to be more creative with her character:  "I like to plan and premeditate, but I've really been encouraged to try new things."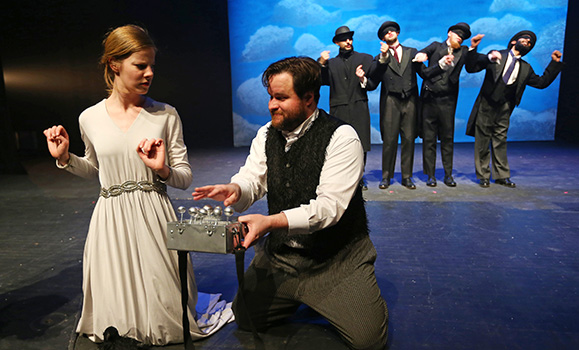 Simone Hogeveen and JP DeCosse, with Lucas Hernandes Nascimento, Jacob Hemphill, Patrick Lewis and Sid Rankaduwa in the background.

Voice student Lucas Hernandes Nascimento, double cast as the show's male lead, Tamino, and the mischievous antagonist, Monostatos, describes the excitement and rewards of working with Krysa.

"We're very much incentivized to be playful and step off our comfort zone, and I'm a very firm believer that magic happens outside of your comfort zone," he says. "This is a great challenge for all the students, I believe, and I see that we are all excelling in the challenge."

Krysa encourages those interested to "get your tickets early; it's a small theatre."

The Magic Flute runs February 2-5, 2017 at the Sir James Dunn Theatre. Tickets are available from the Dalhousie Arts Centre Box Office.