Jennifer Llewellyn, the Viscount Bennett Professor of Law at Dal's Schulich School of Law, is not alone in her belief that the Canadian criminal justice system is facing significant challenges.
Judges, police officers, academics, nonprofit workers, and First Nations peoples from across the country have criticized the established order for being inaccessible, ineffective, discriminatory, overburdening, and likely to over-criminalize marginalized groups.
 
These patterns are recognized, Prof. Llewellyn says, in both the TRC Call to Action and the Federal Justice Minister's Mandate Letter, which address issues of over-incarceration and call for an increased use of restorative justice in Canada.
Restorative justice is defined by the Government of Nova Scotia as a "response to crime that focuses on restoring the losses suffered by victims and communities. It holds offenders accountable for the harm they have caused...[and] is a different way of thinking about crime and our response to crime."
 
In the wake of the previous federal government's "law and order" agenda, policymakers are now considering the need for a fundamental reset in the direction of restorative justice. This was never more evident than at the two-day National Restorative Justice Symposium held last November in Halifax, where more than 300 attendees from various professions came together to discuss the future of restorative justice in Canada.
 
Videos: National symposium highlights from the Schulich School of Law
 
"We've realized that adversarial processes obscure truth, don't incentivize people to take responsibility, and aren't keeping us safe," says Prof. Llewellyn. "In my perfect world, a restorative approach to justice would be completely supported within the law. It wouldn't be an alternative justice process or diversion."
Building dialogues


Sitting in a circle of gold-coloured chairs, a small group of lawmakers, researchers, and other stakeholders from the restorative justice community watched a circle facilitator flip a token from his left hand to his right. Looking up, the facilitator posed a series of questions to the group:Why a restorative approach to justice? What unifies and guides our practices? Is justice a thing or a feeling? How closely is justice related to harm? After sharing his thoughts on the matter, the facilitator extended his arm to the woman at his left, passing the token — and the role of speaker — to her.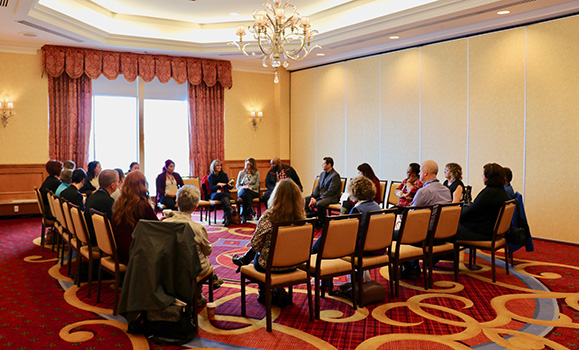 The unconventional incorporation of dialogue circles into the symposium was Prof. Llewellyn's idea. As a co-organizer, she designed the event to reflect the principles and practices of restorative justice itself. It was also devised to support and contribute to a national dialogue that will support the federal review of the criminal justice system and advance developments in the field. Significant attention was paid in assigning conference delegates to each group; balance and diversity was ensured in each circle by mixing representatives from federal and provincial governments with First Nations peoples and other community actors.
 
Dialogue circles originated in Indigenous communities and are now an important interface through which restorative processes take place. Grounded by a set of underlying principles like equality, dignity, and respect, circles are meant to open the lines of communication between victims, offenders, and community members. The inclusion of all affected parties in this safe, regulated space has helped foster accountability and rebuild relationships after harms have taken place.
 
Unlike the International Restorative Conference 2016: Exploring Possibilities, a Restorative Approach to Climate & Culture in Education, Workplaces & Professions, which took place in Halifax last June and focused on jurisdictional shifts toward the implementation of restorative approaches in social and political institutions, the focus of the national symposium was the impact of the criminal justice system in Canada. According to Prof. Llewellyn, it emphasized "the need for various players across our nation to think more broadly about how to secure safe and just communities."
 
Videos: International Restorative Conference highlights from the Schulich School of Law
 
This kind of "broad thinking" was championed by major speakers at the conference: Sean Casey, the Parliamentary Secretary to the Federal Minister of Justice; Donald Piragoff, the Senior Assistant Deputy Minister in charge of Aboriginal justice strategy; the Honourable Mobina Jaffer, who sits on the Senate's Legal and Constitutional Affairs committee; the Honourable Diana Whalen, Nova Scotia's Minister of Justice; and Pamela Williams, Chief Judge of Nova Scotia.
 
More info: Full list of speakers

Restorative justice in Canada

Working to institute restorative processes "feels like a constant iterative of taking a chance and moving one step forward," says Prof. Llewellyn.
"What makes it difficult is that when you try to do something different or make reforms, you're held to a much higher standard than the current system. Those are the moments when I get weary. Risks and expectations are so much higher when you're trying to do something different." That said, "high standards are something to aspire to. We ought to be working really hard to make sure justice innovations are better than what we have now."
 
Prof. Llewellyn has dedicated her academic and professional lives to innovations in relational theory, restorative justice, human rights law, and Canadian constitutional law. In the course of her career, she has worked with the United Nations, the South African Truth and Reconciliation Commission, and the Kroc Institute for Peace at the University of Notre Dame.
While still a law student at the University of Toronto, after obtaining a master's degree in relational theory from Queen's, Prof. Llewellyn co-wrote "Restorative Justice – A Conceptual Framework" with Robert Howse, then a UofT associate professor, for the Law Commission of Canada. She later went on to develop a national restorative justice policy in Jamaica.
 
Prof. Llewellyn recently acted as an expert consultant for the Government of Nova Scotia in the design process for the Restorative Public Inquiry into the Nova Scotia Home for Coloured Children and now serves as the policy advisor to the Inquiry. She also sits on the Advisory Committee for the RJ@Dal Project, a pilot program designed to address on and off-campus offenses by Dalhousie students using restorative processes.
At the Schulich School of Law, Prof. Llewellyn teaches the fundamentals of public law, constitutional law, international human rights, and restorative justice. The law school has been an ideal place to finesse and cultivate her ideas on justice.
 
"Law is often about the current systems of law – the way things work. I find that a very powerful place from which to think about how we can make things work differently," says Prof. Llewellyn. "This law school has been a good place to do that because of the Weldon Tradition of Unselfish Public Service. It's always been a good home to imagine law in service of a greater cause."
Speaker highlights