We use the ocean in many different ways. It's a source of food, a great way to cool off on a hot day, a place to enjoy a wide range of marine life, and the workplace for a variety of industries. All of these things greatly benefit us, but can take a toll on the ocean's overall health. In order to manage the long-term sustainability of the ocean while continuing to enjoy it, we need to know how healthy it is and what can be done to help maintain it.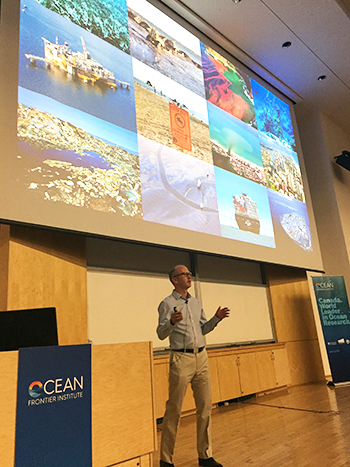 On November 18, the Ocean Frontier Institute (OFI) hosted its first public lecture: The Causes and Consequences of Changes in Global Ocean Health. The speaker for the evening was Benjamin Halpern, a professor at the Bren School of Environmental Science & Management at the University of California.

"Our aim at OFI is to attract world-class expertise — and in having Ben Halpern as our first lecturer, we have done just that," says Wendy Watson-Wright, chief executive officer of the Ocean Frontier Institute.

As the lead scientist for the Ocean Health Index (OHI) Project, Dr. Halpern's research focuses on the line between marine ecology and conservation planning. The theme of his lecture was the patterns and trends with ocean health that he has found, and the lessons he is learning from the global assessments that have been conducted.

How healthy is the ocean?

With an abundance of information available about climate change, coral bleaching, ocean acidification and overfishing, it can be difficult to feel optimistic about the current state of the ocean. Through his work with the OHI project, Dr. Halpern was able to provide reassurance that maybe it's not doomed after all.

The OHI Project is a collaborative effort, made possible through contributions from more than 65 scientists, ocean experts and partnerships among organizations. It evaluates how well the ocean provides 10 key benefits to people and how it is being protected for our future needs. These key benefits include:

•    Food protection
•    Artisanal Fishing
•    Natural Products
•    Carbon Storage
•    Coastal Protection
•    Tourism and Recreation
•    Livelihoods and Economies
•    Sense of Place
•    Clean Waters
•    Biodiversity

A score is provided on how well coastal countries and their marine territories are optimizing their potential ocean benefits. The scores range from 0-100. 100 means a country has achieved the target they established, and 0 means the country either did not achieve their target, or the benefits it gained were done so in a way that was not sustainable.

Currently, the overall Global Ocean Health Index score is 70. While this number is lower than originally hoped, there is reason to be optimistic.

"There's no single solution for every place on the planet for improving ocean health," says Dr. Halpern. "Each country, each city has its own challenges and opportunities. But those opportunities exist everywhere, and the work I've done with the Ocean Health Index and related research help identify where those opportunities are.

"A shortlist of actions that are likely to improve ocean health almost anywhere includes better coastal habitat protection and restoration, improved fisheries regulations that support truly sustainable harvest, and actions from local to international scales targeted at mitigating and reversing climate change."

Influencing marine scientific thought

In addition to speaking at the OFI lecture, Dr. Halpern was in Halifax to receive the A.G. Huntsman Award, presented by the Royal Society of Canada. The award honours marine scientists who have had and continue to have a significant influence of the course of marine scientific thought.

"Dr. Halpern's successes in ocean science encompass a number of the areas where OFI will focus," says Dr. Watson-Wright. "His lecture on human impacts on the health of the ocean outlined the major issues, while at the same time offering hope for the future."

For more information about the Ocean Health Index, and Dr. Halpern's work, visit its website.