It's been just over a year since Dal conducted its last workplace survey, called the Quality of Work Life (QWL) that looked at employees' health and how it impacts the overall health of the university.

"The QWL survey offered a more holistic approach than previous workplace surveys by giving faculty and staff individual results about their health and well-being," says Jasmine Walsh, assistant vice-president of Human Resources. "As leaders, it provided us valuable insight into the opportunities and challenges we have towards building a healthy workplace."

The survey results showed that faculty and staff are generally happy with their workplace and they are proud to come to work each day. However, more recognition, career advancement opportunities and efficient policy and processes were cited as areas for improvement.
Learn more: View the results of Dal's QWL survey [PDF]

Significant progress has been made this past year to creating a healthy workplace, both from the institution-level as well as individual faculties and departments.
Making progress

The university's Strategic Direction includes an initiative (5.1) that focuses on developing a Human Resource strategy to attract, support and reward the best faculty and staff. There are a number of projects within it that address areas of improvement identified in the QWL survey. Among them include an update to ACHIEVE, the university's competency based performance development tool, the introduction of performance planning for administrative leadership and a new Supervisory Development program.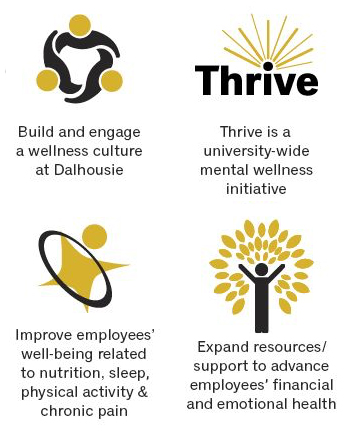 Employees also cited wellness as an area of concern in the QWL survey, particularly in addressing chronic pain, nutrition, sleep, physical activity and financial competency. Earlier this fall, Human Resources introduced the university's first Work Well strategy [PDF] with a goal of improving employees' overall health – physical, mental, emotional, spiritual and financial. HR established a pain support group and caregiver support group to offer employees a place to connect with others on campus who have similar experiences.

"We were looking to create a confidential, safe space for faculty and staff to share their stories," says Angela MacMaster, facilitator of the pain support group and manager of Recruitment & Retention, Human Resources. "It's a place where we can support each other, share information and resources, approaches for self-care and methods of coping with the impact of chronic pain."
Action across the university

Dal is a large, diverse community, so each faculty and department received a snapshot of the QWL survey results for their area to better understand and learn from their own employees what they want to see in their workplace.

Information Technology Services (ITS) has taken charge of their results and acted on several initiatives. The department has introduced a Balanced Scorecard for the Client Services and Infrastructure unit. A service catalogue is near completion that will help faculty, staff and students understand the services that ITS provides to the community. In addition, a Culture Change Committee was created and improved communications channels including weekly meetings, monthly "hurrahs" and biannual town halls.

"Our QWL results allowed us to focus on a few key opportunities — to increase performance feedback and to increase management communication," says Bev Hubley, director, business operations with ITS. "With the work we've been doing, we are seeing more engagement, more open communications and more interest in the direction that ITS is strategically headed."

The Faculty of Agriculture introduced ACHIEVE, the university's performance development tool and provided leadership development training for staff. In addition, initiatives of the Faculty's female leaders in academia were also supported.

In addition, the Faculty of Dentistry focused on improving communications for faculty, staff and students. It updated its website, introduced regular meetings for clinical staff and their supervisors, and held regular "Meet the Dean" sessions. Several workshops have been offered to faculty and staff, including the "Elephant in the Room," as well as sessions on climate and change, conflict management, and personal leadership. The Faculty is also in the process of hiring an HR advisor to help with performance management, labour relations, and the overall work culture.
Next survey in April

Dal conducts a workplace survey for all faculty and staff every two years. The next QWL Survey will be held in April 2017. It will follow the same format as last year focusing on employees' health and the impacts on the university's workplace, but it will be streamlined and more user-friendly.

To learn more about the QWL Survey, visit Workplace Survey on the HR site on myDal.