Last month, the Schulich School of Law paid tribute to Donald Marshall Jr., whose contributions to Canadian law changed society for the better.
In 1971, 17-year-old Marshall Jr., son of a grand chief of the Mi'kmaq Nation, was wrongfully convicted of murder and spent 11 years in prison. Years later, a Royal Commission found that "the criminal justice system failed Donald Marshall Jr. at virtually every turn." Many of those failings were rooted in racism. It was a monumental turning point in Canadian law and society.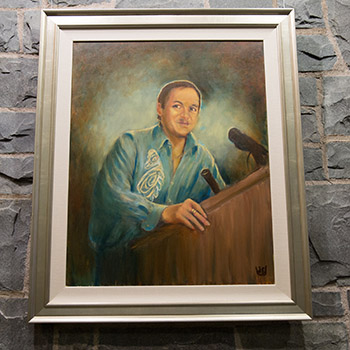 "Donald Marshall Jr.'s contributions and sacrifices shone a light on racism in the criminal justice system, laid the foundation for the Indigenous Blacks & Mi'kmaq Initiative, and reaffirmed First Nations treaty rights across Canada," said Professor Michelle Williams, director of the Schulich School of Law's Indigenous Blacks & Mi'kmaq Initiative.

Gathered in the Weldon Law Building's atrium for the event, which culminated in the unveiling of Marshall's portrait, were members of Donald Marshall Jr.'s family, community elders and chiefs, Halifax MP Andy Filmore, Nova Scotia's Minister of Justice the Honourable Diana Whalen, members of the RCMP and regional police, numerous members of the judiciary, and Halifax's Poet Laureate, Rebecca Thomas. Joining the large crowd were many law school faculty, staff, alumni, and students of the IB&M Initiative.

Marking history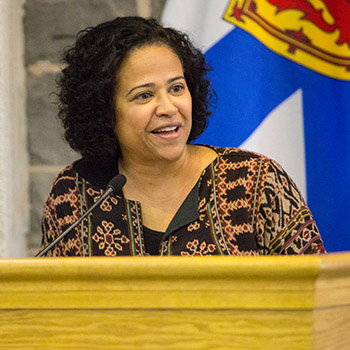 "This is a special evening and a significant event," said Prof. Williams in her opening address. She thanked those who had helped make the evening possible, including the nearly 200 IB&M graduates who "are catalysts for social, racial, and Indigenous justice across the country" and to Donald Marshall Jr. "for giving spirit to all that has been accomplished so far through the IB&M Initiative."

Keigan Sack of the Sipekne'katik First Nation continued the program by singing the Mi'kmaq Honour Song, which resonated powerfully throughout the atrium. Elder Tom Christmas followed with a prayer and Dean Camille Cameron welcomed everyone on behalf of the law school.
Speaking next at the podium, on behalf of the Marshall family, was Marshall's brother David, who closed his remarks by saying: "I think of the graduates of the IB&M Initiative all the time, and I want to say how proud and grateful I am for each and every one of them."

One such graduate is Marshall's cousin, Jarvis Googoo (LLB '08), who played a key part in the event.
"For me, the portrait unveiling is part of the ongoing work to de-colonalize history in Mi'kmaq territory, which Dalhousie resides on," said Googoo. "I'm proud that the law school has continued to preserve Junior's memory and legacy. I'm proud to be a graduate of the Indigenous Blacks & Mi'kmaq Initiative, which is also a part of Junior's legacy. Because of it, many Aboriginal and Black students and have used their legal education to advocate for and give back to their communities."

A symbol of hope and a source of inspiration

Offering remarks on behalf of the federal Minister of Justice was Halifax MP Andy Filmore, who acknowledged the groundbreaking contributions of Marshall Jr. and the accomplishments of the IB&M Initiative.

"In 1983, I was a 16-year-old busboy in a restaurant here in Halifax," recalled Filmore. "I saw Junior's picture everywhere. I recognized him when he came into the restaurant one day. I could see the pain that he carried written on a body that was older than his years. Donald Marshall Jr. was a symbol of hope and pride and a man who bore a heavy burden. I thank him for everything that he helped open up."

Recognizing the grace with which he bore that burden and the toll it took was Halifax's Poet Laureate, Rebecca Thomas, who offered her spoken word poem "DMJ" to the crowd.

"As Rebecca so powerfully said in her poem honouring him, Donald Marshall Jr. is a legend — albeit a reluctant one," said Williams. "To have his portrait permanently displayed at the Schulich School of Law is a daily of reminder of his legacy and a source of inspiration."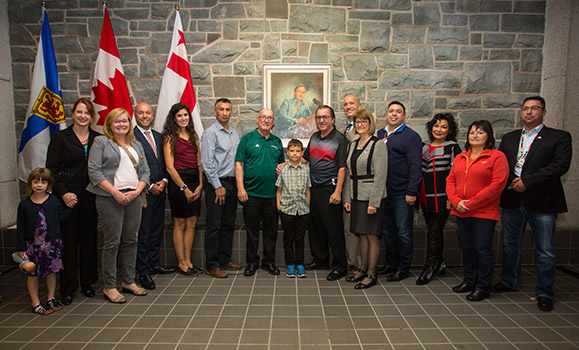 "DMJ" by Rebecca Thomas
Reprinted with permission


Intentions.
Whether they pave to road to hell,  
Spell out your actions,
Are ignored instead of enacted,  
Refracted realities, legal dualities,
Your intentions say a lot about you.  
Like how treaties were signed, with no intended follow-through.  
I wouldn't quite say he was a hero only because of his reluctance to do so.
Perhaps a martyr.
A little rough around the edges,  
With more than one or two ways he had transgressed.  
He was but a man.  

A Mi'kmaq.  
Whose sacrifice can only be summed up by words that I don't possess.
A man that the state, history, and colonialism had made powerless.  
Rose up, lifted by others, to confront those who would oppress.
He was stripped of his youth by a system.
That until he was seven, didn't recognize him as a citizen.  

Because here's the thing.  
When you know that your land, life and treaty were all taken,  
When there were schools that eradicated connections to your kin,  
When you were only ever called an Indian,
You might find yourself in a position to rebel,
To take what little power you might have and excel at mischief.  

But Marshall was convicted before the deal was even Sealed.  
No appeal existed for his existence as a disenfranchised Indigenous youth  
Whose delinquency for a structure that never fought for him, that passed a conviction that required no proof.  
That put a child behind bars for eleven years, and acted aloof when confronted with another story.
Because at that time, the shades of the teller went from caught living Red-handed to whitewashed allegory.

The case was closed.
No need to depose
Another witness to counter the whiteness,
To fight this  
Because who would ever care about just another drunk or Native convict?
So much for the intended Peace and Friendship.  
He tried to escape.
But unlike prison, the colonial legacy is still in good shape.
That isn't up for debate.
It quite obvious when a teen gets life for murder, sentenced by perjure,  
While the killer gets five for slaughter.  
And yet, upon Ebsary's death, Marshall's father, extended sympathy to his family and daughter.  
We might have generations of emotional baggages,
But Dan Paul was right, we were definitely not the savages.  
If only this were the sole Crown bully in town.  
I could drown in the ink spilled on his prejudiced rap sheet.  
But I could swim in an ocean if there were a drop for every action that broke treaty.  
And I can feed my spirit with the resiliency of my ancestry.  

Marshall's life not only changed the evidentiary,
He gave us a chance to live the practices of another time.  
A lifeline to the past,  
Where our lands were vast.  
A moment where we were not defined by a band number next to our face encased in plastic. How fantastic a thought, we were people, Nations.  
From fishing eels
To Supreme Courts cases to help us heal.
We couldn't help but feel hopeful.  
The Marshall Decision.  
We could once again go back to our traditions for a living
So we hit the water and started fishing.  
But the affirmation didn't do much to combat the deep seeded racism.
Our rights were affirmed but we were rejected,
It would appear that we weren't selected to be protected.
So we protested the people with hate and fear that had infected their hearts.
The iron commitment had completely rusted away from when we buried the hatchet.

Because a second decision snatched it.  
Altered it.  
Changed the implications.  
Conservation was the justification.
But we are the First Nations,  
We know that this land is not ours but borrowed from the 7th generation.  
I began this poem by saying he wasn't a hero.
I stand by the writings of my pen.
Because, I would suggest that instead, when Marshall died, he did so as a legend.
His dedication to his people or merely his disdain for the crown resounds in our people today.
The reverence we have when we say his name will only grow from story to myth.
About a man who had no intention of putting down his fishing kit.