To hear Morgan McNeil tell it, the intersection between academics and extracurricular activities is where some of her most valuable learning has happened.

By applying the knowledge she's gained in classrooms and labs to solving actual industry problems, Morgan, a master's student at the Faculty of Agriculture, has obtained the kind of experience that could lead to a future career.

"From an agricultural perspective, there is so much opportunity for entrepreneurship and innovation," Morgan says. "There are so many opportunities to start a business and make a profit from an idea or come up with something that improves the well-being of farmers."

Giving students the opportunity to improve agriculture-related industries and develop new business ideas is the impetus behind Cultiv8, an innovation-oriented program hosted at the Agricultural Campus. Open to all students at the Faculty of Agriculture, the Cultiv8 "sandbox" is a space that encourages fresh thinking and nurtures entrepreneurial spirit.

A full-on "Sprint"

For the fall term, Cultiv8, in partnership with sponsor Farm Credit Canada, hosted Sprint Ag!, an adaptation of the Sprint Competition concept developed by Google Ventures. Whereas the Google version gives participants just a few days to workshop new ideas, Sprint Ag! gave students about two months to develop solutions to challenges identified by real-world businesses.

On December 2, the competition came to its conclusion after each group delivered a three-minute presentation of their idea. Morgan, along with her teammates Brandon Simmons, Tyler Jollimore, Nathaniel King and Ian Henderson, won the first-place prize of $2,500 for their work on behalf of Muwin Estate Wines, a Nova Scotia company that had been looking for a product to develop out of waste material from its cider-making process.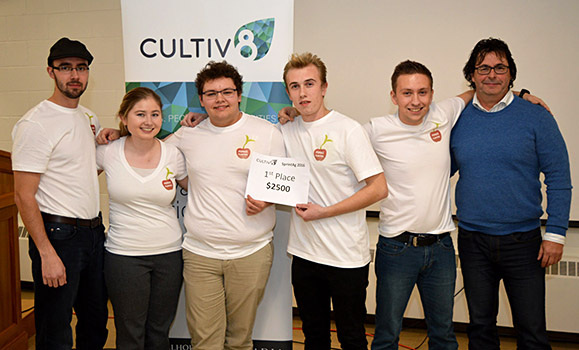 The winning team at Spring Ag! 2016.

"When we press apples, we're left with solid materials that we currently just dump it in a field, which is okay for agricultural purposes," says Germain Bergeron, founder of Muwin Estate Wines. "But I think there's a real opportunity to do a value-added product."

Enter Morgan and her team, who visited the winery, observed its operational processes and brought back a sample of the apple pomace waste product – a mixture of pulp, peels, cores and seeds – to study on campus.

The group considered the idea of making an edible product out of the pomace, then spent the bulk of the project designing a decomposable flower pot.

"We took the apple waste product and prepared different treatments. For some of them, we put the product in the blender and made a mash out of it, then lined the bottom of a muffin tin with it to make a bowl shape," Morgan recalls. "We cooked them in the oven to see if they would harden up in the shape of a little flower pot. We also tried putting flour in (the product) to make them a little tougher and hold their form better. We tried corn starch, too. We ended up coming up with a final recipe with proportions of the different ingredients.

"Basically, the idea is you'd fill the pots up with soil and seed whatever kind of plant you wanted to grow. After a few weeks, once the seed has actually sprouted and the seedling can be transplanted into the ground, the pots will decompose naturally. It's an environmentally friendly way of growing plants."

In the end, the group won the competition due to a combination of ingenuity and agility, adapting their idea to focus on horse treats made from the pomace.
A win-win scenario

For Bergeron, who mentored Morgan's group from afar via email over the course of the project, the competition was an opportunity to bring a new perspective to his business challenge.

"It's a win-win scenario because they provide insights and ideas," he says. "It's always good to have a pair of fresh eyes to look at a problem and the idea they came up with is quite good.

"And for them, it's an opportunity to interact with industry and come up with tangible solutions."

The Sprint Competition was also a win for sponsor Farm Credit Canada, as is the organization's ongoing relationship with Cultiv8 and the Faculty of Agriculture.

"As the industry grows, so does the need for additional talented, energetic and well-educated young people," says Karen MacInnis Larter, Farm Credit Canada's Program Manager, Marketing, Atlantic and Eastern Ontario. "We have had a great relationship with the Truro campus for many years and this is just a part of learning and innovation we are committed to.

"There are some great innovative ideas that come out of these projects and we are trying to foster a relationship with the participants in this competition and support innovation."  

Morgan and her teammates certainly appreciate the relationship, not to mention the prize money and the opportunity to further pursue the viability of the horse treats as a product and a business.

"We didn't expect to win," she says. "But we were very pleased with the results and we are excited to see where this idea goes in the future.
Learn more about the Cultiv8 Sandbox.