Gender-based violence happens around us every day, but too often it goes unnoticed and unaddressed.

To help shine a light on this global issue, groups from across the Dal community have joined together for the second year in a row to organize a campaign for the 16 Days of Activism Against Gender-Based Violence.

The campaign begins Friday, November 25 — the International Day for the Elimination of Violence Against Women — and ends on International Human Rights Day on December 10.

"The campaign really helps bring conversations about sexualized violence to the forefront and allows students and people in the community an opportunity to talk about them in a setting that is safe and comfortable," says Rebecca Stuckey, outreach and education coordinator at South House sexual and gender resource centre.
Learn more: 16 Days of Activism Against Gender-Based Violence
South House worked alongside Dal's Human Rights & Equity Service (HRES) office, the Gender and Women's Studies program, and other groups across campus to organize this year's campaign. The 16-day period also includes important dates like World Aids Day (December 1) and Canada's National Day of Remembrance and Action on Violence Against Women (December 6).
Volunteers helped kick off the campaign in the Student Union Building on Thursday, sharing reasons for taking against against gender-based violence.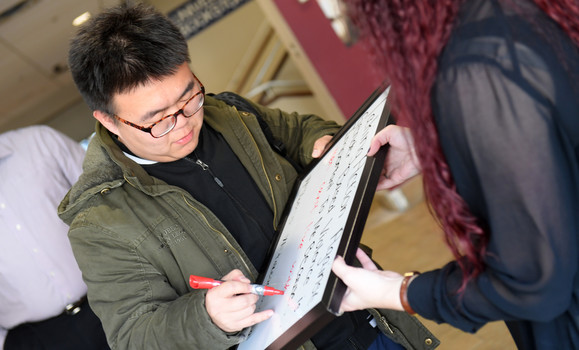 More than 20 events and initiatives have been finalized so far for this year's Dal 16 Days campaign, including a number of talks with notable individuals. Rebecca Thomas, Halifax's Poet Laureate, visits campus on December 1 to offer her insights on sharing lived experiences through spoken word. The following Monday, December 5, human-trafficking survivor Caroline Skydiver will share stories about her experiences.

On November 30, South House will offer students a chance to build their own "self-care toolkit." The session, at South House's space on Seymour Street, will provide personalized suggestions and resources based on different people's needs, says Stuckey.

"It's what students want to make of it and what they want to take out of it," she says. "We will have a number of different resources and materials there. We thought that was a good way to ensure that every student was getting what they need specifically, so everything isn't just cookie-cutter."
Making connections, raising awareness


Residence Life, DalOut, Get Real, Allies at Dal and Student Health Promotion have teamed up to organize a roaming information booth that will be set up in different locations across campus on different days to provide advice on how to be an ally to the LGBTQ+ community.

"I think a big part of the campaign is creating awareness around the realities of gender-based violence, especially on campus, so that people know where they can go for support," says organizer Rachele Manett, a master's student who is president of DalOut and works as a Respect Rep with HRES.

December 6, Canada's National Day of Remembrance and Action, represents the 27th anniversary of the École Polytechnique tragedy in Montreal. Dal's Women in Engineering group will host a memorial on Sexton Campus beginning at 7 p.m. It will include a candle bearing ceremony for the victims followed by discussions about current incidents of violence against women.

"It's important to realize that one person can do such a great deal of work around combatting those human rights violations," says Manett. "They happen around us every day, so it's important that we all be aware of that and work together to try to end it."
Learn more: 16 Days of Activism Against Gender-Based Violence