Dal President Richard Florizone used his keynote speech at the Halifax Chamber of Commerce's fall dinner Wednesday night to share stories of Nova Scotian accomplishment, all of which emphasized what's possible when people, communities and organizations come together in new ways.

So it only made sense, then, for Dr. Florizone to close his address by announcing a brand new partnership — one that will help kickstart Nova Scotian entrepreneurship.

It's called ideaHUB: an engineering incubator/accelerator space designed to equip students with creative and entrepreneurial skills while also providing support to local start-up companies and small businesses. Part of the larger IDEA project — a $64-million revitalization of Dal's downtown Sexton Campus announced in late September — ideaHUB is a partnership linking universities (including Dal, Acadia and NSCAD) with the corporate sector, entrepreneurs, venture capital and government.

"ideaHUB will be the most advanced engineering incubator and accelerator space in Canada," said Dr. Florizone. "It will add important capacity to our entrepreneurial ecosystem, adding further momentum to what is rapidly becoming one of Canada's most dynamic startup scenes."

Joining Dr. Florizone for the ideaHUB announcement was Bob Hanf, executive vice-president of stakeholder relations with Emera. The local energy company is a founding partner in ideaHUB, alongside organizations like Volta Labs, Innovacorp, Clearwater, Micco Companies and Build Ventures. In Emera's case, they're not only stepping up as a partner — they're investing $10 million to support the ideaHUB space and its programming.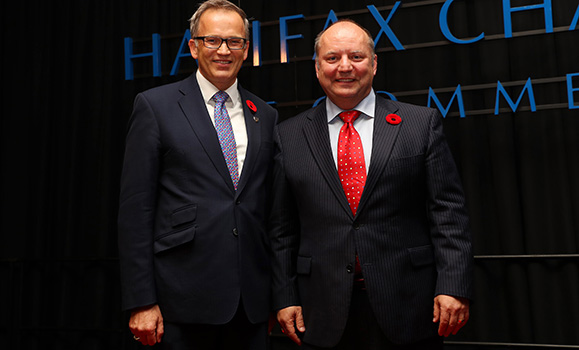 President Florizone and Emera's Bob Hanf.

"We are so thrilled to be partnering with Dal on ideaHUB," said Hanf, highlighting the importance of innovation for not only the energy industry, but Nova Scotia more broadly.

"It's not every day a project comes along that will make such an incredible difference in the way new ideas are fostered and developed in this province. We're very proud to be part of this collaborative effort… it's one I know will make an important difference for Nova Scotia students."

A unique, collaborative space

ideaHUB has been designed, in many respects, as a direct response to the recommendations of the oneNS Commission. Among the commission's calls to action: increasing the number of new start-ups in Nova Scotia; improving youth unemployment; doubling business enterprise and university R&D partnerships; and improving venture capital investment.

In his speech, Dr. Florizone noted significant momentum on several of these fronts. Halifax quickly becoming a national hotbed for startup development, for example, recognized last year for having more promising IT startup companies than any other city in Canada. And there has been more than $1.5 billion in "exits" (company purchases) of Atlantic Canadian startup companies in the past five years.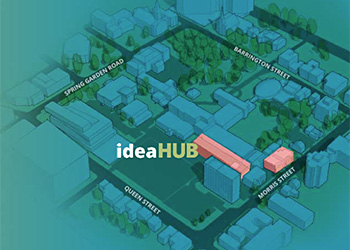 What ideaHUB does is build on this momentum, as well as on the success to-date of the IDEA Sandbox (an existing space that's a partnership between Dal, NSCAD and the Nova Scotia government). ideaHUB will be a unique, collaborative environment combining mentorship and support with world-class engineering research infrastructure. Inside the 10,000 sq. ft. space will be testing and fabrication facilities, early stage funding supports and links with venture capital and accelerators. ideaHUB will allow participants to create physical prototypes while also developing business strategies.

The ideaHUB vision has already attracted significant support from Nova Scotia's business community. Alongside Emera's $10 million donation, a trio of Nova Scotian entrepreneurs — John Risley, Colin MacDonald and Mickey MacDonald — were among the very first to respond to the call for further private sector support, committing a combined $2.5 million in additional funds. Dalhousie is leading an ongoing fundraising campaign to attract further support for ideaHUB from alumni, donors and industry partners.

"This is not just a Dalhousie story, or an Emera story," said Dr. Florizone, citing the wide variety of partners and supporters involved in ideaHUB. "This is a story of what Nova Scotians can do when we come together and work differently."

ideaHUB will be located in one of two new buildings on Dal's Sexton Campus (currently referred to as the "Innovation Building") announced in September. The building and the ideaHUB space are both set to open in 2018.

"Look what we can do"


Dr. Florizone's keynote address touched on several initiatives with Dal connections — including ideaHUB and the new Ocean Frontier Institute — but it wasn't really a speech about the university. Instead, Dr. Florizone wished to speak more as a member of the Halifax community — one who's inspired by the power of what people can do when they come together.

"I don't think [Nova Scotia's] momentum should surprise us, even given some of the challenges we face," he said. "And the reason I say that is because I believe — and I have seen — that the people in this province are capable of truly incredible things."


To help illuminate his point, Dr. Florizone frequently shared the stage with other guest speakers throughout the evening. In addition to Emera's Bob Hanf, Dr. Florizone invited Dalhousie Professor Sara Iverson and Memorial Professor Paul Snelgrove to share insights about the Ocean Frontier Institute — a $220-million research collaboration, based in Atlantic Canada, poised to propel the region to global ocean leadership.

"A lot of outstanding research at Dalhousie and Memorial and UPEI over many years has helped us to understand ocean ecosystems and human interaction with them," said Dr. Snelgrove. "But here we have a unique opportunity to build major bridges so that instead of working piecemeal we can link those efforts across disciplines and universities and leap forward our understanding of ocean change."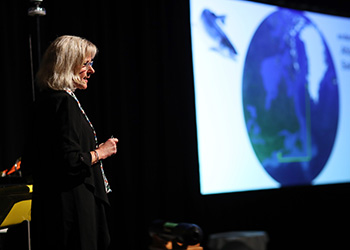 Dr. Iverson showcased some of the technology involved in OFI: wave gliders that help track fish and other sea vertebrates as they make their way through the ocean.

"Fish recognize no boundaries," she said. "Sharing data across OFI enables us to manage sustainable fisheries at a global scale. We work with fishermen and councils to understand exactly what we need to do to sustain fisheries around the globe."

Coming together in new ways

Dr. Florizone also invited Mary Beth Doucette to the Chamber dinner to speak about Membertou. The Cape Breton Mi'kmaq community — with a diversified portfolio that ranges from commercial fishing and convention hosting to data services and tourism — has earned national attention in Indigenous business development. It's become third largest employer in the Cape Breton Regional Municipality (employing more than 650 people) and has donated more than $1.8 million to local charities.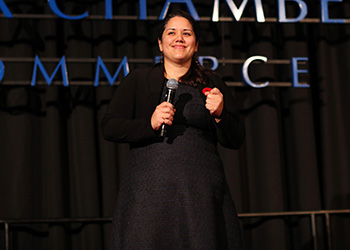 "Membertou's strategy is essentially a model of transparent governance, a commitment to education, a commitment to health and wellness in the community and a vision for growth through partnership," said Doucette, who is the Purdy Crawford Chair in Aboriginal Business Studies at Cape Breton University's Unama'ki College.

Dr. Florizone said it's that idea of success through partnership that makes Membertou such an exciting Nova Scotian success story — just as is the case with the Ocean Frontier Institute and ideaHUB.

"It is too trite simply to say the secret to success is for us all to work together, to collaborate," said Dr. Florizone. "We must find new ways of coming together.

"Look what we can do when we work together — when we bring the best of our region together with the best of the world, when we find ways to be more inclusive, when we challenge ourselves to think bigger. Look what we can do."