Despite some dreary weather, Saturday's Open House event brought hundreds of future students and their families/friends to campus for a glimpse of what life as a university student is all about.

Some students even left the Open House knowing they'd already been accepted to the university — making that glimpse of possibility into a reality.  

On-site applications in the Student Union Building allowed students to apply, without fees, on the spot. After dropping off his application, prospective student Adam McKenna and his family were excited to learn if he gained admission to his first-choice university.

McKenna hopes to study Engineering at Dal. "I was able to attend academic sessions and see what classes I would take," he said.

His family was able to attend as well to see what Dal offers. "There is a good atmosphere," said Adam's mom, Ann. "Everything has been easy to find, and everyone has been very helpful."

McKenna isn't the only family member excited about Dal: his younger sister, Julia, currently in grade 10, already has Dal at the top of her list to study Nursing.

A unique opportunity

Students attending the Open House were able to attend academic sessions across disciplines; explore fairs highlighting academic, extra-curricular and support options; and take tours of the campus and residences.

"Open House is a unique opportunity," says Adam Robertson, associate registrar and chair of the Open House planning committee. "Through its activities, [attendees] should gain a better understanding of what we offer, and develop a good sense of whether or not Dalhousie is a strong match for them."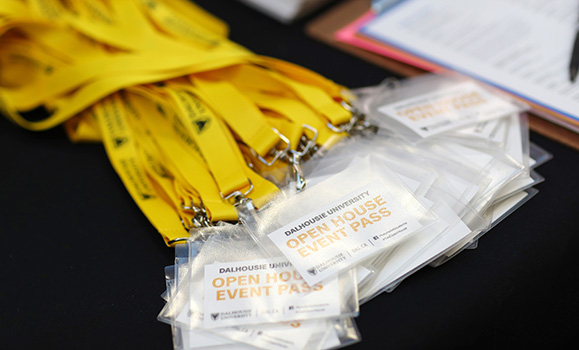 This year's Open House had record attendance numbers, with over 1,100 students and 2,200 guests overall — from all across the country. Hundreds of applications were collected and assessed same-day for admission as well.

Alyssa Frattarioli, travelled to Halifax from Grimsby, Ontario for the Open House, along with other friends from her hometown.

"There's a different feel here than in Ontario," says Fratterioli. "It seems more chill."

Her father, Anthony, also made the trip. Despite the distance, they are impressed with the campus and the Oceanography program she is interested in pursuing.

Another prospective student, Stephanie Deveau, lives only three hours away from campus, but sees Halifax itself as a great place to study

"I like the fact that it's close to home, but that it's in a bigger city," says Deveau, who hopes to study Kinesiology.

A positive experience

So far, feedback on the Open House has been overwhelmingly positive, according to Robertson. The academic and student service fairs in the SUB were buzzing with future students, taking in the opportunities waiting for them at Dal.

At the DSU booth, next to the line for on-site applications, DSU Vice-President Student Life Kelsey Kedd, talked to future students about ways to get involved on campus and make their time at Dal well-rounded.

"It's really exciting to see so many keen students who are all bright-eyed and ready to start this part of their lives," said Keddy.

Keddy, who is in her fifth-year of her Commerce degree, went to Dal's Open House the year before she started. "It helped me get a sense of community, and see all these people that could be my new friends."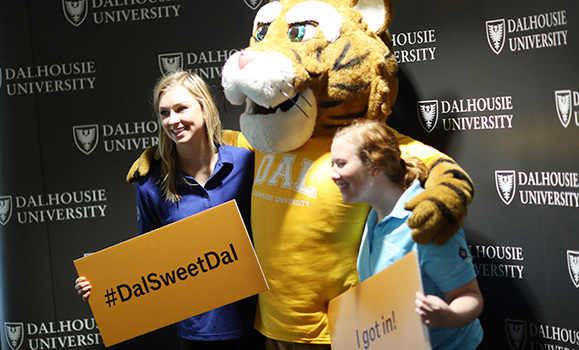 Faculty members, staff and current students volunteering at the Open House were able to connect with future students and share their positive experiences at Dal. The tireless work of volunteers from across the university made this event a success in showing off what makes Dal unique.

"Without the support of a tremendous planning committee and the commitment of hundreds exceptional student, staff and faculty volunteers, Open House would not be possible," said Robertson.

Dalhousie's Agricultural Campus in Truro takes its turn welcoming future students at its open house this Saturday, October 29. Learn more.