They're an integral part of Dal's research community — but they're neither faculty nor students. And you may not always take note of them, spread as they are around campus in different disciplines.

But at any given point. there are around 170 individuals across the university working as postdoctoral fellows, helping lead some of the university's most important research.

The Dalhousie Postdoctoral Society helps connect postdoctoral fellows across Dal for activities like social events, professional development opportunities and more.

"We're volunteering our time because we recognize that the postdoc period can be difficult sometimes: it's a real transition from being a student to being an academic," explained Emily Reeve, a postdoctoral fellow in Geriatric Medicine Research and co-president of the society.

Last Thursday, the Dalhousie Postdoctoral Society hosted its annual Research Day, which featured a lunch, poster displays, three-minute thesis presentations, a panel discussion and a resource fair.

"Part of the event is about bringing everyone together to support each other and discuss both issues and opportunities," said Alice Kane, who is co-president with Dr. Reeve and a postdoc in Pharmacology. "We also want to share what postdocs are doing with the broader university, share the important role they play — one that often falls between the cracks."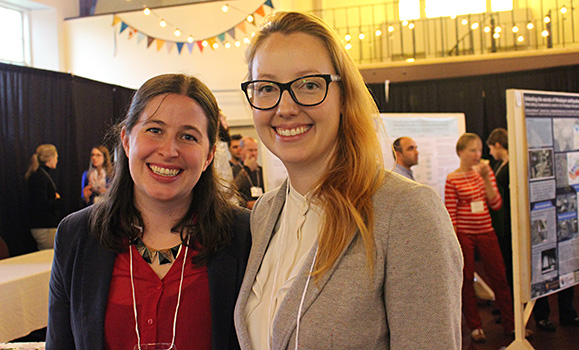 Dr. Alice Kane (left) and Dr. Emily Reeve.

"It's also to enable networking," adds Dr. Reeve. "We all know how important interdisciplinary research is at the moment, so if I'm sitting here with my medical science brain and I hear someone from the social sciences or health professions say something that relates to me, or using a method I'm interested in, it gives me the opportunity to meet them, make that connection."

Some of the three-minute thesis presentation topics from postdocs included the design of enzymes, the psychology of romantic expectations, assessing climate change through analyzing the earth's crust and more. The afternoon's discussion panel focused on pathways to success for postdocs, and featured four different Dal academics: Ryan Pelis (Pharmacology), Chike Jeffers (Philosophy) and Sheri Lynn Price (Nursing).

Marty Leonard, dean of the Faculty of Graduate Studies (which also supports postdocs on campus), thanked the organizers for putting together the event.

"I think it's really wonderful that people can come together today and have the chance to talk to others who are at the same career stage," she said in her opening remarks. "There is great value in that opportunity."

The winners of the three-minute thesis and poster competitions were:
Three-minute research presentation: Dr. Sarah Vannier, Psychology and Neuroscience
Highly commended three-minute research presentation: Dr. Catherine Mottram, Geology
Best Poster: Dr Somayyeh Mohammadi, Health Professions