College Royal is not only an annual highlight of the fall term on Dal's Agricultural Campus — it's also the sort of event that can get away with a cheesy motto like "Bringing one an udder together," because the entire afternoon is such a spirited, fun event.

Students and staff/faculty alike had the afternoon off from class on Friday, October 14 as they took part in livestock competitions, showing both cows and sheep.

"This year marked the best turn out for College Royal since it began in 1935," said David Grey, dean of the Faculty of Agriculture. There were so many participants that the traditionally separate student and staff exhibitions had to be combined.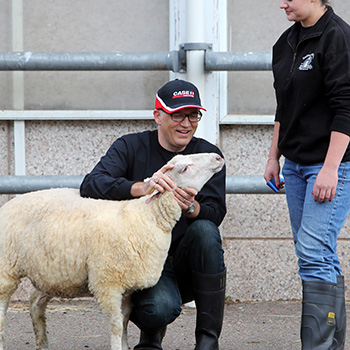 Sheep were sheared, cows were groomed and spectators gathered in the Ruminant Animal Centre (RAC) to watch the festivities. Even Dal president Richard Florizone made his way to Truro to take part.

Attendees agreed there's something special school spirit observed at College Royal, even in the chill October air.

"I came last year to watch, but this was my first year participating," said Tessa Higgins, a third-year Vet Tech student who showed a sheep in the event. "Generally you work in pairs or groups of three, and you work together to show an animal. It's a requirement for some courses, but it's still a lot of fun!"

As always, College Royal begins with the Farmer's Olympics the day before — with activities like hay bale toss and tug-o-war — and the Royal Ball the night after all the events. These events serve as a way to get involved and to feel like part of the AC family — and a fun way to relax after midterms.

"We had close to 150 students and faculty members participate in the livestock show," said Katie McQueen, one of the co-chairs for College Royal 2016, together with Melissa Mammoliti. "Although planning or organizing the event takes a lot of time and effort, we've been honoured to be a part of putting on such a highly respected event at Dalhousie's Faulty of Agriculture."

In particular, Katie and Melissa thanked the RAC staff who help make the event run smoothly every year.
College Royal 2016 - winners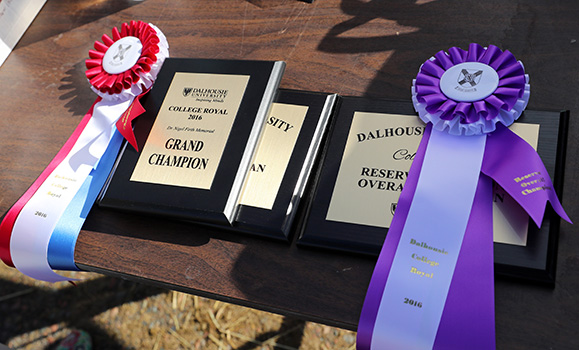 Champion Overall Showman & Grand Champion - Connor Morse
Reserve Overall Showman - Mandy Smith

Dairy
Novice Champion - Gabriel Vos
Novice Reserve Champion - Cyle Campbell
Experienced Champion - Taylor Masters
Experienced Reserve Champion - Julia Vosman

Sheep
Novice Champion - Connor Morse
Novice Reserve Champion - Nichole Nodwell
Experienced Champion - Lisa Clements
Experienced Reserve Champion - Murray Clements

Poultry
Novice Champion - Mandy Smith
Novice Reserve Champion - Eilish Connors
Experienced Champion - Morgan Hynes
Experienced Reserve Champion - Cassie Stupart