Homecoming signifies a time of celebration and school pride, evoking memories and feelings of nostalgia for many.

That spirit was visible early last Saturday morning, as cheers erupted on the Studley Campus quad when President Richard Florizone and the Dal Tiger welcomed the crowd to Dalhousie's third annual President's Fun Run/Walk.

This family-friendly event, part of Homecoming weekend, invited students, staff and faculty, alumni and family members to join a brisk 5K stroll or run across the university's three Halifax campuses.

"We've got a great day, a bit of sunshine coming out," said President Florizone, who ran in support of the United Way together with his dog, Cookie. He expressed his appreciation to everyone who came out to show their support as well as the event organizers including Kirsten Tobin from Advancement.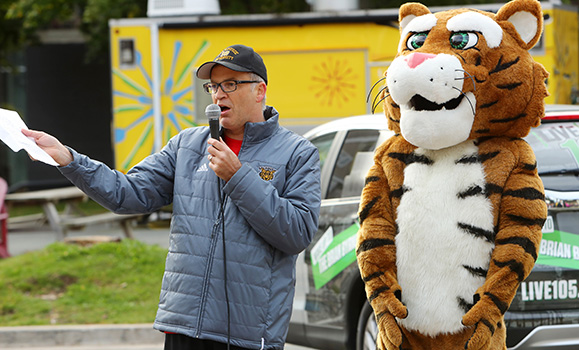 This year's Run/Walk saw over 650 human and canine participants gathering to show their school spirit in the chilly autumn morning air. Among the strongest representation were departments from the Faculty of Health Professions, including Health Sciences, Occupational Therapy, Nursing and more. Attendees came bundled up, rocking an assortment of Dal gear – from funky socks and bandanas to signature black-and-gold scarves and Dal sweatshirts.

Music blasted through speakers situated on the open grass field as Dalhousie School of Occupational Therapy staff member Cia Tweel led a series of lively warm-up exercises to pump up the crowd. Runners and walkers then made their way towards the starting line and began the friendly competition down University Avenue and Morris Street to Sexton Campus before passing through Carleton Campus and returning to the quad via College Street.

After the run, attendees warmed up with complimentary hot beverages as well as a light brunch as they rested and mingled in the grassy area. The addition of a bouncy castle was a delightful addition to the event this year, garnering excitement from children and bringing out the kid-at-heart in others.

Also new this year were gift certificate prizes awarded to several lucky participants chosen at random.  A special incentive was also given to those who registered for the Run/Walk in advance: these individuals were automatically entered into a draw to win a pizza party for themselves and 24 friends. As for the race itself, first across the finish line was Matthias Bueller, a 2015 graduate of Dal's Bachelor of Science in Kinesiology program, who finished the run mere seconds before 9:30 a.m.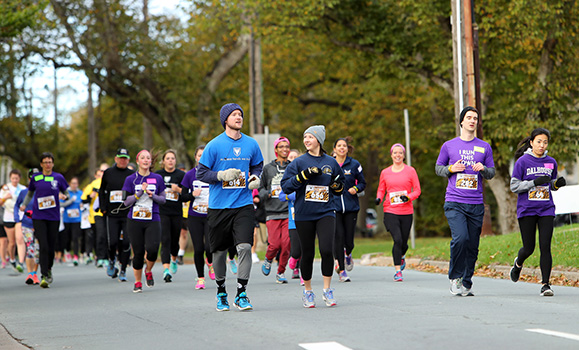 As more runners steadily sped past, a three-way tie ensued when Susan McClure, Fiona McClure and John Cameron joined hands to cross the finish line together with big smiles on their faces. Cameron is a Dal alumnus, having graduated with an undergraduate degree in Political Science in 1991, and he is now an associate professor and the acting chair in the Department of International Development Studies.

This event proved to be a fun family affair for this multi-generational trio of runners. "The grandparents are also helping with the run," said Susan McClure. When asked whether they would be interested in participating in the run again next year, the team members echoed one another with an resounding "yes."

As the crowd subsided, a vibrant attendee stood out proudly donning a Dalhousie "Mom" sweatshirt. Susan Spence Wach is the vice-provost of planning at Dal and both her children are current students of the university.

"[This is] a great event," she said. "I love the health aspect and what this signifies. The participation and collaboration amongst students, faculty and staff – that's why I'm here."

Halifax wasn't the only place where members of the Dal community could hit the streets during Homecoming: the Ag Campus hosted its annual Rocky's Run 5K on Saturday, with Kevin Duffy emerging as the first-place finisher.
Photos: President's Fun Run/Walk 2016