Dalhousie Tigers fans decked out in black and gold at the Dal Tigers Football Club's home opener on September 24 had a lot to celebrate — including the 70th anniversary of the team's founding.

But the anniversary was certainly sweetened with a 39-0 victory over UNB Fredericton — the same score by which the team had defeated UNB Saint John the week before.

"We have never defeated a team 39-0, let alone two weeks in a row," says Rick Rivers, the team's general manager since 2010 and a former Dal football player himself.

Rivers was just one of many Dalhousie football alumni there to mark the team's anniversary, including 45 former players who returned for a reception prior to the game. Some of the players who were on the team in the '60s and '70s, including Rivers, had not seen each other in 40 years.

"It was a good time," says Rivers. "It was emotional."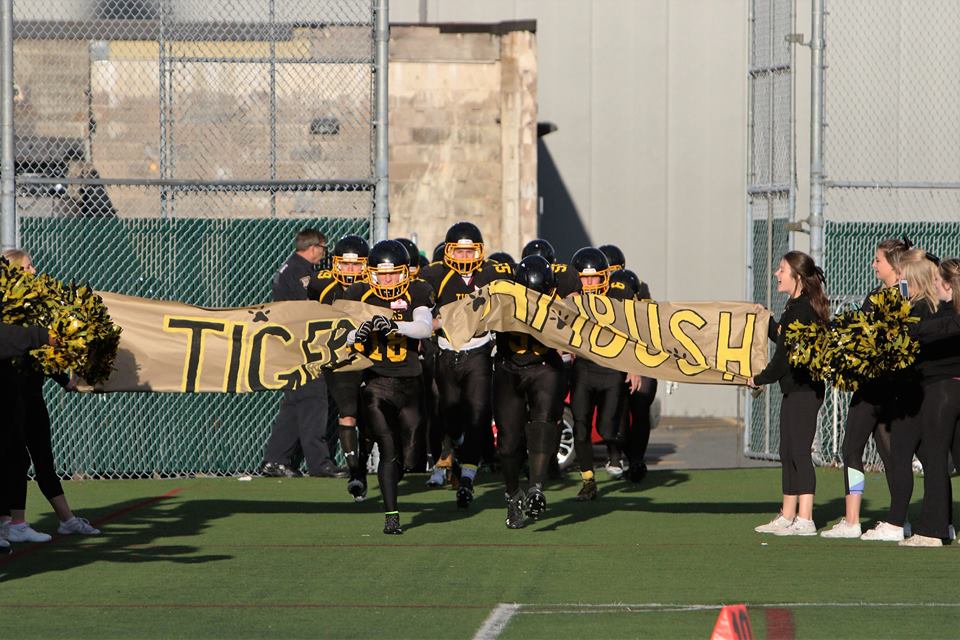 Celebrating history

On the field, three former coaches were involved in the opening ceremonies, which included a military band performing "O Canada" and two Hall-of-Famers doing the coin toss.

For many, the occasion was an opportunity to reminisce about some of the ups and downs of the team's past, including a 34-year hiatus that lasted from 1976 to 2010.

Poor performance, financial issues and limitations on the team's ability to recruit beyond the Maritimes were a few of the factors that led to the team's folding in the mid-'70s.

The idea to bring Dal football back in 2010 started with local businessman and Dal alum Jim Wilson (MBA '87), who was on the university's Board of Governors and president of the Dalhousie Alumni Association at the time.

Wilson felt that football would bring more school spirit to Dal and reached out to Rivers, who he knew as "the football guy." Rivers was a former president of Football Nova Scotia and a vice-president with Football Canada at the time. He was also inducted into the Football Nova Scotia and Nova Scotia Sport Hall of Fames as a builder.

As it turned out, he was also ready to get his old school back into the sport he loves, and took on the role of general manager.

The team has been back in action for seven years, and the home opener kicked off the 2016 season with a big win in front of an energetic crowd. The season continued last Saturday (October 1) with another victory over UNB Fredericton to take home what's called the "Alumni Cup," the second straight year the Tigers have taken home the trophy. The team record sits at 3-0 — without a single point scored against them.
Team spirit

Head coach Mark Haggett, in his first year with the team, credits the early success to the hard work put into the recruiting process as well as good chemistry between players.

"We're encouraging these young men to be the best versions of themselves, and that's showing up on the field," he says. "These guys are genuinely happy to be a part of the program… It's a fantastic opportunity for the 2016 team and coaching staff to represent everybody that has come before us."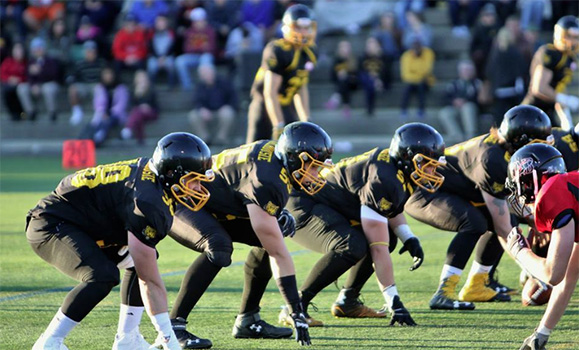 The hard work coming from players and volunteer coaches, along with the team's positive atmosphere, shows Haggett that everyone involved is there for the sake of the sport itself.

"At this point, it's exciting," he says. "Nobody has a scholarship, nobody behind the scenes is getting paid. Everyone is doing it because they love it."

Haggett encourages Dalhousie students — even those who do not know much about football — to come support the team at their home games.

"You don't have to know much," says Haggett, "except that if you see a guy in black and gold running by himself down the field, it's a good thing."

The Tigers have home games the next two Saturdays: the "Pinktoberfest" game against the Holland Hurricanes on October 8, followed by the Dalhousie Homecoming game against UNB Saint John on October 15. Games are at 6 p.m. Find out more about the team at dalfootball.ca

Members of Dal Football Clubs past gather with President Richard Florizone prior to the home opener. (Sheila Blair-Reid photo)