Dal's Mawio'mi — or "gathering" — is a highlight of the fall events calendar on campus, and an exciting way to celebrate Mi'kmaq History Month. But this year's seventh-annual edition of the event is particularly special.

That's because the Mawio'mi — which takes place Thursday, October 6, during Mi'kmaq History Month — will be preceded earlier that morning by a celebration at which the Mi'kmaq flag will be raised permanently on Dal's Studley Campus. This will be the second such installation on Dal's campuses, following the Agricultural Campus earlier this year.
More details: Flag raising ceremony, Mawio'mi

Valerie Armstrong, an International Development Studies student at Dal, recognizes this as a step in the right direction toward greater respect for Mi'kmaq cultures and traditions.

"The fact that the flag is being raised permanently is very symbolic of how Mi'kmaq culture has gone from marginalized within an education setting to being prominently displayed at a university," she says.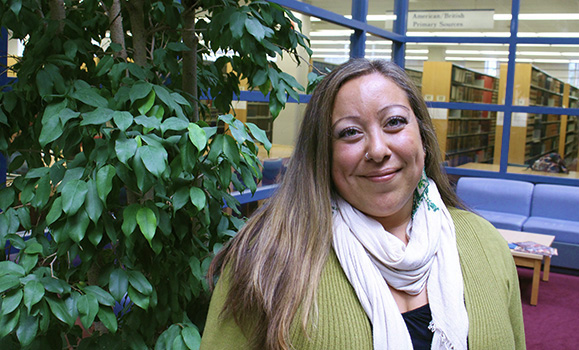 (Ryan McNutt photo)
Valerie, who is from the Paqtnkek Mi'kmaw Nation, stresses the importance of the celebration.

"Indigenous peoples, including the Mi'kmaq of Nova Scotia, have fought to preserve traditions and culture.  This permanent flag raising is a testament to the strength that Mi'kmaq peoples have, as we have culturally persevered through colonialism… this strength is now being displayed as Mi'kmaq culture, through the flag, will be a visible feature on campus."

The flag raising takes place at 9:30 a.m. in the Studley Quad (rain location: LeMarchant Place galleria). The event will include speakers, traditional music and a smudging, along with the flag raising itself.

A campus celebration

Afterwards, the Studley Quad will host the annual Mawio'mi powwow, hosted by the Dalhousie Indigenous Student Collective (DISC). The event (11:30 a.m. until 4 p.m., Studley Quad – rain location McInnes Room, SUB) commemorates Treaty Day, held annually on October 1, which honours peace and friendship between the Mi'kmaq and the Crown.

"It is important to recognize and remember the treaties, and how the Mi'kmaq did not cede the land of Mi'kma'ki to the Crown," says Valerie. The treaties were signed between the Mi'kmaq and the Crown to celebrate peace and friendship.  In the spirit of this peace and friendship, as well as reconciliation, it is important for non-indigenous community members to learn more about Mi'kmaq culture and become educated on Indigenous issues."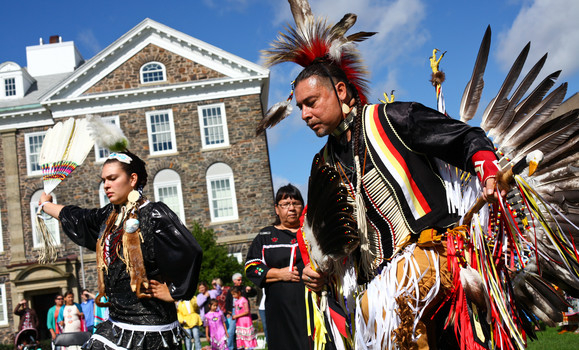 The theme for this year's Mawio'mi is "Education holds the key to reconciliation." Attendees will have the opportunity to experience a traditional Mi'kmaq feast, along with performers including Eastern Eagle, Smokey Point and Stoney Bear, Armadno Lucio, Chastity Lucio, and Halifax Poet Laureate Rebecca Thomas. Dr. Arig Al Shaibah, vice-provost student affairs and Frank Harvey, dean of the Faculty of Arts and Social Sciences, will open the ceremony, and Michael Denny will serve as MC.

And this Friday (September 30), Canadian Roots Exchange and Dalhousie Elders in Residence, in collaboration with Human Rights, Equity and Harassment Prevention (HREHP) Office are hosting a Mass Blanket Exercise, open to all. The event is an interactive opportunity to learn about how the colonization of the land we now know as Canada has impacted the Indigenous peoples who lived here long before settlers arrived. (Dalhousie University sits on traditional, unceded territory of the Mi'kmaq.) The event also honours Orange Shirt Day (Sept 30) in recognition of the harm the residential school system did to children's sense of self-esteem and well-being.

For more information on Mi'kmaq History Month visit mikmaqhistorymonth.ca