A dentist, a social worker and a respiratory therapist walk into a room.

It may sound like the beginning of a bad joke, but this was a reality last Thursday at Dal as nearly 1,000 first-year students studying in more than 20 health fields gathered at the Collaborative Health Education Building (CHEB) and the Student Union Building (SUB) to take part in the first-ever Dalmazing Interprofessional Challenge.

Dalmazing is just one of the many ways that Dalhousie has been putting an emphasis on the importance of interprofessional education (IPE), especially in health-care settings. Aimed at introducing students to the six competencies of collective work established by the Canadian Interprofessional Health Collaborative, the event placed students from three health-related faculties in teams of 10 to complete challenges that required them to learn more about their roles in a medical environment.
Heads-up learning

One such challenge, known as "Health Care Heads Up," required students to guess what health profession card they were holding to their forehead based on the descriptions provided to them by their teammates.

"We found out about a lot more health professions offered at our school," said Olivia Yang, a first-year Dentistry student.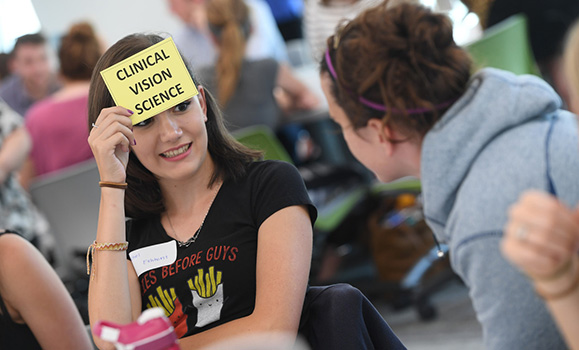 Noel Pendergast, interprofessional experience coordinator for the Faculty of Health Professions and a lecturer in the School of Health Sciences, said that particular challenge served as a fun introduction to one of the six competencies: being aware of their own role in a clinical team.

"The fun thing about the [Health Care] Heads Up is that obviously, [students] know a little bit about what they do in their own profession, but they really don't know that much," says Prof. Pendergast, noting the students are still in the first month of their respective programs.

Students also competed in an event that split them into three teams: one team arranged pieces of a tangram puzzle (a seven-piece problem-solving activity) while the other two described the shape based on a photo they had hidden in their folder. The catch? The teams were describing two completely different images. The realization that their goals needed to be realigned was intended to mimic a similar situation in an emergency medical environment.

A more patient-friendly approach to health care

Undergraduate students in the faculties of Dentisty, Medicine and Health Professions are required to participate in at least two IPE activities like Dalmazing each year in order to complete their degree. Upon graduation, students receive a certificate in Interprofessional Collaboration (IPC) that they can take with them into the workplace.

Prof. Pendergast says the interprofessional activities will increase in difficulty as students move through their studies."This was very much fun and game-like, but the same competencies [are built on] in a more realistic, clinical-focused sort of way."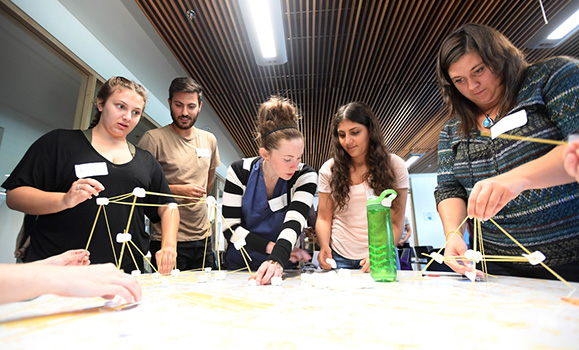 While this was a pilot year for Dalmazing, Dal has been working to expand its focus on IPC since 2006, when the former Dean of Health Professions Will Webster helped lead the development of the CHEB facility concept.

Stephen Miller, assistant dean for clinical skills and IPE in the Faculty of Medicine, says the opening of the CHEB last fall is symbolic of the steps Dal is taking to stress the importance of these crucial competencies at a national level and beyond.

That sentiment was echoed by Alice Aiken, the new dean of the Faculty of Health Professions, who said Nova Scotia is in a position to influence patient outcomes and population health for the better by focusing on interprofessional education as the "new reality" of Canadian health care.
"If Nova Scotia gets this right, the whole of Canada is watching, and it's starting right here at Dal."