Some students arrive at university with a very open mind as to what they intend to study, ready to discover what inspires them.

Then there are students like Qendresa Sahiti who seem to know exactly where they're headed before they even set foot on campus.
 
"I knew from pretty early on that I wanted to go into Neuroscience," says the 18-year-old graduate of Halifax West High School, who just started her first year in Dal's Integrated Science program.

While Qendresa's interest in the field stems in part from her love of science and research, it was a recent experience volunteering with Alzheimer's patients at a senior-care home that provided her with an even deeper motivation.

"Seeing the effect that it had on them in their everyday lives was very hard. It motivated me to try to better the lives of these people and the people who would suffer from it in the future," she says, noting she'd eventually like to research early onset dementia and mental-health diagnosis.

From being green to welcoming newcomers

Getting involved and helping others in the community has become a priority for Qendresa over the past few years — efforts that have now earned her a TD Scholarship for Community Leadership worth up to $70,000 over the course of her degree.

At Halifax West, Qendresa dove headlong into different activities. She set up an environmental club that led tree-planting sessions, enrolled the club in a worldwide battery recycling program that creates pills for children with zinc deficiencies, and organized a grounds-cleanup partnership with a local trails association.

Her interest in leadership also led her to volunteer with the Nova Scotia Secondary School Students Association, a non-profit student-led group that organizes leadership conferences and opportunities for high school students across the province. She served as secretary of the group's inclusion committee, helping engage and include students with disabilities in activities.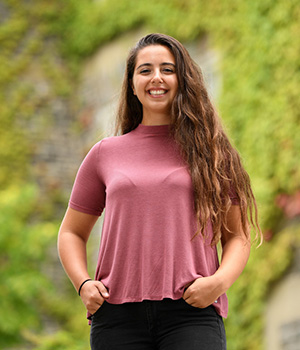 Qendresa's desire to help others extended to newcomers at her school as well. As a student ambassador with the Nova Scotia International Students Program, she worked to make sure new students from abroad at her school felt welcome and supported as they adjusted to life in Canada.

It's an issue that's close to Qendresa's heart. In 1999, when she was just a year old, her family fled Kosovo for a short time as refugees of a brutal civil war there. After a few weeks in a refugee camp in Macedonia they were relocated to Australia, where they stayed for eight weeks until conditions back home began to improve.

Although offered a choice to stay in Australia and eventually gain citizenship, her parents chose instead to return to Kosovo with the hopes of rebuilding their lives there. When conditions failed to improve after a few years, though, they decided to move to Halifax. They've been here ever since.

"My parents were just disenchanted with the whole place," she says of Kosovo. "That's where they'd grown up and where their entire family was, but they just didn't see any opportunities for us there."

Although she was just six at the time, Qendresa remembers how much the support of the local community here helped her and her family.

"We had a lot of help from community members on everything from overcoming the language barriers to navigating the city," she says.

Not sitting still

Part of her parents' motivation in choosing to settle in Canada, she says, was their desire to live in a country that provides equal opportunity for those willing to work hard for it.

It's a value Qendresa shares. So much so that her family sometimes gives her a hard time about it.

"My parents get a little upset with me sometimes, like 'You're never home, you're never just chilling out,'" she says.

Her parents' home in Clayton Park is just a 20-minute bus ride away from Dal, so she plans to continue living there this year along with her three younger siblings (two sisters and a brother). With many of her close friends having left Halifax to go to school in other cities and provinces, she says she is especially excited to meet a whole new batch of people at Dal — and about getting involved, of course.

"Dal has so many opportunities to do what you love and to help people," she says, noting that she hopes to get involved in student government and in women's rugby, for starters.

One thing is for sure: Qendresa won't be sitting still.

"I don't feel okay sitting still for long periods of time. I feel like I'm wasting time."