If someone were to have walked into the University Club's Great Hall last Tuesday, without context, they would likely have been a bit confused as to why more than three dozen faculty and staff were standing around on blankets in the middle of the room.

But the moment they'd begin listening in to what was said, the full impact of what's known as "The Blanket Exercise" would have become readily clear.

A new initiative on campus from Dalhousie's Elders in Residence, the Blanket Exercise is an interactive activity first developed in the late-1990s by the Aboriginal Rights Coalition, following 1996's Royal Commission on Aboriginal People. It was created in consult with Indigenous Elders and teachers as a way to educate Canadians about an important part of their country's history — one that's not readily or easily told.

Last Tuesday was the first time Dal's Elders have hosted the Blanket Exercise on campus. Among the participants were President Richard Florizone and many other faculty and staff across various departments. There is another session scheduled at the Dal University Club on Monday, August 22 at 1:30 p.m.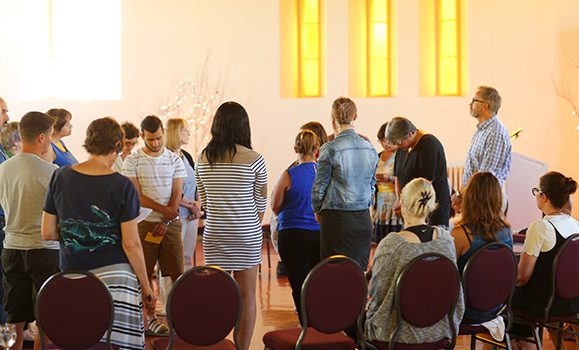 Hands-on history

Here's how the Blanket Exercise works: the blankets, covering the floor, are used to represent the lands of "Turtle Island" — what we now know as Canada. The majority of participants represent Canada's First Peoples, the distinct cultures and nations that live on those lands. In addition to a narrator, there are also individuals representing Europeans, who arrive on the scene early in the exercise.

From there, the narrator interacts with the participants in response to a series of readings that serve as a journey through the history of treaty-making, colonization and resistance. It's an emotional experience for some participants: it's one thing to be aware of how many First Peoples perished because of disease, or that the Residential School system pulled Indigenous families and communities apart, but it's another to see that experience personified physically. As participants sit down, signifying their death, or see their landspace shrunk or seized, the weight of history fills the room.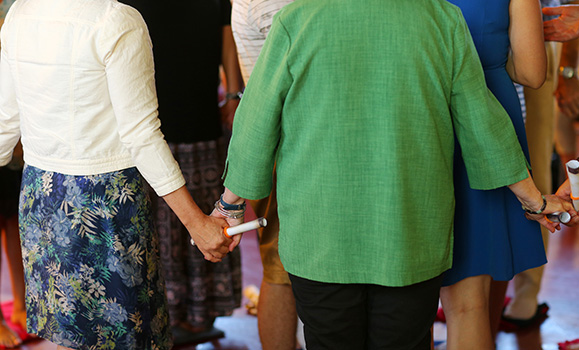 For Geri Musqua-LeBlanc, coordinator of the Elders in Residence program and an Elder herself, it's rewarding to see faculty and staff stepping up to learn more about the relationship between Canada and its Indigenous peoples.

"It makes my heart smile seeing so many faculty and staff attend the Blanket Exercise," she says. "When the administration of an institution involves itself in learning controversial history, it tells me that the administration is committed to moving toward reconciliation with Indigenous People. It will help faculty and staff better understand the issues Indigenous students face."

Following the exercise itself (which lasts about 30-40 minutes), a Talking Circle took place — an opportunity for participants to share, reflect and consider the impact of the exercise, driving home what's been learned and experienced.

"The participants have obviously been talking about what they learned, as there are many more faculty and staff registered for the next session," says Musqua-LeBlanc. "And I welcome that."

Musqua-LeBlanc says future Blanket Exercises beyond the August 22 session are certainly a possibility, and the Elders in Residence welcome outreach from individuals or groups interested in having Elders involved in events on campus.

Learn more about the Elders in Residence program.