Icysis Toney may be years away from applying to university, but the 13-year-old from Indian Brook First Nation in Nova Scotia is already keen to explore her options.

So when she heard about an immersive Aboriginal health sciences program that was happening at Dalhousie this summer, she wanted in.

"I really wanted to find out what university is like," says Icysis, one of 18 Indigenous students from around the Maritimes who attended the Aboriginal Health Sciences Junior University from July 11-15.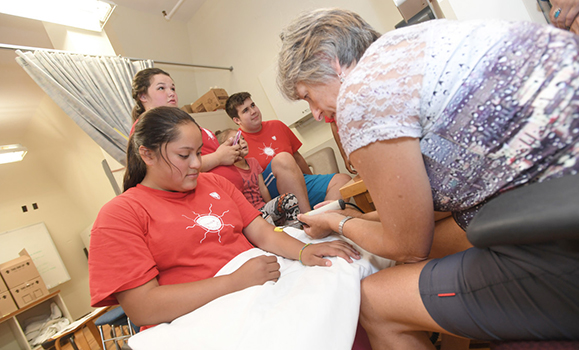 Icysis Toney (Sipekne'katik First Nation), seated, with Treena Mitchell (Lenox Island First Nation) & Ryan Corbin (Wolfville).

The program, now in its fifth year, brings Indigenous youth to Dal for a week of experiential learning about different health professions ranging from dentistry and nursing to physiotherapy and health promotion. The goal: to inspire more young people from Indigenous communities to pursue careers in the health professions.

For Icysis, the program provided a chance to immerse herself in the university where her own mother studied years ago, and to learn more about medicine, dentistry and paediatrics — three areas she says she is interested in.

While she and many of the other campers are still years away from deciding on what they'll study in university, piquing their interest in the health professions early on is important, says Kara Paul, managing director of the Aboriginal Health Sciences Initiative (AHSI) at Dal.

AHSI aims to increase the number of Aboriginal youth entering into health professions programs at Dal and to encourage the development of health curriculum that is more in tune with Aboriginal cultural competencies.

Throughout the year, the group sends an outreach coordinator to different schools and events in Aboriginal communities across the Maritimes to share information about health-career options professions and gauge interest among different students. Interested students can then apply to attend the junior university, which gives them a more immersive experience in a university setting. 

Most participants are between 14 and 16 years old and heading into those crucial years when they are making decisions about what classes to take in high school. Those choices often impact what they are able to study later on, says Paul.

"The program informs them about the pathway to a career of their choice," says Paul. "So this is the next step in our recruitment strategy, bringing them here to actually experience the health professions."

From state-of-the-art simulations to traditional knowledge

The students are encouraged to explore direct-entry programs in the health sciences, such as respiratory therapy and kinesiology, in addition to those longer-term professional programs such as dentistry and medicine.

"Typically they might think about a dentist, doctor or nurse and they don't realize there is this whole array," says Paul. "We want to open them up to the possibilities."

Particpants get to take part in the types of engaging demonstrations and simulation activities they might encounter in real health-care situations, such as drilling and filling cavities, assessing patient balance in a physio clinic, and performing diagnostic ultrasounds.  

Over the years, Paul has made a point of weaving in more traditional approaches to the health sciences during the week as well, and this year's program was no exception.

On the Thursday, the young students all piled into a bus for a field trip to Peggy's Cove. Along the way they learned about some Indigenous creation stories and took part in a medicine walk where they learned how to identify different traditional medicines and what they are used for.

"This is knowledge that's been handed down over thousands of years from our ancestors and Elders and it's still alive today. We still use these medicines," says Paul. "I want to ensure that students understand that Indigenous knowledge is valid and important."
An impact that lasts

Paul says several participants from past years have gone on to study in health-related fields, many at Dal.

Brianna Noseworthy, who just finished her first year in Nursing at Dal, says taking part in the program in 2013 while in Grade 11 helped her build connections with professors and others at Dal and prepare for the transition to university.

"Without that program, I don't think I would be where I am today," she says, noting that Paul was particularly instrumental along the way as she forged her path to Dal.

This summer, the 19-year-old off-reserve, non-status Mi'kmaq from Lower Sackville, N.S., decided to help out by becoming a counsellor in the program; she's one of several junior university alumni over the years who've done so. She says the youth really looked up to her and the other counsellors and were interested in hearing tips on how to be successful in their studies.

"It was an amazing experience. I'm happy I had the opportunity to mentor them," she says. "I hope that the program has opened their eyes to the possibilities of what they can do with their lives."