If you've been grocery shopping recently, you've seen the signs: flyers at all check-outs urgently requesting donations for Feed Nova Scotia after the organization announced they're critically low on food.

As the community stepped up to help, including Dalhousie with its donation of over a tonne of food, the situation at Feed Nova Scotia prompts a larger question: how food secure are our populations?

Well, 8.3 per cent of Canadians are food insecure — an issue one group on campus is looking to tackle at its roots.

SHAD is a four-week long summer enrichment program for exceptional high school students. Each year over 600 students gather at 12 universities campuses across Canada, including at Dalhousie. During their month-long stay on campus, students work in teams, combining science, technology, engineering, arts and math (STEAM) skills with entrepreneurial innovation to create a product that will help solve one of the world's big issues. This year the focus is on food security.

Exploring issues

Nicholas Barclay is one of this year's Dal participants. The 17-year-old from Victoria, B.C., came to Dal to experience the east coast and explore his interest in engineering. Though science-focused, he said he's enjoying the diversity that the "intense" program has to offer.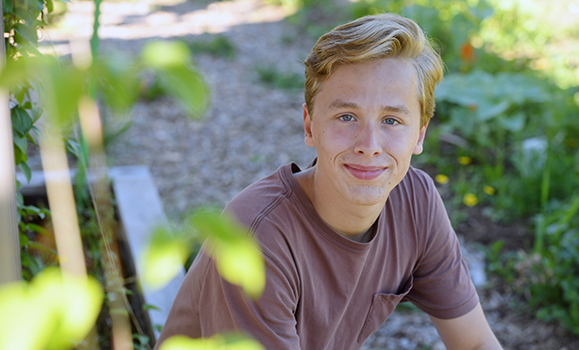 "It's not just about not having enough food," Nick explains, adding that he and his peers were aware of food insecurity issues, but not the specifics. "There's malnutrition, lack of access—you have to consider all the different facets."

According to the Food and Agriculture Organization of the United Nations, food security is defined as having access to enough food to lead a healthy active life. The food also has to be culturally appropriate.  

Megan Bailey, assistant professor with the Marine Affairs Program and the Canadian Research Chair in Integrated Ocean and Coastal Governance, introduced this year's topic to the group. She was impressed with the level of knowledge the students already had.

"They brought up people with disabilities, people with poor mental health, the elderly — there's a wide range of people who might face challenges," says Dr. Bailey.




As part of the introductory lecture, the group looked at a case study of the Arctic, where entire communities face particularly challenging food security issues. High fuel prices mean higher shipping costs. There are longer shipping times and with longer, warmer winters, the chance of food spoilage is increased. Arctic communities also face the limiting of their traditional food sources: "Most of us, we're not hunters or fishermen, we shouldn't be imposing our standards on people who are culturally different," says Nicholas.

The case study also allowed students to look at an aspect of food security that often goes overlooked: malnutrition. Some people may have access to food, but that food doesn't have a high enough nutritional value. To learn about the work required to produce healthy food, students visited the Common Roots Urban Farm near the QEII hospital in Halifax. While there, they split into groups to make compost, weed the 'food forest' and do maintenance on the pathways and signs.

"Being able to see where food actually comes from is really important. That's why we go out and help with the garden and visit a dairy farm," says Mike Smit, a SHAD co-director and associate professor in the School of Information Management. "They not only contribute to the local community, but it helps them understand the process of getting food from farm to table and get a feel for the complex and moving parts."

Innovative ideas

Understanding where food comes from is the premise of Nicholas' group's project: a gardening system for young children.

It's the group's hope that the system will connect people at an early age to the process of food production, and increase their ability to make healthier choices in the future. "The difficulty is creating something that is fun and interesting for kids, while being accessible and easy to use," he explained. "It also needs to be something parents are willing to buy for their kids."

The group might be on the right track.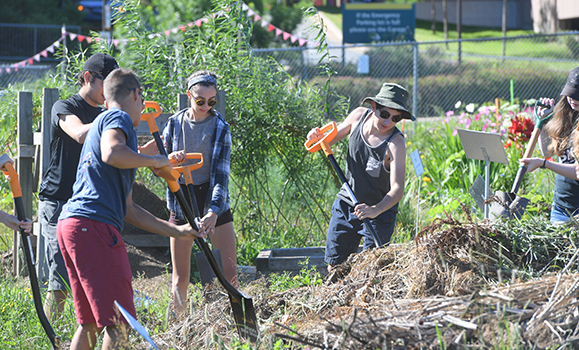 "The young have to have a voice in the future we're creating," says Dr. Bailey, who recently co-edited a special edition of Solutions. The journal features thoughtful articles on food-security solutions. For the special edition, Dr. Bailey and co-editor Jessica Duncan sought out contributions exclusively written by young academics around the world.

"This is one of the consequences we saw with Brexit," she continues. "The older population voted to leave, while the younger population voted to stay. It's the older generation making choices with consequences that the younger generation is going to have to live with. High schoolers or young academics should be creating their own vision of a sustainable food future."

Creating that vision won't be easy, says Nicholas. "There's a lot to consider. Do you focus on production, understanding, nutrition, or waste? For example, 20 per cent of food is wasted before it even gets to the retailers because it has to look a specific way. Changing perception is going to be one of the biggest challenges."

However, Nicholas agrees that the young are best suited for the job. "We have no filters," he says. "We haven't learned how to shut down our own ideas."

Carrying it through

SHAD aims to make sure they never do. Dr. Smit has been with SHAD since his undergrad days. According to his experience, SHAD helps students figure out how to move beyond where they are now, to broaden their horizons, and offers opportunities that help them explore new ideas. "We're equipping Canada's future leaders to be ready."

Though the task may be daunting, Nicholas feels he and his peers are prepared. "We're being handed the world we live in. We'll be the ones to carry it on and see it through."