A little help goes a long way.

On Friday, staff from Dal's Facilities Management (FM) team made the rounds of Dal's three Halifax campuses, loading up one of their large transport truck with boxes upon boxes of foodstuffs. Their destination: Feed Nova Scotia, which earlier in July put out an open call for donations as supplies had reached a critical low point.

With the inclusion of food supplies collected at the Agricultural Campus the previous day, FM employees Tim Jolly and Jamie Perry dropped off more than 100 boxes at Feed Nova Scotia's warehouse in Halifax.

The total haul exceeded the university's one-tonne goal: in total, 1,041 kg of food was donated.
Karen Theriault, director of development and communications for Feed Nova Scotia, says that volume of food is enough to provide 2,100 meals for Nova Scotians in need this summer.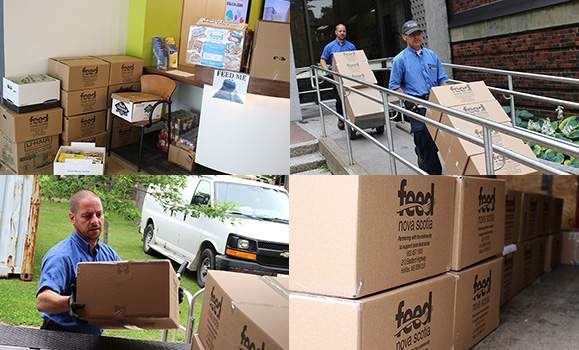 "Dalhousie University really took this initiative and ran with it, and the result was phenomenal," says Theriault. "It's important that we have support all through the year but this season, when we're really struggling, it's heartwarming to see how our community has rallied together, and to see Dalhousie take this on with such enthusiasm was wonderful."

The Dal-wide food drive was organized by a collection of offices and individuals, including the President's Office, the Office of Advancement, Facilities Management, Dal Libraries and Financial Services. Donation boxes were placed in more tha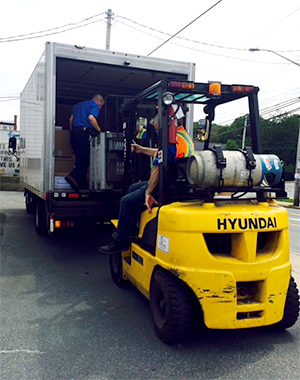 n 20 buildings across campus for a two-week period. President Richard Florizone put out a call for donations from the Dalhousie community, and the Office of Advancement also solicited donations from its local alumni network.

"We know Dalhousie is always ready to step up for a great community cause, and it was fantastic to see our faculty, staff, students and alumni come together and help fight local hunger," says Kirsten Tobin, associate director, Advancement events, who helped organize the Dal effort for the Office of Advancement. "Thanks to everyone who donated!"

Feed Nova Scotia distributes food to its network of 147 food banks, meal programs and shelters across the province — including to the Dalhousie Student Union Food Bank located in the Student Union Building. In total, more than 20,000 people each month are supported by the organization.

Learn more about Feed Nova Scotia and how to donate at its website.