Kardam Tiwari was drenched in sweat when he arrived at the entrance of ABM Integrated Solutions in Dartmouth on a scorching afternoon this June. It was 1 p.m. and he didn't have an appointment.

"'Whom do you want to meet?'" asked the person who answered the door. "I said, 'Someone who is concerned with security,'" recalls Tiwari — and he didn't mean guards.

The man at the door turned out to be the vice president of the company. He ushered Tiwari in out of the heat for what turned into an impromptu hour-long meeting.

"This I learned from LaunchPad Dal: just show up," says Tiwari, referencing the Dal-run accelerator program his nascent technology startup SWAP Innovations has spent the last eight weeks participating in.

Buoyed by the willingness of an executive at a major Atlantic Canadian IT company to open up to a complete stranger, the 24-year-old recent Dal Computer Science masters grad from India began reaching out to others for feedback on his technology — a method for authenticating online transactions using a person's fingerprints rather than passwords.

A unique technology

Tiwari says he originally designed the technology with financial institutions in mind, but conversations during the accelerator motivated him and his team to explore its potential in other areas as well, such as e-commerce.

Here's an example of how it might work: when finalizing a purchase for an online retailer, that site would ask you to verify your purchase using SWAP. If you are registered with SWAP, it would then redirect a message to your smartphone prompting you to scan your finger, an action that would then allow the transaction to go through on the shopping site. The only "password" is your fingerprint.

What makes SWAP's solution unique, says Tiwari, is that it deletes a user's fingerprint from their device as soon as the transaction has been authenticated, thereby eliminating any concerns that the print could be obtained if their device is stolen.

From concept to roadmap
   
The idea for SWAP has its roots in Tiwari's own experience and research. A few years ago, Tiwari had lost money to hackers and knew friends who had as well. Later, during his master's research at Dal he decided to focus on coming up with a new security protocol to help reduce reliance on passwords — something he did with the help of his thesis supervisor, Srinivas Sampalli.

When a friend suggested Tiwari build a business around his technology, he decided to give it a try. Within weeks, he and his five teammates — Jared Perry, Armando Tenias, Rahul Tiwari, Nigel Lutchman and Raghav V. Sampangi — entered SWAP in a business competition at Saint Mary's University and walked away with the $20,000 cash prize. Then after a bit of Internet searching, he stumbled upon the LaunchPad program.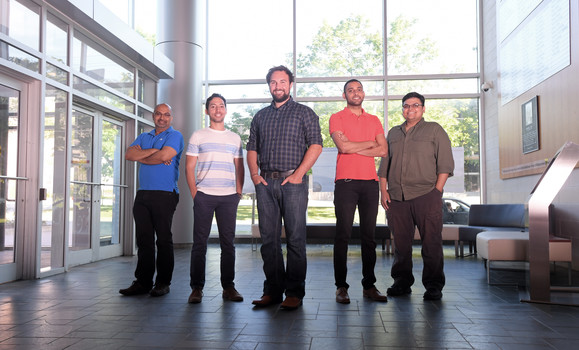 SWAP was one of the nine teams to pitch its project to more than 250 faculty, staff, investors, and other community members this past Monday during Demo Day, a public event that marked the end of this summer's LaunchPad program.

Tiwari's team, like the others, gained entrance into the program back in the spring after squaring off against other groups in the so-called $100K competition, which awards winning teams $10,000 in seed money to develop their business ideas during the two-month accelerator.

At the start of the accelerator, Tiwari had been skeptical of the cold calling and customer outreach stressed by its instructors. But as one meeting led to another, he saw possibilities beginning to emerge and met people who helped him refine the vision for his company.

"Two month ago we were just a technology," he says. "Two months after and now we have a concept and a roadmap."

That roadmap includes securing $500,000 in funding to help further build out the business and creating a software protocol companies can use to deploy SWAP's platform.

A 'lean' approach to business creation

Dal professor Mary Kilfoil, the academic lead for the Launch Dal initiative, says this year's accelerator attracted several teams that were well on their way to gaining some market traction and potential customers.

As in past years, Dr. Kilfoil and fellow professor Ed Leach focused on encouraging teams to use the so-called "lean" approach to business development where teams test the viability of their ideas early on through rigorous customer outreach.

Reps from Google in New York, Founder Fuel in Montreal, and others in the local startup community were invited in as mentors. She says the aim is to get teams to the point where they can exit the accelerator with next steps in mind.

"We want them to go where they need to go to gain the knowledge or market traction," says Dr. Kilfoil. "Even if they are going to launch a business here in Nova Scotia, in many cases it's important for them to go, for example, and spend time in accelerators in Silicon Valley or Boston or Las Vegas."

While not all the teams to participate will take that next step, Tiwari says he's hopeful he can eventually turn SWAP into a full-time venture. The team is currently finalizing a funding proposal and is in talks with one of Canada's biggest banks about designing test cases.

"We are ready to chip in our money and do what it takes because we know the potential of the technology," says Tiwari.