The North Preston community and the Dalhousie Faculty of Dentistry came together on June 16 to celebrate 20 years of a partnership that has enabled local children to receive dental care in a community that was previously underserved.

The North Preston Dental Clinic is located in Nelson Whynder Elementary School. It is a joint effort by the North Preston community, the Dalhousie Faculty of Dentistry, and the Halifax Regional School Board (formerly the Halifax County-Bedford School Board).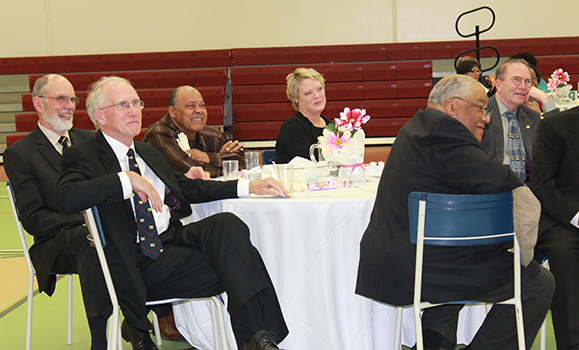 "The clinic was a wonderful coming together of need and opportunity," says Tony Atuanya, chair of the North Preston Community Education Council and emcee for the evening. "Our community recognized there was a need for dental care for our children. The Faculty of Dentistry was looking for an opportunity to work with communities that needed access to dental care and the school board was willing to use Nelson Whynder Elementary School as the location for the clinic. It has been a vital part of the community for the past 20 years."

Rosella Fraser, the facilities manager of the North Preston Community Centre, is delighted that her daughter, Adina Marsman, was able to receive dental care at the clinic when she was a student at Nelson Whynder.

"Speaking as a parent, we were blessed to have this service," she says. "We didn't have a dentist and I really appreciated not only the treatment and oral education Adina received, but also the attention paid to building relationships and rapport through having the dental office in the school."

Marking a milestone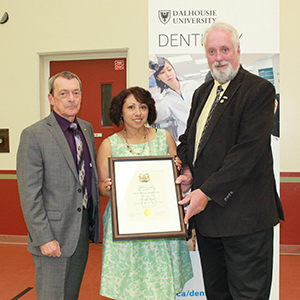 The anniversary was celebrated with a dinner, speeches, music by local performer Keonte Beals, and many messages of congratulation and thanks to everyone who played a part in making the clinic happen. Preston MLA David Hendsbee presented a framed certificate congratulating the community on its achievement (right, with Dean Boran and coordinator Juliette Thomas).

Dr. Amid Ismail, dean of dentistry at Temple University in Philadelphia, was one of the original team to make the North Preston Dental Clinic a reality. Now a recognised expert on dental health disparities and a passionate advocate for the underserved, he spoke briefly about the history of the clinic, thanking everyone for the experience they gave him. For him, it was the "University of North Preston", where "I discovered myself and it was the foundation for my engagement with the community".

He recalled some initial suspicion when he first went to the community to talk about the clinic.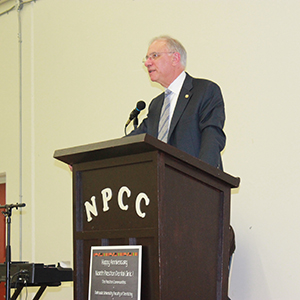 "I was a university professor in a suit," said Dr. Ismail (left). It was expected that I would do a study and disappear. But trust cannot be achieved in one day or one month. We planted seeds and waited for them to bloom." Persistence paid off, he said. Relationships were built and "we now have a community clinic that is a model for all of us. Thank you for the experience you gave me."

In his remarks, Dalhousie President Richard Florizone discussed Dal's three-fold mission of teaching and learning, research, and service. "That third pillar — service — is our connection to the community, and it informs teaching and research. This clinic is an excellent example of an idea that has grown and developed into an enduring partnership and friendship between North Preston and Dalhousie."

Dean of the Faculty of Dentistry, Dr. Tom Boran, praised the hard work of dental assistant and clinic co-ordinator Juliette Thomas, who has been with the clinic since 1996 and a steady presence for both fourth-year dentistry students and faculty.

"As Ismail said, seeds were planted here and flowers bloomed," Dr. Boran said. "When our students graduate, I'm not interested in just hearing where they are going to practise, but what population they are going to serve. And I am hearing that — it's part of the legacy of North Preston."

Making history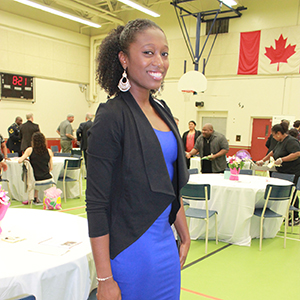 Another part of the legacy is the young people from the community who have gone on to become dentists. Jean Provo graduated from Dalhousie as a dentist in 2001, becoming the first from the community to do so. Celeste Williams (right), who is from East Preston, is now going into her third year of Dentistry studies, and a young man from the community is doing his undergraduate degree with the objective of studying dentistry at Dal.

"We made history 20 years ago," said Tony Atuanya. "A lot of things happened in the community as the result of our partnership with Dalhousie and our exploration of what you can do with a publicly-funded building."

At the end of the evening, Juliette Thomas made an announcement that Tony was too shy to make: his daughter Rosine, who is currently a student at York University, has been accepted into the Dentistry program at Dal and will take up her place in September.