In 1971, Canada became the first country in the world to adopt multiculturalism as an official policy — which means students like Catalina Albury, going into her second year of her Bachelor of Science studies, haven't known a Canada without it.

"Multiculturalism to me is important because it's a learning asset," says Catalina, who came to Canada from the Bahams to study at Dal. "You gain so much deep, rich knowledge from so many people that you wouldn't get if you were elsewhere."

Designated as such by the Government of Canada in 2002, Canadian Multiculturalism Day is meant to "celebrate our diversity and our commitment to democracy, equality and mutual respect." It comes in the middle of a four-day celebration called "Celebrate Canada," which also includes National Aboriginal Day (June 21), Saint-Jean-Baptiste Day (June 24) and Canada Day (July 1).

Sarath Sasidharan, a fourth-year Commerce student, was brought up in Dubai, India and has also been able to experience Canadian multiculturalism as a newcomer.

"You adapt to different cultures and you learn from different cultures," he says. "When I came here I made a lot of Chinese friends, friends from different parts of the world. Multiculturalism to me is something I practice every day, whether it's with food or any aspect of life."

Part of the Canadian fabric

Multiculturalism refers to the recognition and celebration of the co-existence of diverse cultures, typically based around racial, religious or cultural groups. As a concept, its roots in Canada are often traced back to the 1960s and early 1970s. It was introduced in the final report of a royal commission set up in the early 1960s to explore the state of bilingualism and biculturalism (French and English) in Canada and was later declared official government policy in a speech by Prime Minister Pierre Trudeau to the House of Commons in 1971.

The essence of Trudeau's speech was that Canada has no official culture and that no one ethnic group takes precedence over another, an idea that seemed to capture the imagination of Canadians.


"We adopted the policy and became proud of the policy and it became a part of our national identity," says Kristin Good (left), associate professor in Dal's Department of Political Science. "It really just took hold with Canadians. It could just be that we are multicultural demographically and it's the kind of broad term that can fill that vacuum in terms of how people are able to express our national identity."

Dr. Good, author of Municipalities and Multiculturalism: The Politics of Immigration in Toronto and Vancouver, says multiculturalism was introduced as a way to create the conditions for inclusion in Canada. Rather than placing the burden solely on immigrants to integrate into Canada, Dr. Good says multiculturalism acknowledges that developing those conditions is a two-way street and governments have to look at policies to try and address some of the barriers to social, economic and political access and equity based on culture.

A number of factors have contributed to the success of multiculturalism in Canada over the years, says Dr. Good, including a strong border and an ability to select immigrants.

"If people feel that immigrants are coming in through the proper channels and that it is fair and that we can control and select the immigrants that would work best for the country, then that provides a broad context for security around the changes that are happening," she says.

Meaning and mosaic

Multiculturalism has had its share of critics over the years, including some who argue it encourages the "ghettoization" of different ethnic groups, and it still faces challenges in different contexts.

Dylan Andrew Young Letendre, an International Development Studies/Economics student, is Métis, originally from Saskatchewan, and feels Canadian culture still largely expects individuals to adapt to a Euro-Canadian culture.

"What I would hope that we work towards is true multiculturalism," he says, "where non-Aboriginal, non-Indigenous Canadians or European-descendent Canadians actually adapt themselves to the cultures that are coming in to them, as well as adapt themselves to cultures with which they've existed since before Canada existed."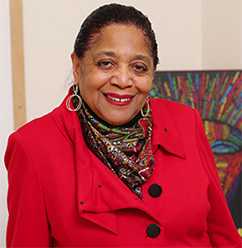 Norma Williams (right), Dalhousie's executive director of diversity and inclusiveness, says there was a point in her life where "multiculturalism," as a concept, didn't mean as much to her — not because of the idea itself, but how it was applied and interpreted.

"It has to be about more than food, fun and fashion," she explains. "How I came around is in watching the framework shift to a position where it's about the idea that each of us — whether you're from Britain and are white, from Ghana and are Black, from Membertou and are Indigenous — bring our own distinct identity to Canada, and that identity can be viewed as a culture.

"It's an acceptance of the reality that it's not a 'we' and a 'you.' Multiculturalism is a gathering where everyone fits."

Multiculturalism at Dal

Making multiculturalism work for all Canadians — citizens, newcomers, founding peoples alike — takes work, as Dr. Good notes.

At Dalhousie, support for multiculturalism can be found in cross-university efforts to support diversity and inclusiveness.

These include new courses and programs (like the forthcoming minor in Black and African Diaspora Studies), the Scholarly Panel established to examine Lord Dalhousie's history on slavery and race, efforts to respond to the national Truth and Reconciliation Commission's calls-to-action and the launch of the Elders in Residence program. There's also been the rollout of an "Elephant in the Room" anti-stigma campaign, delivered to Residence Life and Student Life staff this winter, and initiatives to better engage international students and domestic students alike in inclusive sports and recreation activities. (A progress update noting these and many other initiatives was published to Dal's Culture of Respect website earlier this month.)

That said, there is still much more work to do, as Williams notes. She says that just like Canada, Dalhousie can't be stuck in the ways of the past and must work actively to become a truly multicultural space.

"We need to be active in our minds, our vision, our way of being and doing," she says. "This country, and this university, is for everyone — and we all have to work towards that goal."