Of the 4.8 million people who have fled the fear and uncertainty of the Syrian war, only a tiny fraction (about 3.6 per cent) have officially found new homes elsewhere.

Canada has been among the countries most open to accepting these displaced individuals. Since early November of 2015, the country has taken in 27,580 refugees from the war-torn country — a majority of them children and youth.

Torn away from school and other daily routines by the civil war in their homeland, these young individuals have made the long and arduous trek with their families in search of a better life.

But as many have come to realize, starting over in a new country brings its own challenges. Language and cultural barriers, a lack of resources and problems accessing community services are just a few of the problems faced by the young refugees and their families.

An international collaboration

Dalhousie professors set up a cross-Canada research coalition late last year to study the integration of these young Syrian refugees in the country, and are now teaming up with counterparts in Germany — another major resettlement country — to share knowledge and best practices.

The burgeoning partnership offers a unique chance for researchers in the two countries to develop collaborative projects and initiatives as their countries struggle to meet the needs of the thousands of newly arrived young people.

Michael Ungar, Canada Research Chair in Child, Family and Community Resilience at Dal is the lead researcher on the Canadian Refugee Child, Youth and Family Research coalition. He's in Berlin this week to kick off the first meeting with colleagues from the Leibniz Education Research Network (LERN).

Dr. Ungar is accompanied by eight other Canadian researchers and officials from two federal government departments on the trip, which is being funded by the Canadian government and hosted by the Canadian Embassy in Berlin. A follow-up meeting will be held in Ottawa in September.

While Syrian refugees have entered into Canada and Germany in different ways, challenges related to language acquisition, trauma, and family issues such as unemployment raise the risk of social marginalization in both countries.

By working together, representatives from the Canadian coalition and LERN are hoping to better understand some of those challenges and share evidence of effective resettlement programs.

A coalition of support

The Canadian coalition was first formed late last year after Canadian Prime Minister Justin Trudeau pledged to rapidly bring 25,000 Syrian refugees into the country.

"With the incoming large cohort of refugees from Syria, there all of the sudden was this opportunity to think 'Well, if Canada wants to continue to do this more often, wouldn't it be nice to see what's working so that we can do this successfully in the future?'" explains Dr. Ungar, who is also a professor of social work at Dal and the director of the Children and Youth in Challenging Contexts (CYCC) Network of which this new coalition is an offshoot.

Dr. Ungar worked closely with Martha Crago, vice-president of research at Dal, over the past several months to build momentum and support for the coalition, which includes dozens of top researchers, community resettlement partners and government agencies from across Canada.

They have found a willing and supportive partner in the federal government, which says it plans to bring thousands more refugees into the country this year on top of the 25,000 that arrived between early November and late February. Coalition reps have held one-on-one meetings in recent months with policy makers in Immigration, Refugees and Citizenship Canada (IRCC), Statistics Canada, and with senior officials from various government departments, including the Treasury Board of Canada.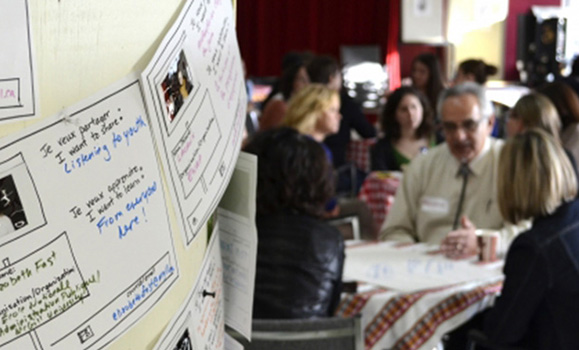 "This coalition of researchers, service providers and educators from across Canada working with a network of researchers from across Germany and ministries from our governments is a wonderful example of partnered research with the goal of improving the lives of people in one of the world's largest mass migrations, "says Dr. Crago.

"It shows what universities can do in the interest of our global society. The governments and funding agencies have recognized the importance of it and stepped forward to partner with their funds and personnel."

Sharing and implementing best practices

In addition to securing federal funding for its Germany engagements, the coalition has also had some early success in motivating national funding agencies such as the Social Sciences and Humanities Research Council of Canada (SSHRC) to provide rapid response and other funding to help with the group's research.

That research centers on understanding the factors that facilitate young refugees' success in four key areas: language acquisition, literacy and engagement in learning; social integration and countering violent extremism; mental and physical wellbeing; and economic success.

The coalition's ultimate goal is to help communities, service providers, educators and others to research, share and use best practices on interventions in these areas so that children, youth and families can better navigate the often-rocky process of resettlement.

Several research projects are already underway. Howard Ramos, professor in Dal's Department of Sociology and Social Anthropology, is currently leading a research contract from the Treasury Board examining data and measures of social and cultural wellbeing among young refugees.

"Canada has a choice: demographically, this cohort presents tremendous opportunities for us," says Dr. Ramos. "Young people are an investment and the research can ensure that investment is a good one."

Global reach, local impact

Here in Nova Scotia, Dr. Ramos is also involved in another project with a more local focus. Along with fellow Dal researchers Yoko Yoshida (Sociology) and Patrick McGrath (IWK) and sociologist Madine VanderPlatt of Saint Mary's University, he is carrying out an independent evaluation of the "Welcome Ambassadors" program from Immigrant Services Association of Nova Scotia (ISANS), the largest refugee settlement organization in Atlantic Canada.

ISANS helps government-assisted refugees with everything from finding a place to live and getting a health check to language assessments, schooling and the hunt for employment.

Gerry Mills, director of operations with ISANS, says her organization received up to 150 new refugees on certain days during the rush in the early parts of this year — just 50 shy of the 200 they take in during an average year.

"It was controlled chaos," she says of the experience of resettling close to 700 government-assisted refugees over the span of a few months. "It was an incredible, extraordinary initiative and achievement, I think."

Mills says her organization will be sharing data with the Dal-based coalition and working to assess the success of some of its resettlement efforts in the months ahead, including retaining the newcomers in the province.

"We provide services to them [refugees] until they don't need service," she says.

It's the unique data and information gleaned from that sort of on-the-ground experience that Dr. Ungar and his coalition hope to mobilize and share to ensure better outcomes for the thousands of vulnerable children and youth both at home and abroad.