Sixteen years ago, Dal professor Jeff Dahn was on a bus zigzagging its way to the outskirts of Phoenix when he had one of the most important conversations of his career.
    
Dr. Dahn and the group members he'd brought along to a conference used public transit to get back to their inexpensive motel just outside the city. As the bus weaved along the city streets, Dr. Dahn and postdoctoral fellow, Zhongua Lu, began picking apart a lecture on battery materials they'd just heard.

"We were saying 'This doesn't make any sense. These guys are not interpreting their data correctly,'" recalls Dr. Dahn, Canada Research Chair in Battery and Fuel Cell Materials and professor in the Department of Physics and Atmospheric Sciences and Department of Chemistry.

Drs. Dahn and Lu made an alternative interpretation and then extended the work with experiments in their own lab when they returned home from the conference. This ultimately led to the invention of a new set of materials now used in about one-third of all lithium-ion (Li-ion) battery cells produced worldwide.

Today, Dr. Dahn and his team represent one of the world's most renowned hubs of expertise in battery technology — a major reason why he is being recognized with one of the first ever Governor General's Innovation Awards.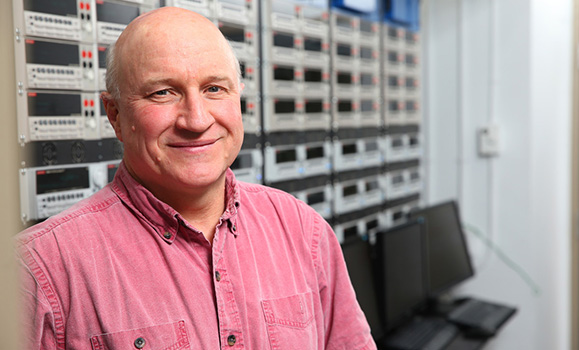 Announced Thursday, the new awards recognize individuals, teams and organizations whose innovations have had a "transformative" and "positive" impact on quality of life in Canada. By celebrating achievements such as Dr. Dahn's, the awards are intended to inspire other Canadians to "embrace innovation" and to take risks to create impactful new products and services.

Dr. Dahn and the five other inaugural winners were chosen from a broad pool of nominees through a two-stage, merit-based selection process managed by the Canada Foundation for Innovation. The awards will be presented at a ceremony at Rideau Hall in Ottawa on May 19.

"What's really nice for me is that people around the world are starting to adopt our tools and see the value in them," says Dr. Dahn, who has been the NSERC/3M Canada Industrial Research Chair (IRC) in Materials for Advanced Batteries at Dal since joining the university in 1996.
Stronger, longer-lasting batteries

Li-ion batteries were first developed in the 1990's as a longer-lasting, rechargeable alternative to their single-use counterparts, but Dr. Dahn's innovation at the turn of the millennium offered a significant step forward for the technology, in part by making cells more cost-effective to produce. The material combinations they created — later patented at "light speed" by 3M Canada, he says — are now used in batteries that power everything from electric cars and power tools to smart-grid power-storage devices that could one day support the widespread use of renewable energy.

In collaboration with Dr. Lu, the creation of NMC, which stands for the nickel, manganese and cobalt used in the material, has been Dr. Dahn's biggest success to date from a commercial standpoint, but several of the 65 or so other inventions he's patented also hold potential for widespread use.

One of the most significant innovations to come out of Dr. Dahn's lab in recent years was the creation of a high-precision testing method that can rank the lifespan of Li-ion cells intended for decades-long use in a matter of weeks.  Former graduate researchers Chris Burns, Aaron Smith and David Stevens all assisted Dr. Dahn in the breakthrough project, which involved building the testing devices from scratch in their lab at Dal. Dr. Burns and Dr. Stevens now run a spinout firm called Novonix that was created to meet demand for the technology from companies of all stripes.

"The demand for this type of equipment is going to increase a lot as more and more engineers and researchers realize it is one of the best ways to learn about the lifetime of cells," says Dr. Dahn, noting that the young firm may soon expand into a larger space to accommodate demand.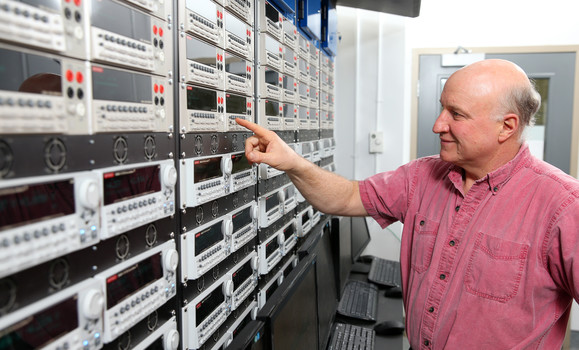 Dr. Dahn says this and other examples in recent years — including the creation of a new class of battery electrolyte additives that improve lifetime — show just how crucial students are to driving innovation within his lab. The Dahn lab currently employs 13 graduate students, three postdoctoral fellows, eight undergraduates and a handful of others. The lab has expanded from a few rooms room to an entire wing of the Sir James Dunn Building over the years.

Dr. Dahn reckons that more than 50 of the graduate students and postdocs who have come through his lab over the years are now key players in the Li-ion battery business globally, working in everything from materials development and R&D to sales or manufacturing at world-leading companies. At a recent conference in Shenzhen, China, a hub for Li-ion activity, he says he ran into seven of his former lab colleagues all working in the industry there.
A celebrated career — with more to come

The Governor General's award is not the first time Dr. Dahn's work has been recognized at such a high level. He was elected as a fellow of the Royal Society of Canada in 2001 and has won more than 20 major awards — both for his teaching and graduate supervision as well as his research — since he began working in the lithium battery business back in 1978.  This latest award is unique, though, in that it recognizes the impact Dr. Dahn has had on inspiring innovation with a broader societal impact.

Scientific journals and mainstream news publications alike have praised Dr. Dahn's discoveries, with business news site Quartz going so far as to say he is one of a handful of scientists worldwide most likely to develop a "super-battery" capable of taking electric cars "to the masses." This year, Dr. Dahn's research contract with NSERC/3M will come to and end and he will begin a new, five-year partnership with Tesla Motors, a world leader in electric vehicles and grid storage. The new partnership, which kicks off this summer, promises to give Dr. Dahn new stimulus to take research on Li-ion cells to the next level.

Such industry partnerships have proved integral to Dr. Dahn's work over the years, given the competitive nature of the Li-ion battery industry. "What happens there is you end up forming a really strong relationship with that company and you're working in detail on their projects and the projects that matter," he says.

While the market for electric cars seems to be finally growing beyond its niche base (Dr. Dahn and his wife, Kathy, joined the nearly 400,000 to pre-order a new Tesla Model 3), the widespread adoption of renewable energy remains a long-term project given the currently unfavourable economics of producing the batteries to store the power.

"In 2015, the entire world production of lithium-ion cells was 60 gigawatt hours — just enough to power Nova Scotia for one day.  If you're talking about bringing in electrical energy storage grid-scale, worldwide, there's a long way to go," he says.

Not that Dr. Dahn is any stranger to taking the long view. That bus ride through Phoenix 16 years ago may be a distant memory now, but it was the spark that formed the building blocks of some of his many innovations since.

"Really, it was the bus ride that got us together thinking about it," he says. "And it was talking about it right after listening to this lecture that made it all happen."