It's the dream of any young medical technology researcher: the chance to shepherd their work through the entire development process, starting in the research lab and ending with a product that makes a difference in the lives of patients around the world.

You might expect that for a student like Lee MacDonald, PhD candidate in Dal's Medical Physics program, such a dream would be years off — at the very least sometime after completing his dissertation. In this case, though, you'd be wrong: MacDonald's research is poised to be implemented in cancer treatment across the globe within the next year.

On Wednesday, Dalhousie announced the licensing of intellectual property developed by MacDonald, his supervisor Dr. Christopher Thomas and Dr. James Robar, director of Dal's Medical Physics programs, to Brainlab AG. The company, headquartered in Germany, is an international leader in software-driven medical technology, particularly in radiation oncology. Its advanced systems, which aim to offer less-invasive treatments, can be found more than 100 countries and in 75 per cent of the top 1,000 cancer treatment centres globally.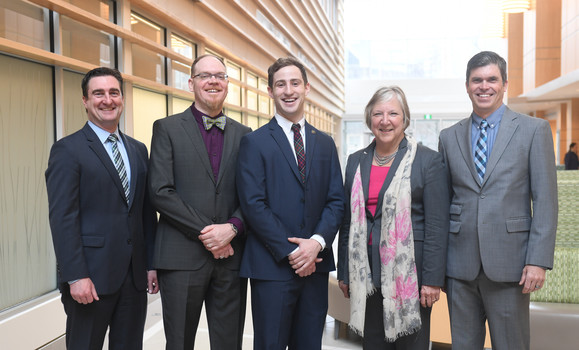 L-to-R: Sean Clark (president, Brainlab), Dr. Cristopher Thomas (assistant professor, Medical Physics), Lee MacDonald (PhD student, Medical Physics), Martha Crago (vice-president research), Dr. James Robar (director, Medical Physics programs).

Now, an algorithm developed by MacDonald and his collaborators will enable Brainlab's systems to deliver more precisely targeted radiation treatments to cancer patients, resulting in less damage to surrounding healthy organs and tissue.

"It's so exciting just to see the application of all this work gather into something that can see real potential for patient benefit," says MacDonald. "That's the goal of this work for us: seeing it implemented."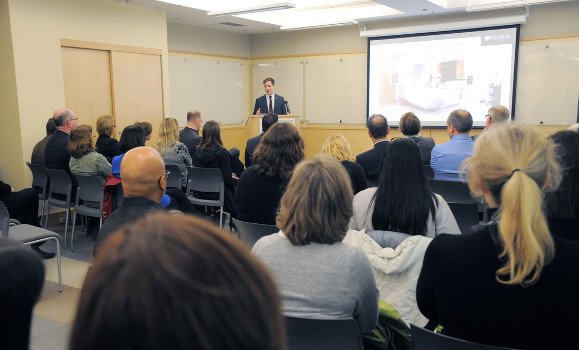 Improved patient treatment

Dal's Medical Physics offerings — accredited last year by the Commission on Accreditation of Medical Physics Educational Programs (CAMPEP) — include a master's, a PhD and a certificate program. MacDonald is a graduate of the master's program and is now in the second year of his PhD. He's studying in a field that combines physics and medical research with a focus on patient care and treatment.

Read more: Improving the state of the art: Inside Dal's Medical Physics programs

"We feel very privileged, because we get to observe treatment delivery every day and identify shortcomings and opportunities, then feed those opportunities right back into our research," says Dr. Robar, director of Dal's Medical Physics programs and chief of the Department of Medical Physics with the Nova Scotia Health Authority. "This technology was really born out of that kind of experience."

Approximately 53 per cent of cancer patients receive radiation treatment during the treatment and management of their disease. At facilities like the Nova Scotia Cancer Centre in Halifax, large linear accelerators, guided by state-of-the-art software, deliver advanced treatment to patients. The challenge for these systems is in focusing the ideal dosage and intensity of radiation on the tumour itself while minimizing radiation exposure to surrounding tissues and organs.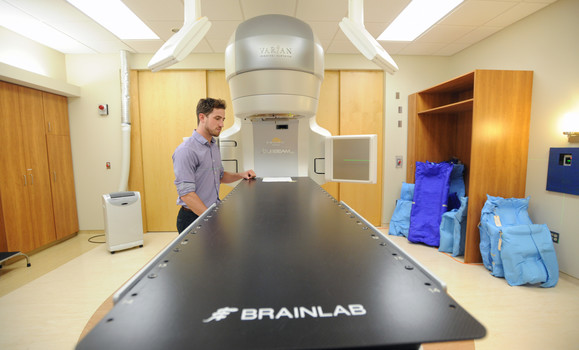 MacDonald, with one of the existing Brainlab accelerators in Halifax. (File photo)
What MacDonald has been researching, together with Drs. Thomas and Robar, is an algorithm that condenses the wealth of information about the patient and their disease and formats it in such a way that Brainlab's software is able to move the patient's bed dynamically during radiation treatment. These software plans, customized for each patient, amount to what's known as a "Four-Pi" approach to trajectory-based treatment planning. The result: the radiation is focused, to the greatest degree possible, on the tumour itself.

"By moving healthy structures away from the path of incident radiation, we are further reducing the probability of healthy tissue damage as part of treatment," explains MacDonald. "It represents a step forward in patient-specific treatments and patient safety."

The power of partnership


At Wednesday morning's announcement event in the Life Sciences Research Institute, the various partners involved in the project gathered to celebrate the licensing agreement and the commercializing of the research.  

"We're excited to incorporate Dalhousie's Four-Pi approach, and its unique trajectory-based planning program for delivery, as part of our next generation of Brainlab cranial radiosurgery software that's scheduled for release within the year," said Brainlab President Sean Clark.

"The world of cancer care is really changing under our feet," said Dr. Drew Bethune, medical lead for the Provincial Program of Care for Cancer for the Nova Scotia Health Authority. "Some equate these machines to 'smart bombs' or laser-guided missiles, and that's really understating it: these are much more precise than that… I can't wait for this technology to be available. This will affect every patient in the world."

Marta Crago, vice-president research at Dalhousie, celebrated the technology as a great example of how local innovation, through partnership, can lead to a commercial product that makes a difference in people's lives.

"Research partnerships like this are important," she said. "They're important for translating basic science into medical science into patient care —into something that offers outcomes for graduate students, outcomes for people around the world facing health issues, and economic outcomes as well."

Commercialization success

Singled out for particular thanks during remarks was the team at Dalhousie's Industry Liaison and Innovation (ILI) office, who worked with the inventor team to file intellectual property protection and with Brainlab to finalize the license agreement. "It's really an incredible resource to have here," said Dr. Robar of the office and its staff.

For MacDonald, the experience of working with his faculty collaborators, the ILI office and Brainlab to commercialize this research has made for an experience he'll carry with him through his entire career.

"As a gradate student, I certainly recognize how fortunate I am to be part of this [research] group, and the experience of building this work and engaging industry partners has introduced me incredible opportunities I could have never hoped to be a part of."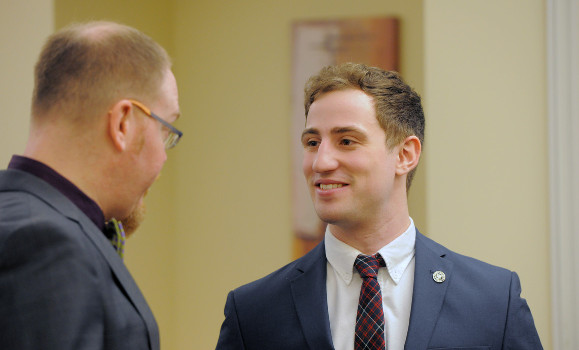 All images: Danny Abriel